Photo courtesy of A-Sha
Photo courtesy of A-Sha
The typical packet of instant ramen, conjures up memories of noodles with an unsettling yellow tinge, lackluster latchkey kid meals, or late-night college debauchery. But it's certainly never been considered gourmet—until maybe now. A-Sha, the Taiwanese dry noodle brand that has partnered with Momofuku and collaborated with Sanrio for Hello Kitty-branded noodles, is trying to change that image.
The brand started in 1977 and specializes in air dried, rather than fried, instant noodles. "The traditional ramen that's in blocks is deep fried whereas air dried noodles are usually dried straight, like a stick," explains A-Sha's president Young Chang. "The concept was to create air dried noodles in a block-shaped format to look like instant noodles, but have all the better-for-you things." The result is a wheat flour noodle that has the springy texture of fresh noodles with the ease of preparation as instant noodles.
A-Sha, which translates to prestigious, grew in popularity in Taiwan but remained on the island without much global fanfare. Chang, upon trying it with his business partner Henry Liao, could instantly recognize the brand's potential outside of its home country. "It was 2009 when our group got involved because my business partner, who lives in Taiwan, really liked this iconic Taiwanese brand and wanted to see it do better—wanted to keep promoting Taiwan's culture," Chang says. All the pieces were there: The noodles were already being manufactured in a Taiwanese factory, using Taiwanese ingredients. All the pair needed to do was find distribution channels to bring it stateside and get the word out.
The first inkling that they were on to something was when A-Sha noodles made it onto the Ramen Rater, a popular blog that does exactly what its title suggests. This was in 2013, and Taiwanese varieties of ramen were absent from the Ramen Rater's website, so Chang floated noodles to writer Hans Lienesch and hoped for the best. The result was positive reviews and an inaugural Taiwanese ramen ranking list, of which A-Sha took first place. "We started getting all this online [fame] and went straight to the stores and like, 'Look! We're the number one noodle from Taiwan!'" Chang laughs.
It worked. The brand's big break came from Albertsons and Safeway in 2014, and the rest of the grocery stores followed suit. You can now find A-Sha noodles at Costco, Target, Cost Plus, Walmart, H-mart, and more.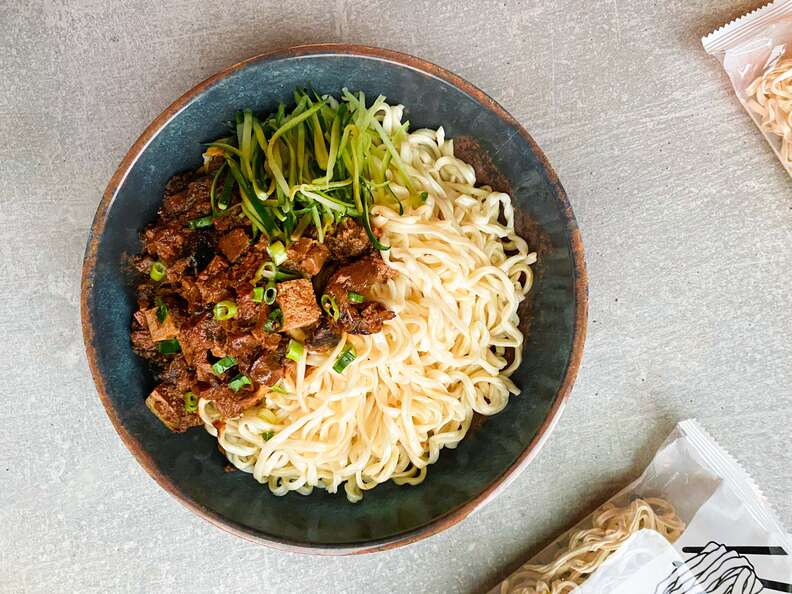 It was enough to make Chang quit his job at Warner Brothers and pursue A-Sha full time, knowing there was more to be done that could grow the business. "We knew we needed to form strategic collabs, like the Supreme or Kith model," Chang says.
The opportunity arrived in 2019 in the form of an iconic and recognizable mouthless white cat that dons a signature red bow. Sanrio partnered with the 2020 Tokyo Olympics and wanted a Hello Kitty instant ramen, which has inextricable roots in Japanese culture. "They came to us with the project and the way we're set up, we're not too big and can be agile," Chang explains. "It was huge for us. People don't know us, but they know Hello Kitty." The resulting products were four different ramens featuring Sanrio characters Hello Kitty, Badtz Maru, Keroppi, and My Melody all participating in various Olympic sports.
The collaborations kept coming. In the midst of the pandemic, while all the restaurants were closed, Momofuku pivoted to pantry goods and formed a partnership with A-Sha, launching three different types of noodles. "We knew David and had always talked about working on a noodle together, but the pandemic definitely accelerated their pivot to a CPG business," Chang says. The resulting noodles, which went back and forth from ideation to recipe and development in a span of six months, was one of the fastest new products Chang had worked on.
It got to the point that Chang and Liao were able to start turning down collaborations, ensuring they only worked with brands or people that made sense to their mission. Take Miami Heat NBA player Duncan Robinson, who indulged in A-Sha during his time in the bubble and is a genuine fan of the brand, or the just recently dropped a collaboration with BT21 featuring the cute characters meant to emulate the BTS members. The brand even hosted a pop-up with Kimika, a Japanese-Italian restaurant in Manhattan that used A-Sha noodles as a base for delicious dishes like sesame and pepe and pesto primavera.
"It's important for us to be acknowledged by that epicurean side, for people to see we work with a Michelin-rated chef and a James Beard finalist," Chang says. So whether you're someone just looking for a new instant ramen, or someone who obsessively follows food media, A-Sha can cater to both.
Although the recipe for the noodles has stayed relatively the same since A-Sha's conception, Chang says he's constantly searching for new ways to evolve, whether that be through new sauce ideations or a change in noodle texture through proprietary machines. There are plans for other products too, including a boba kit that would complete the ideal Taiwanese meal.
Kat Thompson is a senior staff writer of food & drink at Thrillist. Follow her on Twitter @katthompsonn.