A Study Funded By the Butter Industry Found That Butter Is Bad For You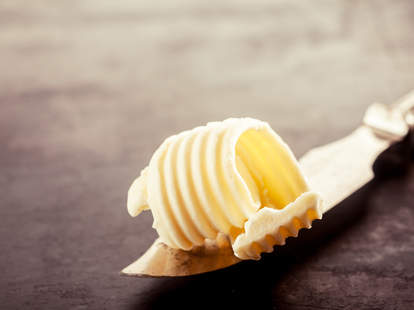 Obviously, butter is bad for you. But now, even the butter industry is admitting it. You butter believe it.
A new study, funded by the Danish Dairy Research Foundation, doesn't exactly make butter look as good as the organization may have intended, according to a report by The Washington Post. In other words, butter research that was paid for by what's arguably the butter industry has declared that butter is bad for you. 
Published last month in the American Journal of Clinical Nutrition, the study found that not only does butter raise cholesterol more than alternatives like olive oil, but mere moderate consumption of the delicious, spreadable lipid resulted in higher cholesterol levels, which could lead to cardiovascular disease. Probably not the results the Danish Dairy Research Foundation was looking for...
Perhaps they're just trying to butter us up with the truth?
Tony Merevick is Cities News Editor at Thrillist and, admittedly, is a pretty big fan of butter. Send news tips to news@thrillist.com and follow him on Twitter @tonymerevick.