When life gives you lemons, make lemon curd. That's the philosophy of baker Vallery Lomas, who has made her fair share of lemon curd (proverbial and literal) over the years.
It was 2018 and a few months had passed since Lomas won the third season of The Great American Baking Show. Still a lawyer in a Manhattan office, Lomas' days were a blurry juggle of content creation for her blog, Foodie In New York, and a mentally strenuous day job. It didn't help that the beloved baking competition was canceled before her victorious moment aired due to a misconduct scandal involving one of the judges.
"I was burning the candle at both ends," she remembers. "And then after the show got canceled, it was deflating. I realized I couldn't keep at this rate because I just didn't have the energy." So she said goodbye to her law career, embraced her baking passion, and pursued her dream of writing a cookbook.
The cookbook, Life Is What You Bake It, was published in September and ended up being a reminder of her resilience. Lomas put the disappointment of the show's ending behind her and reminds readers that whatever happens in life we can still make something positive out of it. "That's the theme that keeps recurring—you can make cake truffles from a cake that fell over," she says.
The cookbook is also a treasure trove of recipes from Lomas' baking journey, which began when she started her blog as a creative outlet during her final year of law school. There are pastries that she learned how to make in France, where she lived after law school and launched a bustling side hustle as a macaron baker, and even a few that helped her win The Great American Baking Show.
There are also family recipes, like the one for accordion biscuits, which riffs on the classic Southern treat she grew up eating in Baton Rouge, Louisiana.
"Honestly, I don't even know if I realized that people everywhere didn't have access to good biscuits," she laughs. "There have just been days where I'm just like, 'Man, I'm craving biscuits!' and it's not a guarantee that you're going to be able to just go get one."
As a child, Lomas observed how her grandmother baked in the kitchen. Cakes (like her million-dollar cake featured in the cookbook) were a matter of careful, measured precision.
"With biscuits, it was a lot more improv, freestyle," she says. "And it was because it was almost like second nature. It was just whipping up a batch." She wanted readers to have the heart of her grandmother's biscuits, but in a way that the biscuits could be easily reproduced. The accordion-style ensures that there are supple layers but still a little crumble.
If you're easily intimidated by biscuit dough, don't be. It's as simple as remembering this mantra: very cold ingredients, very hot oven. "If you finish your dough before your oven is hot enough, pause, put your biscuits in the freezer until your oven is ready," she says.
As with everything in her life, Lomas stresses that patience is key.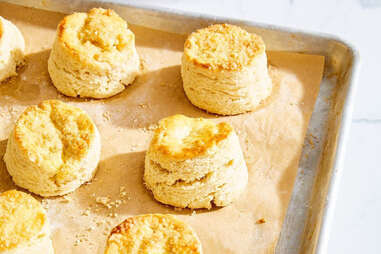 Accordion Biscuits Recipe
Yield: 12 biscuits
Ingredients:
• 4 cups (500g) all-purpose flour, plus extra for shaping
• 2 tablespoons (20g) baking powder
• ¼ cup (50g) granulated sugar
• 2 teaspoons kosher salt
• 1 cup (2 sticks/226g) cold, unsalted butter, cut into ½-inch pieces
• 2 large eggs
• 1⅓ cups (320ml) heavy cream
• ½ (8-ounce) package (½ cup/113g) full-fat softened cream cheese or full-fat Greek yogurt
• Demerara or granulated sugar, for sprinkling on top (optional)
Directions:
1. Preheat the oven to 400°F and place a rack in the middle of the oven. Line 2 baking sheets with parchment paper and set aside.
2. Whisk the flour, baking powder, sugar, and salt together in a large bowl.
3. Add the butter to the flour mixture and toss to coat each piece with the flour mixture (this will prevent the butter from clumping together). Use your fingertips to smash each piece of butter flat. If any flattened bits are larger than a quarter, break them up, continuing to coat each butter piece with the flour mixture.
4. Set the bowl in the freezer for 5 minutes. Whisk one of the eggs in a medium bowl. Add the cream and cream cheese and whisk to combine.
5. Remove the flour mixture from the freezer and pour the egg mixture over it. Use a large silicone spatula to fold the mixture until the dry ingredients are just moistened. Tip the shaggy dough out of the bowl and onto a floured surface (it's okay if there are some dry bits of flour that aren't yet incorporated).
6. Using floured hands, pat the mixture into an 8- by 6-inch rectangle. Cut the block in half crosswise, and stack one half on top of the other half. Then, repeat the procedure, patting, cutting, and stacking two more times. Pat the dough down one last time until it's 1-inch thick. Using a 2½-inch round cutter, press straight down into the dough without twisting. Repeat, leaving enough space between each round of dough so that the edges don't pinch together. Transfer the rounds to the baking sheets, leaving 2 inches of space between each round of dough. Lightly knead the scraps and repeat to stamp out the remaining biscuits. Place the baking sheets with the biscuits in the freezer for 10 minutes.
7. Meanwhile, whisk the remaining egg in a small bowl. Remove the biscuits from the freezer and brush the tops with the beaten egg. You want the biscuits to be as cold as possible when going in the oven, so work quickly. Sprinkle with demerara sugar, if using.
8. Transfer a baking sheet to the oven and bake until the biscuits have puffed up and are browned on top, 22-24 minutes. Remove the biscuits from the oven and repeat with the second sheet pan (or bake both pans at once if your oven rack allows). Place the pans on a rack to cool slightly before serving.
Make ahead: The biscuits can be made ahead through step 6 and then frozen. Continue with step 7, then bake completely frozen for 25-28 minutes.
Storage: The biscuits are excellent warm, but they can be stored in an airtight container at room temperature for up to 3 days, once cooled. The baked biscuits may also be frozen for up to 2 months.
Lia Picard is an Atlanta-based journalist writing about food, travel, and a variety of other topics. Her work appears in The New York Times, The Washington Post, Wine Enthusiast, and CNN Travel.