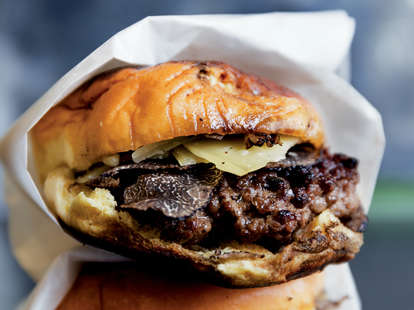 Gabriele Stabile
Gabriele Stabile
The Super-Simple, Super-Fancy Burger Recipe That Will Impress Anyone
This is Cookbook Club, a place where we flip through the best new cookbooks to find the recipes and stories that you need in your life.
All Action Bronson wants is for you to be happy. The charismatic rapper, Viceland TV show host, professional dropper of f-bombs, and now cookbook author hopes that his new book, F*ck That's Delicious, will inspire you to cook a little more. "I just want people to call friends over and make some stuff out of the book -- learn how to cook for themselves and overall be happy," Bronson says over the phone. And he genuinely means it.
Bronson's deep satisfaction from food comes through in every page of the book, which is both a travelogue about best things he has eaten around the world and an incredible range of recipes for the home cook, from simple noodles with paprika and feta to meaty caramel beef ribs to the less indulgent golden beet poke.
While Bronson has hung around some of the best chefs across the globe, a lot of his recipes are homages to his mom and his grandma, directly inspired by growing up in Queens, New York. His mom's challah is one of his favorite recipes, in part because making bread at home is incredibly rewarding, Bronson says: "It's like doing a science project and you're satisfied with yourself when it works, when the light turns or the volcano explodes. You're like, 'Damn, OK!'" The best moment for Bronson comes when you brush the bread with melted butter. "There is something about it that gives you a tingly feeling in your lower regions," he adds with a laugh.
"I like a burger that is meat and ketchup and that's it."
His enthusiasm for food is perhaps best displayed in the recipe for his version of an ideal burger. "I hate stacked burgers with tons of toppings," Bronson says. "Straight up, I like a burger that is meat and ketchup and that's it." His exception is a five-ingredient burger that he tops with a flourish of shaved black truffles and a hefty amount of Comté cheese on a crusty Martin's Famous Potato Roll. "Black truffle is just so simply gorgeous and fucking divine, and that cheese is like heaven," Bronson says.
It sounds fancy, but the genius of the burger is actually in its simplicity. "To add two ingredients from the earth that are so well-taken care of, to slightly aged meat crisped to perfection — it really is craziness," he says. It's also a deceptively impressive dinner party hack: besides good ground beef, olive oil, and salt, all you need is truffles and Comté, which takes a trip to the slightly fancier grocery store. Not long after, you'll have everyone at your party saying, "Fuck, that's delicious."
Get the recipe for Action Bronson's hamburgers with black truffles and Comté below:
HAMBURGERS WITH BLACK TRUFFLES AND 24-MONTH COMTÉ
INGREDIENTS:
1 pound (450 g) dry-aged ground beef
Extra-virgin olive oil
Flaky sea salt
1 small black truffle
8 ounces (225 grams) 24-month-old Comté, preferably Marcel Petite Fort St. Antoine
4 Martin's Famous Potato Rolls
¼ cup (½ stick) softened butter
DIRECTIONS:
1. Form the meat into 4 loose patties and set them on a plate or a sheet pan. The key is making them light -- don't pack them down.
 
2. Heat a cast-iron skillet over medium-high heat. When you're ready to cook the burgers, drizzle a little oil in the bottom of the pan and salt one side of the burgers heavily with the sea salt so you'll get that crunch on the outside.
 
3. Place the burgers, salt side down, in the pan and then salt the other side. They will begin to smoke, so be prepared. When the burgers are crunchy and brown on one side -- maybe 5 to 7 minutes, if your pan is really hot -- flip them over and cook until the other side is brown.
 
4. While the patties cook, shave the truffle and the cheese into thin slices. When the patties are almost done, cover each patty with a thin layer of shaved truffles and a layer of shaved cheese. Let the cheese melt slightly and then remove the burgers to a cutting board or plate to rest.
 
5. Turn the heat on the pan to low and butter the top of each bun and both of the insides. Close the buns, gently place them bottom side down into the hot pan, and let them cook just until the bottom is nicely browned. Flip them over and brown the top.
 
6. When the buns are ready, add the burgers, top them with any leftover truffle and cheese, and eat.
Sign up here for our daily Thrillist email and subscribe here for our YouTube channel to get your fix of the best in food/drink/fun.

Khushbu Shah is a Senior Food Features Editor at Thrillist and can eat bags of Martin's Potato Rolls plain. Follow her carbo-loading on Instagram (@khushandoj).