Jerk-Marinated Pork Anticuchos

| Photo by John Molina
Jerk-Marinated Pork Anticuchos

| Photo by John Molina
It's easy to associate Jamaican cuisine with jerk flavor, but few actually consider its deeper meaning. In fact, jerk is really not a seasoning or marinade at all, but rather a technique of smoking an ingredient over pimento wood and charcoal.
For Toronto-based chef Adrian Forte, jerk is a memory. Raised by a religious family in Kingston, Jamaica, he didn't get to experience much of the city's nightlife. But after leaving his aunt's church every Friday night, his family would take a drive and see the street lined with jerk vendors, everyone eating and drinking before heading to dance hall parties.
"We would drive to the jerk pit and you'd see women with long fingernails, lots of jewelry, big hairstyles and the men outside, posted up with rolled-up jeans drinking Dragon Stout," Forte remembers. "There were all these different vendors selling jerk chicken, and we'd eat it on foil paper with hard-do bread and roadside sauce. I just remember the smell being so captivating and aromatic. When I eat jerk chicken, done properly, it transports me right back."
Forte channels that same transformative experience into his debut cookbook, Yawd. In his book, the Top Chef Canada alum features more than 100 recipes inspired by modern takes on Afro-Caribbean cuisine, food he is rooted in and eventually found his way back to.
Coming from "very humble beginnings," as Forte puts it, his maternal grandmother made sure every man in the family knew their way around a kitchen. "The joke she would always make is that, if you know how to cook, then you could be a prize or trophy husband," he laughs. When he was too young to operate the propane stove, Forte would be tasked with peeling vegetables, seasoning meat, and washing the rice.
When he reached the age of 12, Forte graduated to the charcoal grill in the backyard, making a fire using cinder blocks and cooking after school with his friends. "In Jamaica, we call it 'running a boat,' which is basically a potluck and all my friends would bring something over," he says. "After we finished playing barefoot soccer and cricket, we would put our money together and buy different ingredients. We'd buy rice and flour, and make dumplings or brown chicken stew."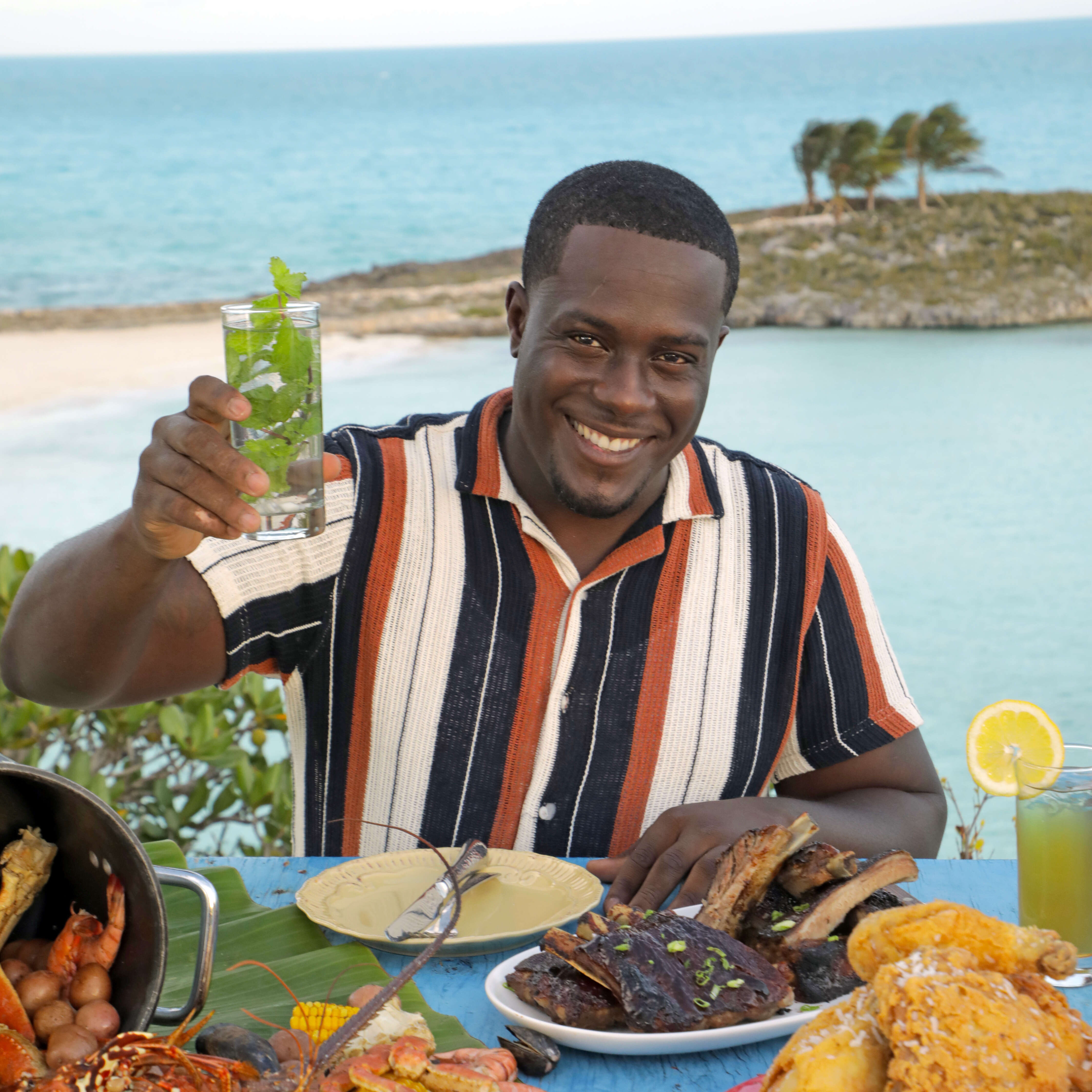 Filled with an arsenal of cooking skills, Forte moved to New York City in 2003 for high school and then to Canada, where he studied culinary arts at George Brown College in Toronto. He worked his way up in restaurants, including Dirty Bird Chicken & Waffles, AF1 Caribbean Canteen, and Aunt Lucy's Burgers. But finding his culinary identity wasn't easy.
"I was trying to collaborate with different investors to do something Caribbean, but there just wasn't a need for it at the time," he says. "The perception of Caribbean food was that it was not gourmet because we're used to seeing it in Styrofoam containers with less desirable cuts of meat. So investors didn't view it as fancy and didn't want to put up millions of dollars to open a fine dining Caribbean restaurant."
Forte also says that, with the exception of Roger Mooking and Robert Rainford, the lack of Black chefs making it big in Canada at the time was a hurdle. It wasn't until Forte competed on season 8 of Top Chef Canada (which aired in the spring of 2020) that found his footing. Then he really began embracing the cuisine of his childhood and adding techniques he learned from culinary school and his stint as a guest chef at Café Boulud at the Four Seasons.
Soon, he was turning out dishes like Maple Adobo Roast Chicken and Curry Goat Shepherd's Pie. When the pandemic hit, he knew he had to continue to showcase this cuisine, so he started a pop-up with his girlfriend called Yawd, a term from Jamaican patois for home or yard.
"We had just come back from Jamaica and were feeling super inspired, so we wanted to provide people with culinary escapism through food," he says. The pop-up featured Oxtail and Cassava Gnocchi, Salted Cod Fritters, and Plantain Beignets (all of which can be found in his cookbook). "These recipes really hit home. People felt like they were no longer in Toronto, they weren't in lockdown, and they were somewhere on a beach eating Jerk Chicken Coq Au Vin."
When publishers at Random House came calling, Forte knew this was the perfect opportunity to start documenting these recipes and chronicling his memories. A theme throughout the book, of course, is jerk and its importance in chicken, pork, fish, and pasta dishes.
Forte first developed his jerk marinade when he was working for a Caribbean catering company and had to cook for a yacht party of 5,000 people—he made it from scratch, testing and retesting until he perfected the recipe. The key to the marinade, he explains, is making garlic confit paste for depth of flavor and finding good quality Scotch bonnet peppers to pack a punch.
"People felt like they were no longer in Toronto, they weren't in lockdown, and they were somewhere on a beach eating Jerk Chicken Coq Au Vin."
"I've spent years perfecting this marinade, and I have used it in, or put it on, almost everything," he writes. "I hope this brings a little taste of Jamaica, and a love of jerk, to your kitchen."
Besides guiding readers through delicious meals, Forte is hoping that Yawd can continue to inspire the next generation of chefs to embrace the cuisine that feels most like home.
"I just feel very privileged that I have up-and-coming young chefs from our community messaging me," he says. "They're saying I inspire them or they might have seen me on Top Chef and now realize it's possible to do the things I'm doing. That's really the driving force behind everything I do."
Jerk Marinade Recipe
Yield: 4 cups
Ingredients:
• 3 scallions, chopped
• 3 Scotch bonnet peppers
• ½ cup Garlic Confit Paste (see below)
• 2 cups chopped onions
• 2 tablespoons cane sugar
• 2 tablespoons dark rum
• ¼ cup fresh lime juice
• ½ cup puréed fresh ginger
• 1 tablespoon ground thyme
• 2 teaspoons ground allspice
• ½ teaspoon ground cinnamon
• ¾ teaspoon grated fresh nutmeg
• 2 teaspoons freshly ground black pepper
• 1 teaspoon mushroom soy sauce
• 3 tablespoons canola oil
• 1½ tablespoons salt
Directions:
1. Combine all the marinade ingredients in a blender and pulse until smooth and emulsified.
2. Store in an airtight container in the fridge for up to 7 days.
Garlic Confit Paste
Yield: ½ cup
Ingredients:
• 3 heads garlic, peeled
• 1½ cups (or more) grapeseed oil
Directions:
1. Preheat the oven to 250°F.
2. Place the garlic and oil in a small baking dish (add more oil if the cloves aren't fully submerged). Cover with aluminum foil and bake until the cloves are golden and tender, about 2 hours.
3. Remove from the oven and let cool. Transfer to an airtight container and chill.
4. Place the garlic confit in a blender or food processor. Purée until the paste is smooth and lump-free. Transfer to a sterilized jar, seal, and refrigerate for up to 2 weeks.
Excerpted from Yawd by Adrian Forte. Copyright © 2022 Adrian Forte. Photography by John Molina. Published by Appetite by Random House®, a division of Penguin Random House Canada Limited. Reproduced by arrangement with the Publisher. All rights reserved.
Nicole Rufus is a food writer and master's student in Food Studies at NYU. You can find her in her kitchen testing new recipes and playing around with West African ingredients.

Jess Mayhugh is the editorial director of Food & Drink for Thrillist. Follow her on Twitter and
Instagram
.