Alamo Drafthouse Has a Very Kinky Fifty Shades of Grey Menu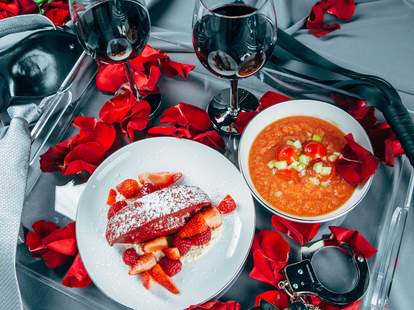 Even if you only vaguely know Fifty Shades of Grey as that book series with a lot of sex and a lot of hilarious grammar, there's a decent chance you'll end up seeing it this Valentine's Day weekend. And if you're already making the trip to the movies, you should swing by Alamo Drafthouse, which has a custom menu designed with fetishists in mind. We got an exclusive sneak peek at the stuff ahead of its formal debut, and are ready to share it with you just as soon as you remove that blindfold. Ready? Let's go:
Courtesy of Annie Ray
First up is the Tomato Gazpacho, a steamy soup made with cucumber, red onion, olive oil, and sherry vinegar. Despite what this photo might have you believe, it does not come with handcuffs, so you'll have to bring your own.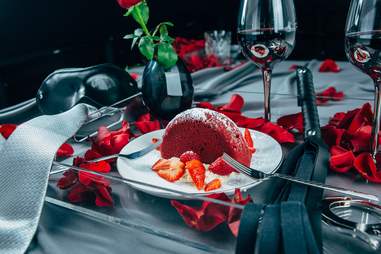 Courtesy of Annie Ray
For dessert, there's the Red Room Red Velvet Cake, so named for Christian Grey's fancy dungeon of sex toys. It's got a creamy vanilla frosting and Champagne-soaked berries, plus the standard hunk of scarlet-tinged cake.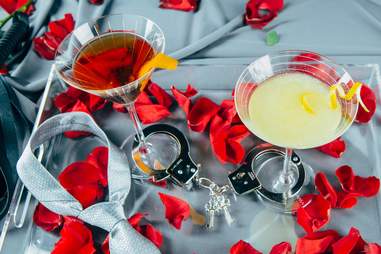 Courtesy of Annie Ray
Finally, you can pair your soup and/or cake with two cocktail options. On the left, we have the Hanky Panky, which mixes gin, sweet vermouth, and Fernet-Branca. On the right, there's the Maiden's Prayer, another gin drink with Cointreau, lemon, and orange.
Seeing as everything on this menu is much nicer than the Italian sub you usually smuggle into movies, you should check out Alamo Drafthouse's site for the theater nearest you. Trust us: your date will not think it's romantic that you offered a bite of your hoagie.
Kristin Hunt is a Food/Drink staff writer for Thrillist. She has not read Fifty Shades of Grey, but she has seen The Fall, and doesn't know if she can handle Jamie Dornan speaking in a non-Irish accent. Follow her at @kristin_hunt.