ALERT: Taco Bell Delivery Is Happening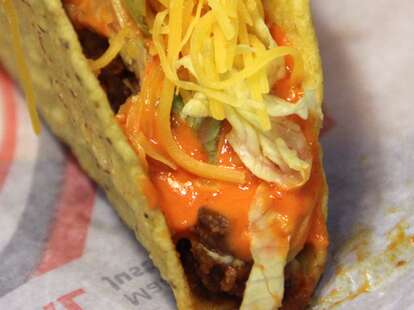 Matt Show/Thrillist
Matt Show/Thrillist
No más are the days of having to make urgent, late-night runs to your local T-Bell. The "Mexican-inspired" fast food chain announced Wednesday it wants to deliver all its Doritos Locos fabrications right to your door via on-demand delivery service DoorDash.
Starting today, Taco Bell is rolling out the service to 200 restaurants in select markets, including 90 cities in the San Francisco Bay Area, Los Angeles, Orange County, CA, and Dallas regions. Don't fret, everyone else -- Taco Bell plans to unleash the Chalupa convenience nationwide eventually.
Taco Bell said delivery orders are placed through the DoorDash app or its website, and soon, a bag of delicious bad decisions will arrive right at your door. While Taco Bell didn't detail how much the delivery would cost, it said the price could vary from restaurant to restaurant. But let's just face it: when it's 3am and you want a Cheesy Gordita Crunch, you won't care how much it costs.
Tony Merevick is Cities News Editor at Thrillist and wonders when fast food chains offering delivery will have a brick and mortar existential crisis. Send news tips to news@thrillist.com and follow him on Twitter @tonymerevick.