There's more than one way to get your All Dressed chips.

| Photo by Cole Saladino for Thrillist
There's more than one way to get your All Dressed chips.

| Photo by Cole Saladino for Thrillist
I've spent the majority of my life in Portland, Maine, which happens to be no more than 150 miles from Canada. But somehow I've never made it across the northern border. I may have never gone to the land of Letterkenny and legal cannabis, but I've seen the country's greatest wonder. It's not Niagara Falls or maple syrup, and it's definitely not Justin Bieber. Poutine is a very close second, but that's not it, either.
The best thing to come out of Canada is a smorgasbord-style snack that combines all your favorite flavors, like barbecue, salt and vinegar, sour cream and onion, and even ketchup, into what will certainly become your new favorite snack: All Dressed Chips.
All Dressed Chips were a staple snack for me growing up. They are perfect companions for just about any sandwich and they're ideal for digging out of a bag during a road trip across my home state. But you don't need to pull out your passport to get a taste of Canada's number-one flavor (although I'd totally do it). All you need to do is read along right here.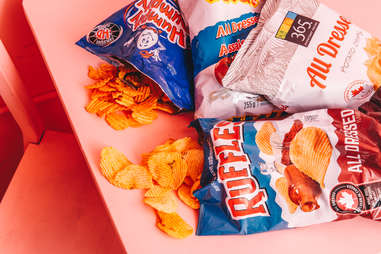 What exactly are all dressed chips?
All dressed chips are a masterpiece of ketchup, barbecue, sour cream and onion, and salt and vinegar flavors all rolled into one chip. A flavor-packed dusting of these seasonings coats each and every chip, leaving your taste buds wondering what just hit them—and also requesting another crunch or two.
If you have more advanced knowledge of cooking, you may be thinking: huh, that sounds a lot like plain-old barbecue sauce. And you'd be right. Well, at least partially. These tangy chips do taste like sweet barbecue sauce with the vinegar or ketchup notes dialed up a notch or two, depending on the brand you purchase.
What makes all dressed chips so good?
If the crumpled up bag at my side or my orange-red-stained fingertips didn't already give it away, I love these chips. But my taste buds aren't alone. Chris Davilia, a senior research and development culinologist at Whole Foods, spends his days studying food trends and the flavors people gravitate toward. He told me that All Dressed chips are an ideal combination of sweet and savory that's extremely popular at the moment. It makes sense that the chips have been a runaway success because they resemble barbecue sauce, but "slightly deviate from the classic," which is a huge trend in the food world right now.
With their packages often emblazoned with a Canadian maple leaf, All-Dressed Chips read as an international creation. Davilla says people are looking for more global flavors as our world increasingly becomes more connected and travel TV shows take off.
Where did the all dressed flavor come from?
Like so many other great things, these chips were born in Canada. The flavor has been popular alongside ketchup for years, but its exact origin is a mysterious miracle. Yum Yum, a third-generation snack company based out of Quebec, claims to have invented a secret recipe for the chip back in 1978. I wouldn't be surprised if this is the case given that the brand has also sold limited-time inventive flavors like cucumber and onion and chimichurri. But with no response to multiple requests for comment, I'm left to wonder how exactly this flavor came to be. (Editor's Note: Hi, Yum Yum! If you're reading this, please call us back.)
Fast forward a handful of years and the all dressed flavor trickled down into Maine, where it was produced by the company Humpty Dumpty and distributed all across the state. Canadian companies and regional brands in the US have been doling out the product for years, but it wasn't until Frito-Lay rolled out All Dressed Ruffles in 2016 and Whole Foods developed their version of the flavor that these chips became popular in the United States. Today, variations on the chips available all across the country, on store shelves, and online. Plus, it's one of Ruffles' top 10 flavors nationwide, according to Sadira Furlow, the Vice President of Marketing for Lay's Ruffles, Fritos, and Funyuns.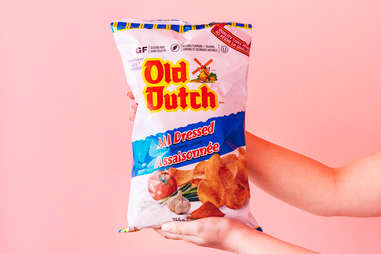 Where can you buy all dressed chips?
Of course you can get the Canadian version of the chips across the northern border, but many American brands have adopted the flavor as well. If you want to get your hands on a bag and taste the craze for yourself, here's where to find them.
Ruffles
The All-Dressed Ruffles are an introduction to this Canadian delicacy. The stark creases that the brand is known for hold onto the flavor dust, but Ruffles' seasonings are more mellow than some of the other brands, giving you a nice blend of sweetness and tanginess.
Ruffles' version is available across the country, and you can find a local retailer or order online on their website.
Whole Foods
If you've ever had Whole Foods' 365 brand chips, you know these are super thin, perfectly crispy chips—and they make a nice vessel for the All-Dressed flavor.
Many stores across the country stock the flavor, but they are not available in all regions so check your store's website for availability.
Humpty Dumpty
These are the chips I grew up eating, so they hold a special place in my heart. Regardless of my nostalgic bias, Humpty Dumpty's version is notable because it comes smothered on thick-ridged chips and is the most vinegar-forward of the four varieties I've tried. Sure, the tangy vinegar and sweet tomato flavor become almost tongue-numbing at the half-bag mark, but the punchy flavor makes it worth it.
Humpty Dumpty is stocked in stores around Maine, but if you're in another state you can order online through Box of Maine or Amazon.
Old Dutch (and other Canadian brands)
The mainstay is worthy of the hype. When the Americans riffed on this Canadian classic flavor, they came up with a flavorful, in-your-face combination of four flavors, but the original Old Dutch crisps are a delicate balance of sweet and umami without being overwhelming.
Old Dutch Chips are easy to find in Canada, but if you want them in the states, you can order their version on Amazon.