The 10 Best Types of Fried Chicken, Explained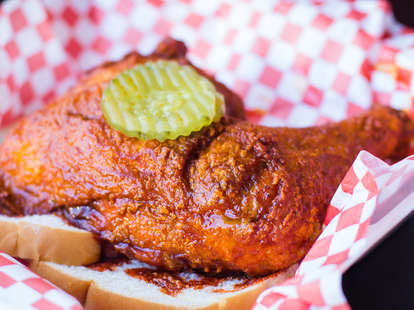 Brita Britnell/Thrillist
Brita Britnell/Thrillist
Everybody loves fried chicken. Except maybe chickens. And vegetarians. And health-food enthusiasts. Ok, look, a lot of people love it, and it seems we're living in a time of of peak fried chicken, with more and more styles of the crispy, salty, tender staple becoming widely available.
But there's an unexpected number of fried chicken styles out there, so much so that simply labeling a menu item as "fried chicken" isn't quite enough to let you know what you're getting. To help you truly know your fried chicken, we broke down 10 of the best and most prevalent styles. Consider this your bucket list. Because chicken often comes in buckets. Get it?! Sigh. Pass the gravy.
Editor's note: We've skipped nuggets and tenders -- you know what those are, you grown child -- and opted not to cover cutlets, which are frequently fried. But hey, if this inspires you to go grab some schnitzel, katsu, or milanesa de pollo, that's cool too.
Country-fried
What it is: This is kind of the OG of fried chicken as we know it: flour-breaded, oil-fried, and simply seasoned. Curiously, it started off in Medieval Europe as things known as "fritters," though it was often also seen at tribal feasts in Africa. The two styles came crashing together in the American South, where fried chicken paved the path for pretty much every food in the south to get breaded and fried. The style is a base. Any honey-kissing, spice-kicking, or other moves are just glorious flourishes.
Key attributes: Crispy flour crust that rips off with the skin; ability to unite families across generations through secret recipes; finger-lickin' goodness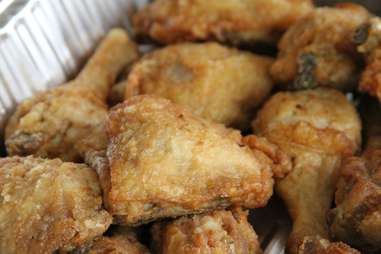 Broasted
What it is: Like many things that conspire together to taste delicious and make us fat -- beer, cheese, beer cheese -- the technique of broasting originated in Wisconsin. It's essentially the country-fried method's high-falootin' big-city cousin, utilizing a combination of pressure cooking and deep-frying to craft chunks of bird that maintain the perfect skin/breading crispiness without compromising the moisture of the meat inside.
Key attributes: Crispy/crunchy exterior; moist interior that is almost completely void or dryness; ability to scald the mouths of very hungry and impatient people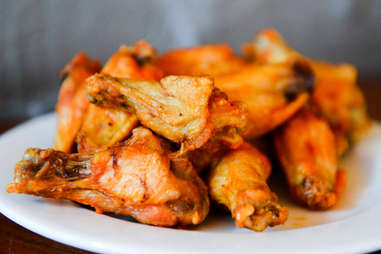 Buffalo wings
What they are: The story of the Buffalo wing (which is sometimes debated) boils down to Anchor Bar matriarch Teressa Bellissimo's last-minute effort to feed a hungry group late at night by improvising, tossing some wings meant for soup stock in the fryer, hitting them with some Frank's, and inadvertently creating the most iconic bar snack of the 20th century. Since 1964, the wing has become more associated with Buffalo than the Bills, and has dominated bars and restaurants the world over.
Key attributes: Extreme messiness; ability to trick you into actually eating celery out of mouth-cooling necessity; tendency to spark debates as to whether the flat or drum is better; inevitable post-meal dad jokes about flying bison
Buttermilk
What it is: Sometimes known as Chicken Maryland, there are a few key differences between buttermilk-fried chicken and the country-fried kind: First, it's marinated in thick buttermilk for extra flavor (it's not just a clever name). Second, it's traditionally pan-fried in a skillet rather than submerged in grease (though not always), then covered, allowing it to steam up and lock in juices while the cook can ladle grease overtop to keep the outside crispy. Often, it's also served with creamy gravy.
Key attributes: A smooth, buttery aftertaste; genuine delight
Korean
What it is: Long before the folks in Buffalo realized the magic of chicken wings, Korean joints were popping out these super-crispy beauties, which are seasoned with spices, chilis, and sugars before being fried so they're not messy. Then they're fried again. Because that's awesome.
Key attributes: Ultra-crunchy, almost clear skins with crispy bubbles when unbreaded; the presence of colors other than brown and red on the plate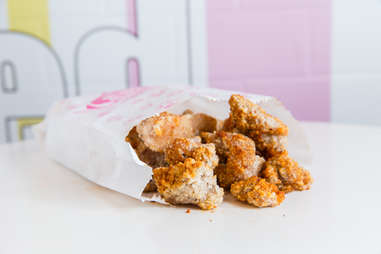 Popcorn
What it is: Basically Americanized karaage (see below) for those whose preferred breading/chicken ratio runs between 50/50 and 70/30. These bite-sized wonders started out as passable appetizers before the big fast-food joints caught on, resulting in little boxes of popcorn chicken pretty much all over the country. Consider them a nugget/tender hybrid that are more acceptable for adults.
Key attributes: The joy of experiencing a perfectly proportioned and tender chicken/breading bite, followed by the horror of biting into a hard, overcooked one and cracking a molar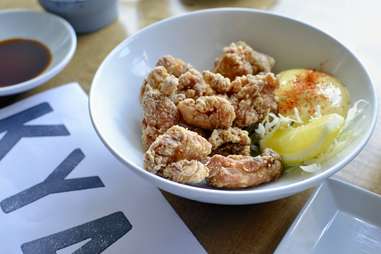 Karaage
What it is: Often also spelled kara-age, it's a staple of izakayas and ramen shops.The karaage method can be applied to pork, seafood, or any number of delicious protein, but it's at its most iconic and delicious with chicken. Chunks -- often thigh -- are chopped into smaller pieces, marinated, breaded in flour or starch, then lightly fried to create the most poppable chicken snack known to man. Unless you're at a place that serves it bone-in rather than in little popcorn-size bites. You don't want to pop bones.
Key attributes: Light crunch; explosive flavor; delight in discovering that fried chicken and soup are more compatible than you realized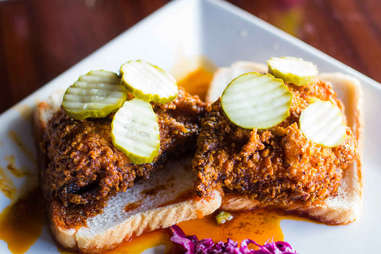 Nashville hot chicken
What it is: For a while there, Nashville's chicken was the hottest thing on the fried-chicken market. Well, actually, it was ALWAYS the hottest thing on the market… but for a while there, everybody seemed to be making a variation of what Prince's, Hattie-B's, and others have long been working at: heavily cayenne-spiced hunks of bird available in spice levels ranging from hot to "holy shit." Some are so spiced they glow like cartoon lava. It's become a national obsession, but its still 1,000% Nashville.
Key attributes: Spice; spice; more spice; piled of pickles on top and mercifully cooling white bread on the bottom; sudden realization, upon first bite, that some foods are absolutely worth waiting for
Chicken 65
What it is: The origins of Chicken 65 are surprisingly heavily debated for a style of chicken that has its roots in the 1960s. Some say it was invented at a fancy Chennai hotel. Some say soldiers came up with it. The meaning of that "65" is even more fiercely debated, but whether it's called chicken 65 because it's made with 65 spices or from 65-day-old chickens or a chicken cut into 65 pieces is kind of irrelevant when the South Indian favorite hits the plate. You won't care what it's called when the intense flavors of ginger, curry leaf, chile, and more transfer from the lightly breaded chicken thigh into your mouth... and then radiates into the rest of your body.
Key attributes: an explosion of spice; heat that comes in waves; red hue... on the chicken and the faces of first-time eaters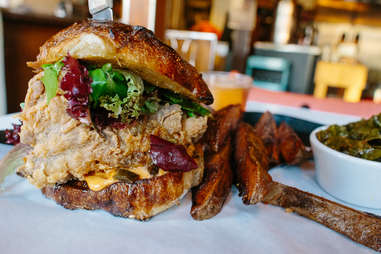 Smoked
What it is: Forged in the wood-fired minds of postmasters, this variation sees chicken hit the smoker for a while before getting a coat of breading and a bath in a deep fryer. Typically served on a plate with BBQ sides, but boneless variations make great sandwiches (see above). The result is often compared (by me, at least) to what would happen if bacon, ham, and fried chicken had a love child.
Key attributes: Smoky flavor; crunchy exterior; delightfully confused senses throughout consumption
Sign up here for our daily Thrillist email and subscribe here for our YouTube channel to get your fix of the best in food/drink/fun.
Andy Kryza is a senior editor at Thrillist who consumes most of his food out of buckets, just as a matter of principle. Follow him @apkryza.