Photo by Cole Saladino for Thrillist
Photo by Cole Saladino for Thrillist
A little over a year ago, Allie Chernick was working at a 9-to-5 job. Once a week when it was time to log off Slack and pack up for the night, she'd grab the suitcase stored beside her desk and drag it through the streets of Manhattan. She wasn't going on a trip or hauling her belongings from place to place, she was delivering her homemade banana bread all across the city.
Chernick always baked this family recipe for events, bake sales, and just to keep around the house, but when her friends started casually ordering loaves and word continued to spread, she became so inundated with orders that she was able to shift her hobby into a full-time operation called Allie's Banana Bread. Now you've got to be quick if you want to get your hands on a loaf. Her weekly drops sell out in minutes and nearly 20,000 people (including Queer Eye's Antoni Porowski and actor Alan Cumming) follow along on Instagram just to drool over her over-the-top creations.
But, in her own words, Chernick's banana bread "isn't anything crazy." It's a relatively basic recipe and she hasn't tweaked it very much over the years since it was handed down from her grandmother. "It's funny because this is the only banana bread I've ever made and people always ask if there's a secret ingredient, but there's just not," Chernick said. "It's just a very moist, delicious, dense, banana bread."
And that's the key. The culprit of most bad banana bread is dryness, so Chernick avoids that by making a great base recipe and jazzing it up with chocolate chips, peanut butter cups, and a rotating monthly flavor that's included Cinnamon Toast Crunch and Chocolate Chip Tahini Carrot.
Many of her fans found Allie's Banana Bread through Instagram, where Chernick says, "you have to over do it for [banana bread] to look good." So for photos, she slices the loaf up and layers toppings between each slice to show off what's inside. Most follow along just for the photos, but you also need to watch that page to order a loaf.
Each week, Chernick has one or two drops and posts date and time information on her Instagram. Then at the drop times, the order section of her website opens up, and customers have minutes to place their orders before the supply sells out. Chernick bakes a few hundred loaves for each drop day out of her ghost kitchen in Lower Manhattan, and she said they typically are all spoken for within two to five minutes.
She ships online orders all across the country, but if you're not as quick on your keyboard and are in the area, there are a few places around NYC you can pick up Chernick's products. Loaves are available at Butterfield Market - Madison on the Upper East Side, slices are sold at The Brooklyn Standard in Greenpoint, and mini muffin versions of the bread are sold at Edy's Grocer in Greenpoint. Plus, she's recently partnered with Cafe Panna—an ice cream shop in Gramercy Park founded by Hallie Meyer, the daughter of Union Square Hospitality Group restaurateur Danny Meyer—to sell pints with chunks of Allie's Banana Bread as part of limited-time flavors.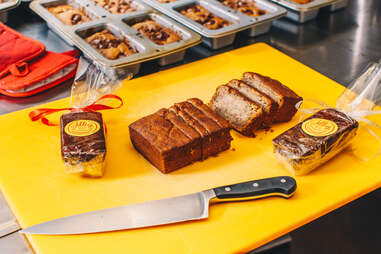 While banana bread has been trending for months thanks to COVID-19, you can't chalk up Chernick's success to the quarantine trend. In fact, it's actually quite the opposite. As banana bread became our latest obsession and people scoured the internet for recipes to bake at home, Chernick's own business was on pause.
"When COVID started, my kitchen closed and I couldn't make banana bread anymore," she said. "And then all of a sudden banana bread was the number one trending thing in America, and I was like oh c'mon!"
Luckily, all that searching helped people find her, and Chernick's business is continuing to grow. She recently hired her first employee, is expanding to more retail locations, and is floating ideas like opening up a shop for pick-up orders or expanding her menu.
"I was really mad at first, but then I thought maybe this could be good for me," Chernick said. "Maybe I could be the banana bread now that it's trending in this way."