Alton Brown shows you how to build the ultimate deep fryer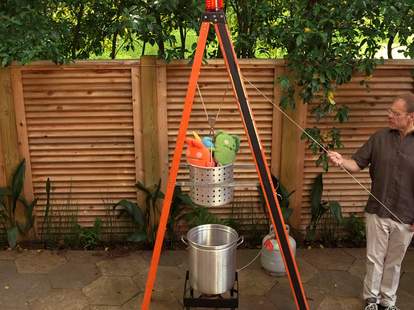 Noted mac 'n cheese guru Alton Brown is a little concerned about how many of you are scalding yourselves on deep-fryer oil. So, in an effort to give the EMTs a break, he worked up this "fry derrick" that allows you to dunk safely out of the splash zone, and only requires one trip to Home Depot. Follow along with the tutorial and you'll be responsibly deep-frying Doritos bacon in no time.
Kristin Hunt is a food/drink staff writer for Thrillist, and would like confirmation that Alton did not, in fact, deep-fry those stuffed animals. Follow her at @kristin_hunt.