The idea of opening a restaurant seems glamorous -- especially if you're a celebrity chef. There's a new menu to show-off, hoards of crowds just biting at the chance to try your food, a red carpet filled with journalists and cameras, and Oscar-worthy high fashion outfits.
At least that's the narrative Netflix's latest hit rom-com Always Be My Maybe provides. Celebrity chef and protagonist, Sasha Tran (played hilariously by Ali Wong, who co-wrote the script with her co-star Randall Park), does it all. She works the line at her fictitious Los Angeles restaurant, Knives + Mercy, donning a siren red floor-length gown under her chef's whites ahead of a charity gala she has to attend. Shortly after, the acclaimed chef travels to San Francisco to open up another restaurant, called Saintly Fare. And the next day after opening Saintly Fare, Sasha then hops on a plane to New York City to work on opening yet another restaurant.
But how accurately does the movie depict the life of a celebrity chef, opening new restaurants in multiple states?
"Obviously, restaurants are never that glamorous ever. There's very few; the Jean-Georges of the world, the Michael Whites of the world who are still doing it and hustle in their own way. But that's not how it is," says Dale Talde, a former competitor on Top Chef who has opened restaurants in New York City, New Jersey, and Miami. "Real working chefs, you put the apron on and you put the jacket on and of course you have to go say hey to some people, but it's never [like the movie]. The five hours [before opening], you're knee deep in the shit trying to figure it all out."
Though Sasha Tran weaves through the back of the house effortlessly, managing the chaos of working a kitchen without breaking a sweat, Talde confirms that openings are rarely perfect. In fact, opening a restaurant is one of the most difficult things someone can do. "Day one is always the hardest. The rhythm of the kitchen isn't there yet -- your mechanics aren't there yet."
Maneet Chauhan, a Chopped judge and the chef and the owner of Nashville restaurants like Chauhan Ale & Masala House, Tansuo, and The Mockingbird, compares opening a restaurant to having a baby. "The first service is like changing the first diaper: chaotic! You have no idea what to expect, what needs to be done. You just have to figure it out."
Janine Booth, another Top Chef alum who co-owns three restaurants in New York City and Miami and is opening another in Indianapolis, can relate. "Opening my first restaurant, Root & Bone in 2014 in New York City with my husband Jeff McInnis was probably the most challenging event in my life to date -- and I have been through childbirth," she said.
Recommended Video
The Fasties: Kat Thompson Mukbang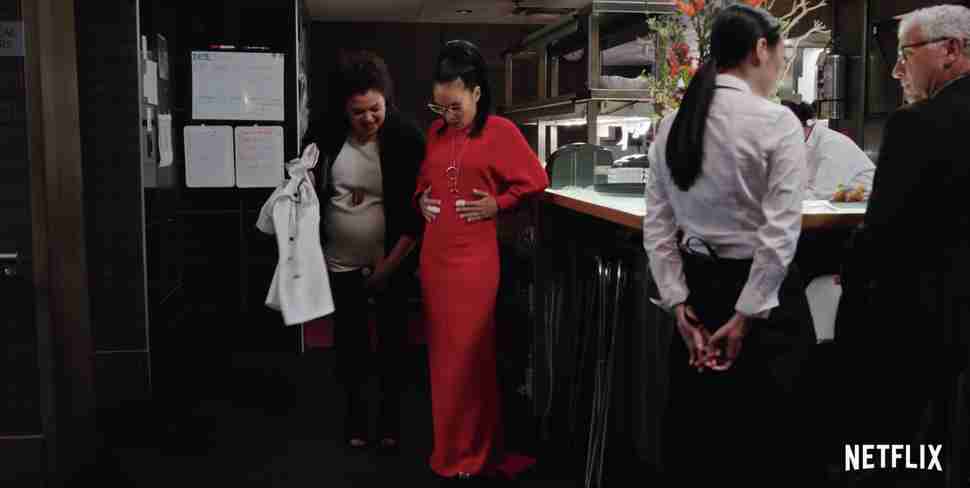 Always Be My Maybe does show some of the planning it takes to get a restaurant in tip-top shape prior to opening, including a scene in which the restaurant designer obsesses over gubi chairs, but the movie is a bit too neat when it comes to the mechanics. It makes sense: the film plays out a bit like a fantasy. The grittier aspects -- dealing with staff shortages, equipment meltdowns, running out of ingredients to name a few -- that come with planning and opening a restaurant are left out.
Perhaps what is even less believable than the glamorous openings and dresses Sasha wears is how quickly Sasha leaves following the opening. In Always Be My Maybe, she jets off for New York not even one full day after opening Saintly Fare. Chefs often spend months on the line or in the kitchen until it becomes a smooth sailing ship.
"You're there [however long the restaurant] needs it. You're there as much as it needs you," said Talde. "We have made that mistake [of not staying long enough], and I won't do it again, of stacking openings together. People think, 'Oh, it's a month.' That's nothing. That's no time."
The movie also fails to show just how important teamwork is when it comes to opening a restaurant.
"We have built restaurant concepts and brands from scratch and continue to work around the clock to make our business successful. And although we travel from place to place a lot, we can't be in more than one place at one time," Booth explained. "In each of our restaurants we have amazing leaders in the front of house and back of house to manage the day-to-day operations and without them our restaurants would not be as successful." Chauhan echoes this sentiment. "In this business, it's the team that makes you successful. You can't do it alone."
Aside from Veronica, Sasha's best friend and assistant played by Michelle Buteau, viewers don't get a glimpse into the team that helps Sasha Tran run her restaurants. Viewers don't get to see her character huddling up with a chef de cuisine or a sous chef about the menu or service. These are the people who run the restaurants when the celebrity chef takes off to work on the next project.
Still, despite some of the discrepancies with reality, Talde gushes about Always Be My Maybe, particularly relating to the '90s-inspired hip-hop Park's Marcus produces. "It's my age group, the music was right up my alley, I know people whose parents were like Ali Wong's parents and worked all the time." He even appreciated jokes and nudges about the restaurant industry as a whole.
"I loved it. Not every Asian person in the movie had to have an accent. It showed Asians being sexy, and smart, and funny -- all those things together. It really encapsulated a lot of very cool moments about being Asian American." It just maybe missed the mark when it comes to the realities of opening a restaurant.
Sign up here for our daily Thrillist email, get Eatmail for more food coverage, and subscribe here for our YouTube channel to get your fix of the best in food/drink/fun.