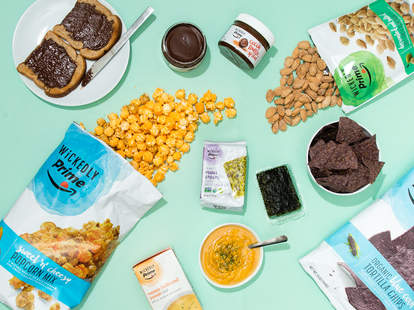 Amazon Has a Cheap New Snack Line, and Here's How It Tastes
In yet another aggressive stab at world domination, Amazon has introduced a full line of non-offensive, basic snack-foods for all your masticating pleasures. For some reason, they're dubbing the new venture "Wickedly Prime" -- which, honestly, just makes me think of John Travolta's brain fizzling on national TV. Nevertheless, the stuff is cheap as all heck, available to everyone who has Prime, and can even work for you on a subscription-basis -- assuming your life is in a place where you know you'll need masala butternut squash soup every 30 days, exactly. Must be nice.
But, like Amazon Prime's original programming, some of the offerings are decidedly better than others: for every snacking equivalent of the transcendent Transparent, there's a (not-so-great) culinary analogue of Betas. Presented here is an uncompromising Amazon Prime snacks primer (ugh) separated into five categories: soup, chips, popcorn, nuts, and cookie spreads (we left Wickedly's line of teas out because they are not snacks, sorry).
What a time to be alive and have a functional Prime account.
Cole Saladino/Thrillist
Sweet spreads
In an otherwise impressive debut collection of snacks, the sweet spreads are the outlier. You should avoid them at all costs, which should be easy since you need to click on the order button physically to buy them, then confirm your shipping address, then click "OK." It should be easy not to mess this one up. Just don't do it. Here's why:
Ginger snap flavored cookie spread: I don't know how this happened. I feel like taking a vat of old ginger snap cookies and melting them on top of a '94 Camry's hood in mid-summer Albuquerque would make in a better spread than this right here.
Cacao truffle spread: You are much better off springing for Nutella, or something similar from Trader Joe's. It's saccharine in just the wrong way. It's not palatable. It doesn't work on toast and crackers. Please, no.
Salted cacao truffle spread: See above, add salt, expect nothing.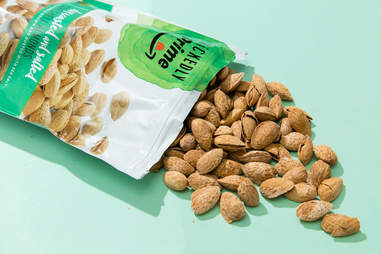 Cole Saladino/Thrillist
Nuts
The nuts collection, as of right now, consists of just one entry: almonds. Which are actually not nuts at all, but drupes. But what this category lacks in variety (or actual nuts) it makes up with quality. The soft-shell almonds are some damn fine drupes for snackers on any budget.
They're are a clinic in moderation: they have the right amount of salt, and a shell easy enough to break by hand -- but not soft enough to be fragile and broken when they arrive in their packaging. If you are into nuts like I am, you know that too much salt -- or too unruly a shell -- can ruin what should be a deliciously simple snacking experience. Drupe or no drupe, the soft-shell almonds are what you want and need in a nut-like snack.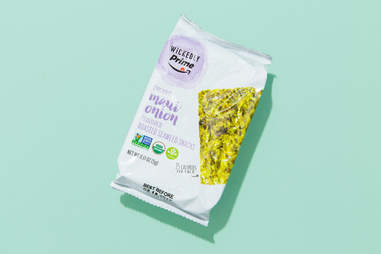 Cole Saladino/Thrillist
Seaweed snacks
These roasted seaweed snacks are like the Ramones of the Wickedly line -- not because seaweed is like ocean grass and that in itself is punk as hell, but because under their surface simplicity lies a whole lot of complexity and depth. Which is a pretty long-winded way to say these basic "health snacks" are actually pretty dope. So give them a chance.
Sea salt: Again, Amazon's showing incredible depth with their salt application: While many salted seaweed snacks go too far in their brining and end up tasting like the back of Usain Bolt's neck after a 200-meter race, these suckers have just the right amount of savory to make their snacks juuuust right.
Maui onion: Usually subtlety is key with seafood snacks, and that goes for flavoring, too. The more elaborate, the less appealing. But these maui onions actually are better than the prosaic sea salt option. The flavor is definitely not too overpowering, and it has just the right amount of crunch to trick you into thinking you are eating something that isn't good for you. Which is key. I mean, you are eating seaweed here.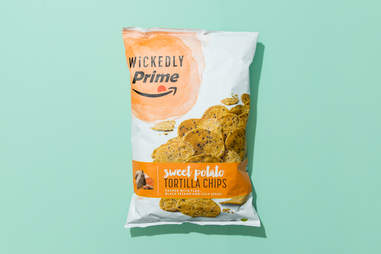 Cole Saladino/Thrillist
Chips
The chips/crisp category is probably the bedrock of Amazon Wickedly's bounty. It's the core. The center fielder of online subscription light snacking. And while nothing in here is a true showstopper, the overall array is solid enough to keep you from blowing your chip budget in your local grocery store. Which, is exactly what Amazon wants. So, good job.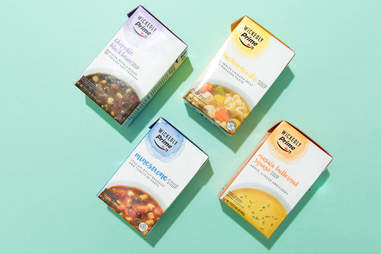 Cole Saladino/Thrillist
Soups
When taste-testing all this Amazon-ness, I saved the soups for last. I assumed they would scar an otherwise pleasant snacking journey, as I normally shy away from store-bought soup, despite being a great admirer of Donovan McNabb's mom. But in the end, this soup won me over. This dark horse pleasantly surprised me, which, for mass-produced soup in cardboard containers, is really best-case scenario.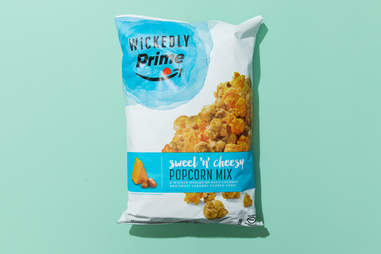 Cole Saladino/Thrillist
Popcorn
There is but one lone style of popped corn in Amazon's snack-hopper. But Jesus H. Christmas on a locally sourced candlestick, the sweet and cheesy Popcorn is a blockbuster. Like lovable film nerd Rick Moranis, this popcorn is the ideal mixture of sweet and cheesy. It expertly nails the "bunch of salty and sweet popcorn in the tins with Santa Claus on them that for some reason surface every holiday season" flavor that so few mass-produced food makers can expertly nail. It's weirdly good -- we-might-need-an-intervention good. It's quite frankly an affront to snacking that only Prime members can indulge in this bastion of quality taste. This is the snack that is going to put Amazon's efforts on the map. If you are going to hop on the Wickedly bandwagon, definitely start here. It even raises the question: Why are the snack spreads so bad when the popcorn is so good? Questions for another day, perhaps.
Sign up here for our daily Thrillist email and subscribe here for our YouTube channel to get your fix of the best in food/drink/fun.
Wil Fulton is a staff writer for Thrillist. He, for one, welcomes our new Amazon overlords. Follow him: @wilfulton.