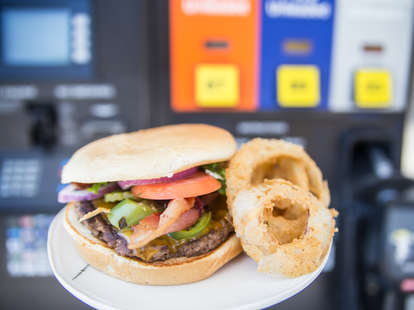 Dan Gentile/Thrillist
Dan Gentile/Thrillist
Typically, gas station food consists of candy bars, questionable sandwiches, jerky, and over-microwaved Hot Pockets. But sometimes, when the gods of the road are smiling on your convoy like the ghost of Jerry Reed himself, you discover a place where you can fill your car with petrol while filling your belly with some of the best food you've ever had. These 13 restaurants take the concept of road food to a whole new level, with nary a corn dog in sight.
Lee Vining, CA
What you're getting: Fried whitefish tacos
While most people associate eating near Yosemite National Park with canned stew and s'mores, the Whoa Nellie Deli just outside the gates throws down some serious gourmet cred with its famous whitefish tacos, plus gigantic breakfast platters, buffalo meatloaf, baby back ribs, pizza, and sandwiches you can grab to inhale while gazing at El Capitan. Like most gas stations outside national parks, you're kind of forced to stop, since it's one of the last places to fuel up before entering. With those fish tacos at your disposal, though, you might not ever make it to the trails.

Wolf Creek, OR
What you're getting: The buffalo bacon cheeseburger and chicken gizzards
Named not for the horrifying horror flick, but rather after the tiny mountain town between Medford and Portland, this unassuming little filling station hides a ridiculously huge sprawl of made-to-order food. That includes gigantic trucker breakfasts, fantastic old-school burgers, and fresh fried chicken & jojos (it's an Oregon thing). Oh, and they also serve bread bowls full of homemade soup. Because no road trip is complete without spilling scalding hot soup on your lap while driving.
Doolittle, MO
What you're getting: King of the Road Burger
Sure, the Big Pig sandwich with a 1/2lb of breaded tenderloin will satisfy most, but for a trucker-size appetite there is no substitute for the King of the Road. Tucked inside a Phillips 66 station, this dive's calling card is a 66oz burger with nine pieces of American cheese and 1.5lbs of French fries that must be consumed within 66 minutes. You're not allowed to stand up during the duration of those 66 minutes. Not that you could if you wanted to.

Charlottesville, VA
What you're getting: The Batesville with Cajun roast beef and smoked Gouda
Logic dictates that the first thing you do when you get a gas station sandwich is peel back the sticker with the expiration date on it to see what the real expiration date was. Not at The Market, which serves up the area's best damn deli sandwiches under the roof of a Tiger Fuel station. The menu stacks high-end meats on fresh bread, and includes everything from a Brie-based veggie bomb to maple turkey with cranberry, chipotle chicken with BBQ sauce, and corned beef. No expiration date necessary. These suckers will be gone by the time you get to the car.
Crosses, AR
What you're getting: The Hooshburger
Welcome to Pig Trail Bypass Country Cafe, home of the Hooshburger. We named it best in the state, an accolade that's been 35 years in the making. It's named after the restaurant's owner, an Iranian immigrant whose secret lies in a mix of spices that are usually used in Persian kebabs. It's the type of food that transcends ethnic boundaries, fitting since this place is literally in the middle of nowhere, on a winding road in the middle of the Ozarks. It's worth the quest.

Watauga, TX
What you're getting: Bacon-wrapped beef medallions; lobster mac & cheese
Fine dining and gas stations don't usually go together, but the chefs behind this joint wanted to prove that it's possible. They made that point (get it?), with a build-it-and-they-will-come attitude that's made them the darling of every local media outlet, as well as a fave of Guy Fieri. You might balk at paying $28 for an entree inside a Conoco, but a smoked ribeye is about as far from convenience store jerky as it gets.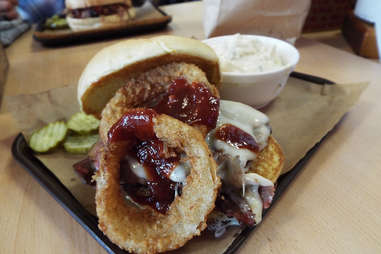 Kansas City, KS
What you're getting: The Z-Man sandwich
It's almost terrifying that barbecue this good is smoked within a stone's throw of diesel pumps. Joe's Kansas City, formerly called Oklahoma Joe's, made our list for best barbecue in Kansas City, and for good reason. The dedication to quality is world renowned, and you can do no wrong with the ribs or pulled pork. But if you're eating behind the wheel, the Z-Man sandwich is the move, not just because of the delicious brisket, provolone, and onion rings, but also because it honors a true patron saint of the road, an old-school local radio DJ.

West, TX
What you're getting: Hot chubbies with cheese
Long before it made national news for a fertilizer plant explosion, West was synonymous with kolaches. It's the anchor of the Central, TX Czech Belt, and a must-stop for anyone driving along I-35, thanks to freshly baked sweet and savory pastries with fillings ranging from fruit and cream cheese to kraut and hot chubbies -- a very non-flattering name for spicy sausage chunks. There are tables if you want to eat in, but the Czech Stop truly shines thanks to how damn easy it is to go through an entire bag of kolaches before you get to Dallas.
Miami, FL
What you're getting: The tabla de carne: a gigantic plank of ribs, churrasco, sausage, pork loin, and other seared meat
While most gas stations' wine and Spanish food offerings are limited to Boone's Farm and some peanuts, this joint in a BP offers up more than 2,000 wines and one of the city's most celebrated menus of Spanish cuisine. That includes the amazing jamon bellota (cured for 36 months), ceviche, paella, octopus, and other classic dishes. Why they haven't gotten better digs is a mystery. But once you've tasted the crab-stuffed crepes, you won't really care about the pumps anymore.
Silver Spring, MD
What you're getting: A bulgogi hoagie packed with apple slaw and spicy pork
Korean food can be a pretty messy affair on the go, so while this legendary DC-area joint's traditional bibimbap bowls are great for sitting in the shop, drivers are advised to go fusion a la the great bulgogi hoagie, or have their kimchi and spicy meats wrapped up in tortillas. Just be sure to grab a jar of kimchi to go, plus a scallion pancake. Oh, and maybe an air freshener from the counter when you pay for your gas.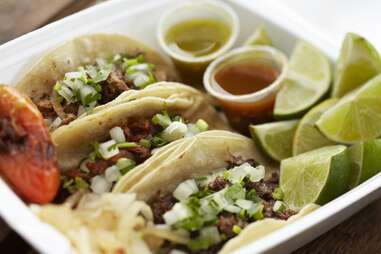 Dallas, TX
What you're getting: Chorizo and egg tacos
Gas station tacos are a thing in Dallas, and Fuel City is the premium choice (like the type of gas!). $1.40 buys any of its tacos, from breakfast chorizo and egg, to fajitas (beef, chicken), to barbacoa and pastor. And proving that any time is a good time for gas station tacos, it's open 24 hours a day.

Berkley, MI
What you're getting: Beef shawarma
This Detroit-area Mediterranean home-cooking chain was opened by a pair of brothers inside a Sunoco. The open kitchen's a rarity for gas station fare, and the popularity of their fattoush salad adds a level of healthiness that's equally as surprising. Family-style combination plates make group to-go orders a heroic move, but if you're driving solo you can't go wrong with a classic $5 shawarma.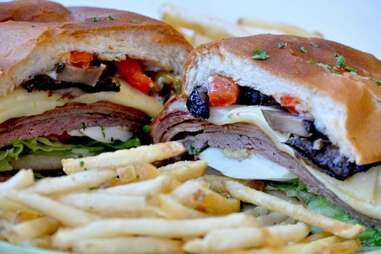 Washington, DC
What you're getting: The Chevito
DC has a weirdly thriving gas station food culture, but one out of one Thrillist editors agrees that these are the best sandwiches you're going to find within a stone's throw of some unleaded. They do the classics, but the move is one of the Latin American-leaning sandos like the Cuban, Milanesa, or king of them all, the Chevito, which features a whopping 10 ingredients, including tenderloin, mozzarella, Black Forest ham, bacon, green olives, hard-boiled eggs, escabeche, LTO, and mayo on a soft roll. Bonus points for serving until 2am.
Dan Gentile is a staff writer at Thrillist. He doesn't eat at gas stations often, but when he does he always orders the hot chubbies. Follow him to road trips along the Czech belt at @Dannosphere.
Andy Kryza is a senior editor at Thrillist, and tends to just grill in the back seat while on road trips. Follow him to high-speed grease fires @apkryza.