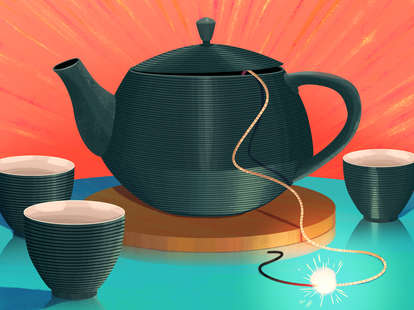 Artisanal tea in America is about to explode.

| Jason Hoffman/Thrillist
Artisanal tea in America is about to explode.

| Jason Hoffman/Thrillist
Artisanal Tea in America Is Having a Moment
The after party was in a garage down an anonymous alley in the middle of a row of several industrial warehouses a half mile behind the main thoroughfare in Las Vegas's Chinatown, not quite perilously close to a shooting range popular with bachelor parties called Machine Guns Vegas. About a hundred people were there, an elite group of in-the-know industry folks ready to get to it. There was an outdoor stage with music (a Senegalese guitarist named King Ibu, a post-punk group, live techno from Terbo Ted, etc.); there was food (Shiraz's vegan paella, Gaucho's cauliflower and lamb tacos, delicious sesame noodles with tea eggs from Sheridan Su and Jenny Wong of Fat Choy); and there were sound healers from Ascension Energy Healing, who were healing through sound.
All of that was well and good, but the party didn't really start until someone tapped me an hour in, and told me to pause my sound healing and find a seat at the table.
Why, I asked.
"Because," it was urgently explained to me, "Mike Ortiz just started brewing tea."
Tea in America is having a moment. And not teabag in a mug culture, either. In 1990, the estimated value of the American tea industry was $1.84 billion. Today it is nearly $13 billion. But while grocery store tea sales are down and Starbucks-owned chain Teavana has closed, the specialty segment of the market is growing rapidly, thanks to five factors, which I will present in list form for your reading ease:
Restaurants and coffee shops, who have long invested in farm to table foods and third wave coffee beans, are finally recognizing value in doing the same for tea.
The sober lifestyle trend has helped usher in the rise of more thoughtful non-alcoholic options in bars, and an increase in independent tea houses.
Tik Tok power users Generation Z and their older Slightly-Confused-About-Tik-Tok Millennial siblings now drink as much tea as they do coffee.
The tech and gaming worlds have embraced tea as both a nerdy cool hobby and a type of a natural wonder drug to help with focus whilst on all-night coding/gaming soirees, and that has created a marketplace for a certain type of high-end buyer who didn't exist before.
It fits nicely into the wellness movement's Venn Diagram, especially as things like chaga mushroom and lion's mane and other functional mushroom long used in Chinese medicine and often consumed as tea continue to gain more mainstream popularity.

In order to try to understand what's happening, I went to Las Vegas (a city I love! Read about that here!) to attend the largest tea industry conference in North America, aka the World Tea Expo. And I found that the energy around the American artisanal tea world feels much like the craft cocktail scene in the late '90s.
The people behind it now are mainly hardcore hobbyists and purists -- the nerdy tea lovers who spend hours arguing about Lapsang Souchong on the extremely live Tea subreddit, who quit jobs as lawyers and scientists and Harvard Public Health school officials to open tea houses or become tea importers or just try and improve transparency and educate consumers because they had a nerdy and nascent passion that they couldn't let go. But, in talking to over 30 tea sellers and tea makers and tea masters and tea bloggers and tea revolutionaries, I found myself asking: Is this moment a flash in the pan, or are we witnessing the real time rise of the next big artisanal movement in American food and drink?
Right now tea is exciting because tea feels fresh and new, which is ironic considering it is the oldest drink in the world.
Though the world had been drinking tea for centuries, and America had it as early as 1670, December 16, 1773, AKA the Boston Tea Party, ruined our relationship rather quickly.
"Because the act of drinking tea was unpatriotic and people were getting literally tarred and feathered over it," Tea: A User's Guide author and Tea Epicure founder Tony Gebely told me, "Americans ended up drinking a lot less tea than the rest of the West."
Tea culture in America remained a subculture for a long time while coffee, the other competitor in the caffeine commodity wars with none of the British tea... baggage, took off with Americans during the Gold Rush era. Entrepreneurs like James Folger and the Arbuckle brothers began selling pre-roasted instant versions to miners and cowboys. Gebely says, "Tea consumption didn't return to Pre-Revolution levels until sometime in the 20th Century." And that's with a population 60 times larger.
But as American coffee house culture has moved away from that instant life towards gram scales, varietals and a focus on craft, it's ironically come to look a lot more like... tea culture. And with our attitudes towards the British evolving from hostile to jealous of their baking shows, the barriers to you, dear reader, becoming a Tea Head are quite possibly at an all time low. And that sort of alchemy means, as one Indonesian tea seller explained, "the artisanal tea movement in America is just waiting to explode."
Outside the Las Vegas Convention Center's North Hall, however, I was the one waiting to explode. Or maybe implode. The June temperature was 109 and just standing outside for brief periods of time caused shocking quantities of sweat to cascade down my back like a very unsexy waterfall. Inside, where the temperature was between 68-71, the World Tea Expo was in full swing. When I walked in, I was handed a cloth bag, my media credentials and a look of pity, and headed towards the Exhibit Hall.
In the hall, hundreds of vendors fill an area the size of three football fields. In the back was the "New Business Launchpad." Close to the launchpad was the Kombucha Pavilion, which featured the Brew DR Kombucha Lounge, which should not be confused with the Networking Lounge between rows 432 and 533, which sat directly ahead of the Special Events area (where a talk called "Beyond the Teabag" was going on), which was next to the Tea Master's Cup stage and bleachers (more on that later).
Celebrities like director of the UK Tea Academy Jane Pettigrew and American tea authority James Norwood Pratt were there, surrounded by tea groupies. The tea publications were all there too, from TeaTime ("North America's #1 Tea Magazine") and STiR ("Global Business Insight on COFFEE and TEA") to Fresh Cup ("The magazine for speciality coffee & tea professionals since 1992") and Tea & Coffee Trade Journal ("no tagline!").
Unsure what to do, I started drinking tea. Lots and lots of tea.
I had tea made from the avocado leaves, and adaptogenic teas ("Big with endurance athletes!") that contained CBD and turmeric, and white champagne raspberry tea, and a Belgium lemongrass chai tea and Kenyan purple tea, and red rooibos tea, and Lapsang Souchong black tea and Darjeeling black tea and Assam black tea and Ceylon black tea and moringa tea and Sri Lankan mango iced tea and "Got Nitro" iced tea slush, and something called "duck shit fragrance oolong," which is a real thing. I had Psychic Teaz from a man named Dr. Brains (a name Oprah gave him, FYI) who used to travel with the Grateful Dead and other musicians in the '70s to help them maintain their health while on long tours, and Lover Tea from Vietnam with a college-aged translator who told me it grows in craters made during American bombing missions during the Vietnam War, and Matcha Kaori tea blended with what looked like a shaving cream brush by Japanese tea farmer Kunikazu Mochitani.
When I wasn't drinking tea, I looked at handmade tea canisters made for over a hundred years by a Japanese company called Kotodo, and ogled lime green Dutch Bredemeijer teapots in all their double-walled glory, and talked to a Portuguese man about his beautiful arty tea magazine, and got admonished for accidentally taking a partial picture of a Japanese Twinkle high speed triangular teabag machine ("200 bags per minute!"), though the shaming was thankfully cut short by a voice over a loudspeaker announcing that the Tea Master's Cup was about to begin.
The Tea Master's Cup started in 2013 as an international tournament for tea masters, not unlike the World Barista Championship. Qualifying events now take place in 22 countries, and the winners from each country go to the International Tea Master's Cup finals, which will be held this year in China.
But the 2019 World Tea Expo was the first ever American Tea Master's Cup, which meant we were witnessing history, which was great for my thesis. That day we were watching the Tea Mixology competition, in which contestants created tea-based alcoholic drinks for a panel of five judges. And that's when I first saw Mike Ortiz.
Remember Mike Ortiz from the beginning? Ortiz is a Cuban American from Miami with a BFA from NYU in Dramatic Arts (he took classes with William Macy! He kind of knows Donald Glover!) who truly believed he'd be a thespian until his father had a massive heart attack in early 2009, and Ortiz felt he needed return to Miami and help. On the side, he taught yoga and worked in a UPS store, but as yoga became a bigger part of his life, he thought he needed to do something drastic to show his devotion, like going to live in a cave in India and chant, until he met a woman at a Buddhist temple in Miami. Her practice was just pouring tea. "That was it," Ortiz said. "I was so confused -- it just seemed so trivial."
But then Ortiz tasted the tea. He remembers the exact one that changed his life. "It was in 2011, and she'd brewed this small batch of Oriental Beauty. I remember sipping it and realizing it tasted like fresh peaches, and then if you brewed it again it tasted like grilled peaches, and then again, you'd get this incredible honey flavor. It was my holy shit tea moment." Ortiz realized then that he wanted to dedicate his life to spreading the Good Word of Tea. Also, he thought, maybe I can make it a viable business, so he created JoJo Tea and started trying to sell great, real tea to restaurants. He was 25.
Eight years later, JoJo Tea has 280 tea accounts, 90% of which are restaurants and bars in South Florida. His name now rings out. When the famous chef/restauranteur Joël Robuchon decided to open three restaurants in Miami, his people called Ortiz, and he said "great, let's set up a tasting." "No," they told him. "We don't need to taste. We just want to carry your stuff."
Anyway, once you understand his terroir, Ortiz's performance at the Tea Master's Cup makes a little more sense. The acting background explains how he was able to lock eyes with the judges as he talked about iced tea numbing the taste buds, or explaining why he used lemon myrtle from Australia to brighten his drink, and ginger to cut it. His Cuban-American past helped color in the Latin-tinges in his voice, which is two octaves lower than you think it'll be, and unique in a way that should be copyrighted. Hearing Ortiz speak is like listening to the Ocarina of Time from Zelda. At one point, he began to read ingredients ("saffron bitters, organic lemon peel, sarsaparilla root, turmeric root,") and I swear the entire place stopped. I nearly cried.
He didn't win the tea mixology event that day (another Miami tea master, Adrienne Etkin Nascimento, did), but the day before Ortiz had guaranteed his spot in China as an American Tea Master by winning for tea preparation in myth making fashion.
Each contestant was given five teas, one tea pot, and a set of cups. You had to pick one of those teas and brew it for the judges, and one tea of your own choosing. The idea was that you wanted the two teas to balance each other in some way, or play off each other. I'm not going to be able to do the rest justice, so I'm just going to let Ortiz explain it himself:
"The first tea I brewed was Jade Mountain -- a Taiwanese oolong that's heavy, it almost has an oily mouthfeel. In fact, the family that makes it told me it's so heavy they recommend it to folks working in the mountains on an empty stomach. To balance it, I had to pick one of the five teas they gave me, and I saw Ruby 18. Ruby 18 is fully oxidized, but instead of being roasted like 99% of black teas, it's dehydrated at a much lower temperature (Author's Note: At this point he stopped to explain to me that rolling the tea leaves exposes the sugars which caramelize when baked, but dehydrating suspends the sugars in the leaves without bringing them to the surface, so the sweetness is more subtle. I just nodded), so it ended up with berry flavors on the nose, but what lingered was this rose petal flavor, with a mouthfeel that was cool and crisp like peppermint.
When I saw that tea come out, I thought that the Ruby would cut through the thickness of the Jade like a laser, and be a startling experience for the judges. But I needed to make sure the Ruby 18 was bright enough, so I walked up and stuffed some leaves in my mouth and started chewing. Saliva diffuses the flavor, so you get a crude idea of what the tea will taste like, which seemed the most efficient way to make sure it was good. But all the other contestants were breaking out thermometers and scales and stop watches, and here I was just stuffing leaves in my mouth and walking away. In retrospect, it might've looked kind of obnoxious, but hey, it got the job done."
That job, of course, was winning Mike Ortiz one of first two American slots in the International Tea Master's Cup. I ask him if he's nervous. "Hell yeah," he says. "But it's so cool to represent America. We got to show the rest of the world Americans actually know a thing or two about tea."
Not to dump tea into anyone's harbor, but before the artisanal tea movement in America can truly take flight, they've got to overcome a few major hurdles, lest they near the sun only to discover their wings of momentum are made from Icarus-style wax.
The first is transparency. Fraud in the tea world is, as Tony Gebely told me, "so widespread, it's ridiculous." And that is a huge issue in the connoisseurship game. As Gebely put it: "Nerdery around tea can only really happen if you know where the hell your tea came from."
Last May, Gebely launched his Tea Epicure site, which is his attempt to create a Robert Parker wine-style rating system for all teas. Others, like Elyse Petersen, founder of the Vegas-based wholesaler Tealet and former Peace Corps volunteer and food scientist, are waging smaller scale battles by establishing direct trade with independent cooperative and family tea farms, so she can trace the teas "farm to cup." But the most ambitious plan to combat tea fraud comes from Arizona-based International Speciality Tea Association founder Austin Hodge. Hodge put forth a pledge to try and come up with "easily understandable" international standards to judge tea quality across the board, making the point in his manifesto that "'Specialty Tea' must be defined to establish value and give meaning to the term."
But that brings up the question I keep asking myself and others: Does the American public, or at least enough of the American public to create onus for change, really care that much about the quality of their tea? Or, as one former Northern California cafe manager who now sells high end matcha put it, "Outside of the conception that tea bags are shitty and loose tea is 'good,' is anyone aside from true hobbyists really paying attention?"
Rob Yaple, a 33 year old middle school teacher in the Chicago area, got into tea when he discovered a small, educationally minded tea house while studying abroad in London in 2009. What he likes best, he says, is "the mindfulness of the process. Heating the water, choosing the teas, the vessel, experimenting with intensity, learning the history and tradition behind it. For some people that might sound like such a process, but the fact that there's a story behind each cup of tea appeals to me."
Yaple is, in many ways, the perfect example of the new growing tea scene. Though he modestly says he is a tea amateur, he tells me he likes to read books on tea history and, upon returning from England, began purchasing unadulterated loose leaf teas. He drinks tea out of gaiwans (Chinese lidded bowls used to infuse tea leaves) on the weekend with his wife, and carries a thermos of hot water with him throughout the school day.
As for worries of fraud, he tells me he wishes he knew more about it, but it wasn't "the first thing that comes to mind." Even still, he tries to figure out online sellers that seem legitimate (in the past he's purchased tea from Elyse Petersen's Tealet and Gebely) and sometimes wishes there was a bigger, verifiably legitimate tea source in the States so he didn't have to jump from seller to seller to find the teas he's looking for. "I think if there was something bigger and easier, more people might get into it," he says. "But then again, I dunno -- would that make it lose some of its romanticism?"
There is something extraordinary about opening yourself up to the world of tea. You can get lost in it.
Jenny Wong, who -- alongside her husband James Beard nominated chef Sheridan Su -- owns and operates two Las Vegas restaurants (Flock & Fowl and Fat Choy) is a self-admitted tea fanatic, and had excitedly introduced an ambitious tea program at Flock & Fowl. But after several months, Wong was forced to scale it back. "Part of it was lack of interest," she says, "but the other was the fact that most diners just aren't used to spending money on tea the way they might on high end coffee or cocktails."
And yet, despite the fact that many folks are still in the Lipton tea bag era of consumption, and others remain somewhat nonplussed that the $300 Imperial Dragon Well tea they're drinking might not even be from Longjing Village in Hangzhou, there is something extraordinary about opening yourself up to the world of tea. You can get lost in it.
You can be at the World Tea Expo interviewing the owner of The Kraken's Cup tea house in Knoxville, Tennessee, while Dill Senevirantre talks about the chemistry of tea flavor, and suddenly your mind fills with dread as you realize you're not sure how to pronounce "rooibos", so you overcompensate and buy James Norwood Pratt's Tea Dictionary, and Tony Gebely's Tea: A User's Guide, and The Story of Tea and Tea Nation by Xinyu Rong, and you watch the Netflix documentary All In This Tea and realize one of the tea legends, David Lee Hoffman, owns land with (semi-maybe-illegal?) tea caves not 15 minutes from your house. And then Tony Gebely tells you about a secret spring close to Hoffman that Tea Heads swear produces the finest tea water in the country, and you find yourself in Samuel P. Taylor State Park, looking around for a spring coming out of a hill, when your wife calls to see what time you'll be home, and you find it hard to explain to her the gravity of the situation you're facing, especially since you already weirded her out when you randomly explained the difference between a gaiwan and a mug infuser at dinner when she definitely didn't ask.
Tea is that type of experience. Ortiz put it best, "Say there are ten levels to tea. If that ground up shit in a paper bag with a string is level 0, there are entire worlds before you get to level 1. And that is where most folks see the biggest leap, from zero to somewhere before one. Because if you can get there, your world completely opens up."
Tea is the perfect cultural drink for right now. It has such a big tent -- you can like it for the caffeine kick, or the rituals, or the scientific experiments in brewing time and temperature, or the cool hobbyist gear, or the Eastern religious undertones, or the dietary benefits, or matcha's Instagram friendly coloring. You can like it because it separates you out, or pulls you into a new community, because it makes you feel simultaneously like an outsider and an insider.
Right now tea is exciting because tea feels fresh and new, which is ironic considering it is the oldest drink in the world. We're still in those early adopter stages, the energy and optimism and the hobbyist nature, but it's professionalizing slowly. Pamela Hamon, a tea maker who works at Red Blossom Tea Company in the Bay Area related it to the solar industry in the early 2000s: "Everyone involved was a true believer, but the marketing and the branding and language around it needed serious work. That's where we're at. We all know it's incredible, but we need to figure out how to sell it to folks who might not realize that yet."
But the true believers are making progress. Even a year before, the American tea scene didn't have Tea Masters or someone like Gebely trying to get his Robert Parker on. Of course, this is America, so there's a good chance that, if we all come to love tea, we might end up destroying it the way we tend to destroy all things we love, with our clumsy capitalistic Lenny-esque squeeze. But we can write those indignant Op-Eds later. For now, we might be content to just get tea past level zero in America. That might be enough.
It was almost like a wine tasting, except after four hours, people were MORE attentive and focused and excited.
Before we go, let's return to Vegas, to that alley, where someone told me Ortiz was brewing tea. There I found myself seated at a long, wooden table with six or seven others. It was around 8pm. I thought I'd sit there for a few cups of tea, get enough material for a scene, and get out in time to go to the casino and spend $80 sitting at a Game of Thrones themed slot machine.
That is not what happened. For the next six hours, I sat transfixed inside the garage and tasted teas brewed by Ortiz and a few other "tea artists" or, as they like to refer to themselves: "teagenerates." All kinds of teas. Orchid Isle Oolong from Hawaii, and Satemwa Tea Estate's Zomba Pearls from Malawi, and Nannuo Handmade Shou Puerh from the Yunnan Province in China. Some of the teas we tried were 20 and 30 years old. Some were hand picked and processed by the tea masters standing in front of us. Some had very cool names I forgot to write down during a period where I really had to pee.
As we drank the teas from small, handcrafted clay tea cups made by an Albuquerque artist, the Tea Heads talked their shit. They talked about the intense battles fought in the Reddit subreddit/tea. They talked about Steve Odell, an influential Portland, Oregon tea house owner who created a large, cultish following with his sober basement parties. And "Po" Rosenberg, another Portland tea master who guides folks through "tea tastings" at his Heavens Tea shop, sometimes letting them try 50 year old teas. And Vegas-based DJ and musician Steve Aoki, who has an incredibly serious tea room in his house. And Tim Hsu, a high end, discreet New York City tea dealer, who, rumor has it, has sold tea from the Qing dynasty in 1890 for $400,000 a pound.
They taught me how to respectfully rap on the table with three knuckles or fingers when someone pours you tea, and how you should never point the spout of the tea kettle at someone. They made comments about the tea: "Take a sip, open your mouth, and you'll be on Jade Mountain." Or "This is so roasted. This is like Taiwanese old man tea." Or told stories about back in the day: "Let me tell you about the bullshit blueberry white tea I made when I was first starting out."
Around 1am, I realized something else: Everyone here was sober. It wasn't completely alcohol free -- the Japanese matcha master has a bottle of whiskey he'd passed around -- but it was basically a sober room. And yet the excitement of the new teas and the rituals had kept everyone energized. It was almost like a wine tasting, except after four hours, people were MORE attentive and focused and excited, as opposed to throwing up in outdoor water fixtures.
I finally got up to leave around 2am. As I said my goodbyes, and explained to a slightly dubious Lyft driver in very specific detail exactly how to pick me up, folks continued to sit around the table. There was a rumor someone found a great oolong they'd forgotten was in their bag. There was talk of brewing another pot.
Sign up here for our daily Thrillist email, get Eatmail for more food coverage, and subscribe here for our YouTube channel to get your fix of the best in food/drink/fun.
Kevin Alexander is Thrillist's National Writer-at-Large, Food. His book on the unique mix of people, places, and circumstances that led to the last decade of eating/drinking in America, BURN THE ICE: The American Culinary Revolution and Its End, was published in July by Penguin Press. He is a 2017 James Beard Foundation Award winner.