Every year, Colorado's finest burger purveyors get together at the annual Denver Burger Battle in an effort to make the tastiest burger in town. They all fail, as they end up making the tastiest burgers in the whole damn country [Note: The person writing this lives in Colorado], as they're packed with inventive toppings and the finest beef available to man
Pictures don't lie: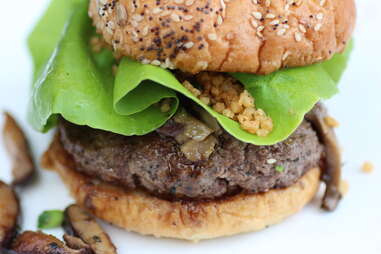 Winner of this year's People's Choice Award, TAG Burger Bar straight up whupped the competition with a Godzilla burger, an Angus patty topped with shiitakes, teriyaki sauce, and crispy tempura crispies. Now that's crispy.
A favorite locals hangout, Highland Tap & Burger is well known for their Rocky Mountain burger, a delectable mashup of beef and lamb between a bun with Denver Bacon Company bacon, goat cheese mousse, and a tomato-mint relish.
Gamble on loving Crave Real Burgers' Sin City burger, a delicious interplay of spicy candied bacon, a hunk of crispy fried white cheddar, and bourbon-glazed onions.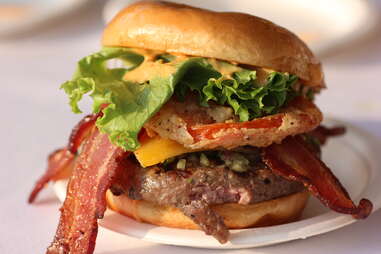 Bacon, crispy jalapeno, masa-crusted tomato, and Tillamook cheddar make up the Three Corners Larkburger, a burger from -- you guessed it -- Arthur Treacher's!!Larkburger.
A Four Seasons restaurant goes high-class with their EDGE Kobe Burger, combining pancetta, pickle relish, jalapenos, and a truffle aioli.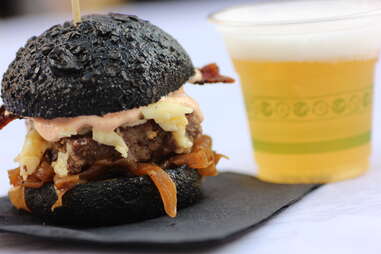 A burger paired with a taster of Asahi, the Tokyo White Castle Slider from Denver hotspot Linger stood out with a squid-ink bun, Tender Belly bacon, and spicy mayo. Squid-ink buns are popular in Japan, but haven't quite crossed over here yet.
The judges' pick as the best burger in the competition, Park Burger's The Scarpone, is an Italian-lovers delight, with Harris Ranch beef, crispy pancetta, giardiniera, and a truffled garlic aioli. Mamma mia!
A resto known for their seafood, Jax, grilled a no-nonsense Colorado's Best Beef Dry-Aged Burger with a homemade bun, cheddar, and Tender Belly bacon.
The Grind was a show where you watched people dance, while Grind is a Colorado restaurant that prides itself on using local Crystal River beef, a feature that really makes their All American burger sing.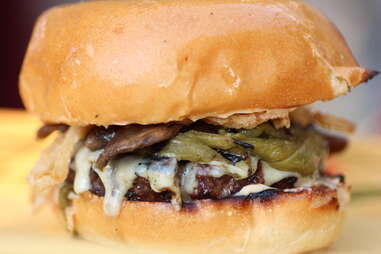 Green chile is beloved in these parts, which explained the long lines to eat Juicy Burgers & Dogs' Green Chile Char-Burger, a grass-fed patty accompanied by roasted chiles, pepper jack, and onion strings. And with that, case closed. Sorry, every other state's burgers. [Ed Note: The person writing this lives in Colorado.]