The great poet and philosopher Kermit T. Frog once spoke of the difficulties of being green. Well, we've come a long way since the amphibious journalist first made the rainbow connection, and if we're talking about weed -- which we are! -- then it's actually a lot easier being green. And getting it. And smoking it. With recreational weed now legal in the country's capital and four states (and straight-up for sale in Colorado, Oregon, and Washington), we're on a path of enlightenment from coast to coast. And that's worth celebrating.
That's why we took it upon ourselves to round up the best smoke shops in America, from places where you can actually buy weed to places that still pretend that double-percolator hand pipe blown by a legendary glass artist is for tobacco. We've also included several head shops with historical and cultural influence in mind, just to give you something to talk to your uncle about as you awkwardly toke up with him in secret next Christmas. And, yeah, we very likely missed a few places. Or more than a few. Whatever. It's weed. We tend to forget things. So let us know the best spots we overlooked below. Alright then. Movin' right along.
Recommended Video
Where to Get the Best Waffle Fries You'll Ever Eat
But first, caveats: In creating this list, we could have relied solely on the places in Colorado, Oregon, and Washington where anyone over the age of 21 can procure cannabis. That would be a little boring. Instead, we limited those glorious states to four picks each, with one pick per city, to share the love. In addition, we've excluded medical-only places, since that would be like doing a list of "best pharmacies," despite how easy our friend in Weed, CA says it is to get a card.
Aspen, CO
Colorado's been toking -- and dabbing, and eating delicious brownies and candies -- without criminal repercussions longer than any other state, so long that there are actual great cannabis chains throughout the region, giving new ways to experience Rocky Mountain highs (sorry, we had to). Native Roots has stores all over the Front Range and High Country, but only one of them is surrounded by designer boutiques -- Downtown Aspen. Located just off of Main St, Native Roots Aspen stocks the same strains you can find in any of its other stores. You can even try one of the signature, artist-inspired strains like Griz's Griz Kush or Big Gigantic's Cookies and Dream. Native Roots' clean branding and layout don't look out of place next to Prada. That's right. Designer weed is here. And it looks great!
New York, NY
New York's St. Marks is a weird place, which is probably why it's always functioned beautifully as NYC's place to go for amazing head shops, Brooklyn and its gluten-free glass emporiums be damned! "A bong in every bodega and a bubbler shop on every corner," the neighborhood's namesake saint once said, we think. But these days, it's also a lot of tourists rolling through the streets. And where there are tourists, there are vape pens, which have shifted the focus from old-fashioned pleasures. Pleasures like getting some quality glassware, then getting a tattoo and nipple piercing at Smoking Tattoos, the most St. Marks of St. Marks spots outside of maybe a weird-ass karaoke den. Nothing beats perusing an endless selection of beautiful, designer-quality bongs to the gentle buzz of a tattoo needle.
Seattle, WA
Weed's been legal in Washington for a while now, which has allowed dispensaries to get into their groove, both in terms of nugs and edibles, shatter, dabs, and other cannabis delights. And that time has allowed Ike to become your cool uncle who's always willing to share his stash. This weed utopia comes complete with a well-stocked glass shop and vaporizers galore. It's the Central District's very own marijuana mecca, and the inventive menu here has it all. Caramel apple weed chew? Check. Spicy cheddar crackers with a kiss of marijuana? Check. A pre-rolled hybrid joint inspired by Thin Mint Girl Scout Cookies? Check. Debit cards are fair game at the glass shop, but make sure to have green stuff for... well, the green stuff.
Chicago, IL
Chicago's Old Town might get credit for being the epicenter of the hippie movement back in the day (think of it as a Midwestern Haight-Ashbury in the '60s, but with better hot dogs), but these days, the best head shops in the Windy City are found in Lakeview. And our favorite is still Secrets, which eschews the vaping bullshit for an old-school bongery packed with enough hand-blown masterpieces big and small to qualify as a smoker's museum. In a neighborhood with more than a dozen smoke shops (and good ones), Secrets remains the best. The baby boomers of Chicago tend to agree, especially since there's no need for a "batteries not included" label on the thing that's gonna get them high.
Portland, OR
Contrary to what you may believe from the behavior of Portlanders throughout the decades, pot only became recreationally legal last year, but enterprising as they are, Oregonians jumped right on it, with dispensaries selling nugs and pre-rolled joints (no edibles or concentrates quite yet, but they'll be here soon) popping up faster than food carts in Portland. With two locations -- one in the fancy Pearl District and the other next to bike-theft central at the Convention Center -- Oregon's Finest is hard to miss, even amid the fray. With multiple high-end strain options from growers regularly featured in all the cannabis magazines, this is an easy one-stop shop if you're Downtown. The three-pack of joints seems pricey at $40, but their potency allows them to be shared, so don't hesitate to grab those half-gram rolls before checking out. Its selection of oils is mostly top shelf, and the edibles are the state standard for packaged goodies.
Spokane, WA
Offering everything from marijuana-infused sparkling drinks to candy, this high-end marijuana retailer will have you good as gold on pot goodies. Spokane Green Leaf works with top growers, so you can rest assured that its UW Purple, an indica with a light floral smell and taste, will do just the trick for you academics out there. Also on the menu here: a strain by the name of Pineapple Chunk, which will give you all the happy feelings, and OG Ringo, a sativa that promises to be a "great conversation bud." Probably regarding songs about octopi.
Aurora, CO
Good Chemistry is well known in Downtown Denver and Capitol Hill, but it also has a bigger, newer location in Aurora. The city may not permit medical facilities, but it allows the rec stores to stay open until 10pm. With possibly the most novice-friendly menus of any store, new consumers will feel comfortable as they shop for the first time. To top it off, every one of the quality strains goes for $30/eighth every day. That makes it one of the best spots for folks who have no idea what they're doing when buying weed legally. But the best part about GC is that it's also great for folks who come in on the regular.
Manzanita, OR
Oregon coast summers aren't much for surfing or sunbathing, but every year people flock to the tide pools, hiking trails, kite-flying areas, and Goonies locations along the Pacific Ocean. Focusing on small-batch and locally grown cannabis products, this shop also works with the Inhalem Society to sponsor farm-to-table, terpene-paired meals at local bed and breakfast North Fork 53 and the oldest farmers market on the coast. For extra fun, stop here and then take a coastal drive an hour south to the Tillamook Cheese Factory. Because there's nothing that pairs quite as perfectly as weed, free cheese, and freshly churned ice cream. And the smell of cow poop.
Ann Arbor, MI
Contrary to what your smug Wolverine cousin who never shuts up about med school would have you believe, Ann Arbor's a very laid-back city that loves its weed. [Editor's Note: This entry was written by a dude from East Lansing.] So much so, in fact, that it just celebrated its 45th annual Hash Bash, when the city's already-lax stance on marijuana (decriminalization = $25 fine) is, um, laxer during a political rally that totally isn't just a big-ass party. For three decades, Stairway -- a second-story institution for "tobacco" smokers -- has been Michigan's go-to spot to help you accessorize for the Bash and beyond, from shirts that scream "I swear I didn't fail poly-psy because I was high," to an incredible selection of glass, papers, and pipes, to detox potions, you know, for the 364 other days a year when you're not smoking pot in Ann Arbor.
Ashland, OR
With a Leafly-powered menu so long you'll think your scroll bar is broken, this Southern Oregon shop doesn't mess around curating specific strains -- if it's good, you'll find it here. Located less than a mile north of Ashland's famed Oregon Shakespeare Festival and a block south of the area's taxi HQ, this should be marked on your summer vacation must-see list. You know The Bard himself was a fan of the green, yes? We hear he also liked whitewater rafting, which is also big here.
Glendale, CO
Denver's unofficial nickname in some cannabis circles is "Dab City," due to the number of concentrate aficionados that have emerged in the past few years. Kind Love's ridiculous selection of shatter, wax, and live resin is a dabber's dream... and if you don't know what dabbing is, well, you've got much joyful discovery ahead of you. It stocks its own brand of concentrates and in-house-grown flower alongside Green Dot, Craft710, and incredible Extracts products. It also has a great selection of clones -- the weed strains, not the kind that ruin Star Wars -- for those who want to dabble in growing at home.
Tacoma, WA
Disney World? It's got nothing on World of Weed, located in the south-of-Seattle metropolis of Tacoma (though if Disney World opened a dispensary... zippity do dah!). Since 2015, WoW has been purveying all the feel-good basics, from sativas that will take you from 50mph to 15mph to a tincture called Kronic Tonic. The people over at WoW aren't the kind to hide products behind a shelf, so you can feel free to get hands-on with accessories to see if you like 'em before you commit -- no crapshoot menu-ordering here. World of Weed is located right by the Emerald Queen Casino, but hey... we're not going to put any weird ideas in your head. Or are we?
Phoenix, AZ
Whether you're Tommy Chong or Harry Anslinger, there's no denying the complete and utter beauty involved in the art of blowing glass. It's just that some artists get their work framed in a bodega's glass case next to a shitty Scarface poster, and others get put on full display -- name and all -- at places like Herb 'N Legend. This is a place that takes the curatorial process of selecting the world's most beautiful pipes very seriously, and while the spot's loaded with less-compelling pipes you won't really mind losing, it's also a place where you can roll in and be genuinely blown over by what people can do with a little ultra-hot sand and some inspiration. Be honest: if you could smoke out of the Venus de Milo, that'd be pretty amazing. This is about the closest you can get to that.
Bellingham, WA
Cascade Herb Company works with growers in the Whatcom County area and across the state, so this homegrown-lovin' pot shop touts the freshest of the fresh. Whether you just dabble or fancy yourself a connoisseur, you can channel a bit of the Long Beach lifestyle with Snoop's Dream, score yourself some of the 7-10 Dolla Hollas (a gram of bud for $10), or chose yourself some glass from the colorful selection. CHC has a different deal every day, so swing by anytime and try your luck. Oh, and it's situated in the most beautiful part of Washington (between BC and Seattle), which makes the experience even more breathtaking.
San Francisco, CA
OK, this one is a memory-lane kind of pick, but whatever. The Haight-Ashbury neighborhood's basically covered in a sheen of resin leftover from the Summer of Love, and Pipe Dreams -- the area's oldest head sop -- has seen it all, watching its loyal customers transition from dancing in the streets to, well, there isn't that much time to dance when you've got these reports to file, you know? Through it all, Pipe Dreams remains, with a love of Bay Area glass artists, fancy papers, ceramic vapes, and all. Owning a pipe from this shop is almost a requirement for anyone who can hear the phrase "steal your face" and not just think you're talking about some Nic Cage/John Travolta movie. It's an American icon, and it's a beauty.
Boulder, CO
The Farm is one of Boulder's most popular recreational stores, and considering the sheer volume of hula hoopers on Pearl St, Boulder's citizens love their rec stores. Shoppers can pick up one of the shop's strains of craft cannabis, including several that are bred in-house, in a spacious, well-designed storefront. It also carries seeds for the home grower, as well as Hummingbird CO2 oil, rosin, and shatter. The shop has won several awards including Best Customer Service at the 2015 Cannabist Awards and Best Recreational Dispensary in the Boulder Weekly's Best of Boulder 2015. So, yeah, maybe trust those hula hoopers. They might be on to something.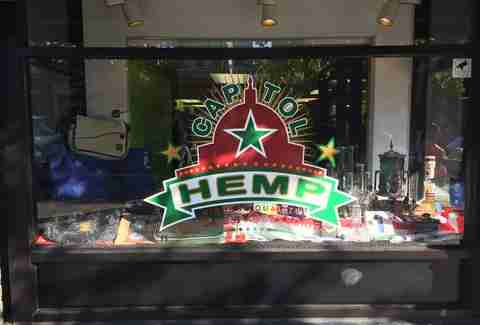 Washington, DC
Well, the good news is that recreational weed is now legal in DC (USA! USA! USA!). The bad news is that you can't actually buy it in dispensaries for recreational purposes. Whatever. Weed's legal in DC, and when you're looking to accessorize, our money's on Capitol Hemp, which is fully stocked with water pipes from the likes of Illadelph and Fatboy, state-of-the-art vaporizers, fancy papers, and everything else you need once you totally get your marijuana legally. In a city cluttered with mediocre storefronts, it's a surefire bet. And if you get cold? Well, it makes (itchy) hemp clothing. It really is a wonder plant.
Bend, OR
It's not tough to find high-quality or value-priced cannabis in the scenic, underrated beer town known as Bend, OR, home of Mount Bachelor, Deschutes Brewery, and some of the finest vistas to smoke among in the state. But what's a little harder is finding a shop that understands the value of terpene content, which this shop does (for the cheap seats, terpenes give your weed its smell and taste). With plenty of the terpiest CO2 extracts and a medical background that makes matching symptoms to strains a breeze, shops like this are why Oregon has a reputation for growing the best cannabis at the lowest prices. Don't be afraid to use its website -- unlike many cannabis companies, its web designer seems to have moved on from the '90s.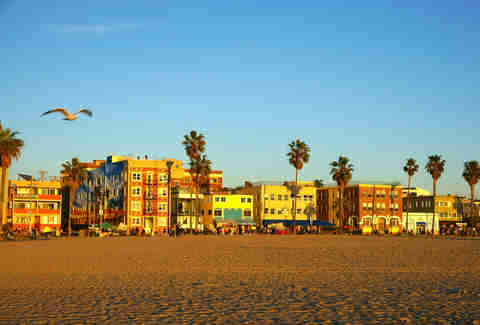 Los Angeles, CA
Look, we're gonna be upfront. We wanted to just say all of Venice Beach for our iconic LA head-shop experience. Basically, you can't walk 3ft in Venice without running into a mostly naked weightlifter or some other weirdo, which is weird enough when you're not under the influence of weed. Luckily, you probably are, and if you ever are in need of an apparatus, you're at ground zero for head shops where you can get hand-blown glass, papers, vapes, and every other weird-ass thing you need to make this weird-ass wonderland even weirder. The tiny little beach-house bungalow known as the Green House is fully stocked with beautiful glass and friendly faces, which makes it our pick for the best of the beach. But consider it a starting point for a larger adventure. And consider that beautiful beach the best refuge in the event that you get bugged out by an oiled-up hardbody.
Muskogee, OK
Guys. Merle Haggard died a couple of weeks ago. And way back in the day he wrote "Okie from Muskogee," a satire of small-town Southern life that uses lines like "We don't smoke marijuana in Muskogee/We don't take no trips on LSD." It's juxtaposed with the Vietnam-era rebelliousness of the hippies and counterculture and... OK, look. Maybe we smoked a little before finishing this story, and this song came on our iTunes shuffle, and we had a little moment (true story!). But there's also a pretty solid smoke shop in Muskogee, which sells one-hitters and glass, plus pretty gnarly water pipes. In fact, there are two Evolutions in Muskogee (and five total!). Apparently, they DO smoke in Muskogee. And, to be honest, getting a piece there is your duty as an American. Your former-hippie uncle will also appreciate the irony.
Stuff You'll Like