America's Barbecue Styles, Explained By Regional Pitmasters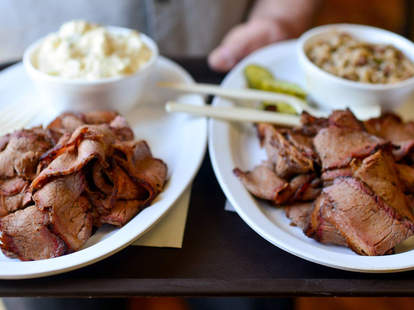 <a href="https://www.facebook.com/joeskcbbq/photos/a.243845457636.138615.120089257636/10153010522157637/?type=3&amp;theater" rel="nofollow" target="_blank">Joe's Kansas City Bar-B-Que/Facebook</a>
The best way to understand the differences between America's many barbecue styles is to hear the word straight from the pitmaster's mouth. We gathered together some great ones from Memphis, the Carolinas, KC, and more, and asked them to describe what their regional style's all about. If you don't get it after this, well… that's okay, the barbecue's still gonna taste good.
BONNINSTUDIO/Stocksy
The Carolinas: Porky pulpit of 'cue
"The Carolinas are all about the pig," says North Carolina native, Elizabeth Karmel, co-owner of Carolina Cue To-Go. "There are a lot of nuances just within North Carolina. You have Eastern and Western styles." Eastern-style embraces whole-hog cooking and a minimalist approach to sauce -- just vinegar and pepper.
Karmel grew up eating Western-style cue, which means shoulder, ribs, and butt dressed in a tangy, slightly sweet sauce. "Western-style sauce is more complex," she says. "It's usually made with ketchup, apple cider vinegar, pepper, two or three kinds of sugar."
At Carolina Cue To-Go, Karmel has married her favorite aspects of each style, creating a unique Carolina cue mash-up that consists of whole hog that is slow smoked over hickory wood, then hand pulled, chopped, and topped with a Western-style, red vinegar sauce made from apple-cider vinegar, three types of peppers, dark brown sugar & a touch of ketchup. When you cross the border to South Carolina, pig still reigns supreme, but it's doused in a strong, thick, mustard-based sauce that often includes brown sugar and vinegar.
<a href="http://www.facebook.com/bigbobs/photos/a.10150849097025073.402714.33357500072/10151419557860073/?type=3&amp;theater" rel="nofollow" target="_blank">Big Bob Gibson Bar-B-Que/Facebook</a>
Alabama: Fire-smoked meat, white sauce, and slaw on the side
"Alabama barbecue is all about the meat, typically pork shoulder and whole chickens," says Chris Lilly of Big Bob Gibson Bar-B-Q in Decatur, Alabama. "Alabamians like to sample barbecue first, without sauce. Great barbecue will stand alone, not needing extra sauce to improve the flavor. Sauce should be a complement to the flavor of smoked meat and not a cover-up," he insists. Lilly says Alabama is caught between the vinegar sauces of the Carolinas and the sweet tomato-based sauces of Memphis, so you can expect to find both types on the tables of Alabama barbecue restaurants. However, white sauce -- a mayonnaise-and-vinegar mixture -- is the Alabama barbecue emblem, and the reason Big Bob Gibson's Original White Barbecue sauce has become an Alabama barbecue staple.
Van Sykes, second-generation pitmaster at Bob Sykes Bar-B-Q in Bessemer, Alabama says Alabama pitmasters have mastered the art of the cool fire. "Very few people have enough focus to keep a fire at 275 degrees for eight hours," he says. Sykes says low-and-slow is done right in Alabama. "We start our fires around 4am with the objective of being able to pull our pork shoulders off and serve them when the doors open at 10:30am," he says. "And our barbecue tastes like meat because we know the bone and skin add the flavor. These people that make up rub concoctions don't understand that barbecue is about fire." Mr. Sykes says another hallmark of Alabama 'cue is the accompanying coleslaw. "It should have just the right balance of mayonnaise & vinegar and the cabbage should be ground up real fine."
Larry Crowe/AP Images
Memphis: Pit-smoked pig
"No one does pork like Memphis," says Andrew Pollard of A&R Bar-B-Que. "We cook our meat long and slow, 14-plus hours, in a big open pit with the wood directly under the meat." Occasionally you'll see pitmasters use a dry rub of paprika, garlic, and other spices, but Pollard says purists don't even use salt and pepper. "We let the meat soak up the taste of the pit," he says. When it comes to sauce, it's tangy and tomato-based, and usually slathered on a pulled pork sandwich.
Advertisement
Hungry for barbecue but also seeking crunch? Lay's has just added even more smoky/saucy/tangy flavor to their classic Barbecue Chips -- because while "more cowbell" might be debatable, the wisdom of "more barbecue" is indisputable.
<a href="http://www.facebook.com/joeskcbbq/photos/a.243845457636.138615.120089257636/10153010524247637/?type=3&amp;theater" rel="nofollow" target="_blank">Joe's Kansas City Bar-B-Que/Facebook</a>
Kansas City: Multi-talented meat masters
"Kansas City didn't invent barbecue, but we did perfect it," says Doug Worgul of Joe's Kansas City Bar-B-Cue and author of The Grand Barbecue. "We're the only place outside of the Deep South that has a signature, authentic barbecue tradition. Poor whites and emancipated slaves from the Carolinas, Texas, and Memphis brought their barbecue skills with them when they moved here after the Civil War. We had all of the right ingredients for their barbecue traditions to thrive and develop into a unique style: we were a meatpacking town on the river and we had good hard wood." Worgul says the eclectic nature of Kansas City barbecue sets it apart. "The Carolinas do pulled pork. Memphis does ribs. Texas you get brisket and sausage. We embrace all meats. No where else does it all and does it all well," he says. Burnt ends, the fatty end of a cut of brisket, is arguably what Kansas City does best of all. "Burnt ends get smoked anywhere from 15 to 17 hours which gives them that nice, smoky, caramelized outside bark that has a good crunch and a tender, juicy inside. They're a proud part of our barbecue tradition."
The sauce is another game changer. "People describe it as sweet and sticky and that's not right. It's sweeter than other barbecue styles with a nice, deep molasses undertone to it. Kansas City sauce is more complex, like a fine wine with lots of flavors -- celery seed, garlic powder, brown sugar, onion powder, cayenne, molasses. And our sauce does not define our barbecue. In Kansas City, the sauce is a condiment."
Chris Pencis/Flickr
East Texas: Sauced up & wood smoked
"Texas is a beef state and a firewood state and that informs our barbecue style," says Nick Pencis, owner of Stanley's Famous Pit Barbecue in Tyler, Texas. "But within Texas you've got many different styles." East Texas takes a lot of cues from Southern barbecue traditions so you see just as much pork as beef, he says. Brisket is chopped, not sliced, and people like their 'cue served between two buns with hot sauce or a sweet, tomato-based sauce. "Using sauce is way more accepted here," he says. "In central Texas, sauce is considered offensive. Here, we see it as a condiment, like salt on fries and you use that bun to mop it all up." Pencis says east Texas knows how to do the Texas Trinity -- brisket, sausage, and pork ribs. "The trinity sets the bar of a barbecue joint in east Texas," he says.
<a href="http://www.flickr.com/photos/scaredykat/12866655044" rel="nofollow" target="_blank">scaredykat/Flickr</a>
Central Texas: Caveman-style beef
Cattle is king in central Texas and the meat stands alone, "naked" without sauce. "Our style is no different than a steakhouse, other than the method we use to cook our meat," says Wayne Mueller, owner of Louie Mueller Barbecue in Taylor, Texas.  Mueller says in central Texas, barbecue is cooked using horizontal convection instead of radiant, vertical convection. "We don't cook with coals," he says. "Brisket is best cooked side to side with the air flowing laterally. That delivers really moist meat. You'll see central Texans carve brisket like they carve a roast or a prime rib. We cook it so it has the perfect thick crust and smoky, tender meat." The wood of choice is pecan or oak. Sides -- and silverware --  are an afterthought. This is Flintstone-style meat, best eaten with your hands.