Few people on Earth have traveled to the same lengths in pursuit of a good meal and a cheap beer as Anthony Bourdain. His television career is the envy of armchair globetrotters everywhere, but among the hundreds of episodes full of street food, bootleg liquor, and conversations with inspiring cooks, there are certain moments that stand out as superlative. So to celebrate Bourdain's adventurous spirit, we've ranked the 15 best moments of his television career. Scroll down to read them all, and find out where the episode with Bill Murray falls.
15. When he risked his life repping New York in Boston dive bars
No Reservations S07E07
As a tried and true New Yorker, Bourdain has a complicated relationship with Boston. He loves the music, the people, and the food, but can't help but feel an allegiance to the Big Apple. On this episode he dives deep into the belly of the beast, making a very wobbly crawl across a string of tiny Southie dives where Yankees don't typically tread, and nearly gets beat up for wearing the wrong sweatshirt.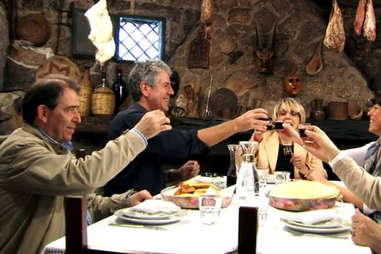 14. When he risked his marriage by putting his in-laws on television
No Reservations S05E20
In-laws are tough enough without a camera crew, but Bourdain takes it to another level by boldly filming an episode at his wife's family table in Sardinia. The island off the coast of Italy is notorious for its fierce independent identity, and there's no better way to experience that than through the lens of a local family. Bonus points for some of the show's best food porn, which comes in the form of lardo fat dripping onto a roasting goat.
13. That time he ate raw blood soup and had alcohol-fueled hallucinations in Thailand
Parts Unknown S03E07
An alcohol-soaked trip across a countryside in a tuk-tuk always makes for a good time, but it's especially true if you're alongside Pok Pok mastermind Andy Ricker. The episode features some of Bourdain's most experimental visual moments (a hallucinated dream scene full of strippers and clockwork elephants), but the food is obviously the draw, from raw blood soup that he expected to taste like an open wound (but was actually good!), to slowly stewed street pork, and karaoke room French fries. Plus for good measure he washed it all down with a smooch from a a ladyboy at a club.
12. When he went to an Atlanta strip club with Alton Brown
The Layover S02E07
Sure, Tony's been to way stranger locales than a modest Atlanta strip club, but his stop at the Clermont Lounge makes for some of TheLayover's most charming moments. Alongside a bow-tied Alton Brown, Bourdain takes shots out of plastic cups, fawns over the unofficial mayor of Atlanta ("Blondie"), and doesn't quite make it rain, but definitely gives the stage a little drizzle.
11. His attempted murder of the world's greatest secret agent
Archer S04E07
Why are Archer, Lana, Cyril, Pam, and Cheryl working at a high-end restaurant that's being filmed for a show called Bastard Chef? Who cares (it's to get Mallory a reservation). The point is, Bourdain cameos as a prick of a chef who's part himself, part Gordon Ramsay, and all chain-smoking, profanity-spewing greatness. Naturally, he's also a spy. And makes a great risotto. RIP.
10. When he ravaged Singapore's best food courts
No Reservations S04E01
Singapore ranked at the top of our international street-food cities, and Bourdain doesn't disagree. He names it as close to foodie heaven as it gets, and the whirlwind tour through Singapore's famous hawker stalls is enough to make any eater weep. The national dish of chicken rice is an obvious highlight, the bone soup (aka "meat slushie") nearly brings Bourdain to tears (and is one of the few moments he's so excited that he drops his food), and who could forget the chile crab -- but in true Tony fashion he balances a little high/low with a visit to a surprisingly decent chain hotel restaurant.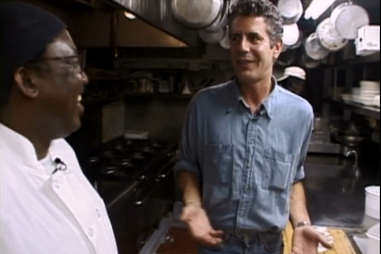 9. The moment he stepped back into his first kitchen
A Cook's Tour S01E20
Four pants sizes smaller than the Bourdain of today, a young Tony revisits the very first restaurant he worked at in Provincetown, where he cut his teeth in the summer of 1974. At this point he's a freshman TV host who jokes about this gig not working out, and actually means it, so confronting his "shady past" and interviewing his original mentor feels much realer than the later, glossier episodes that carry similar personal themes.
8. When he toured Austin with musicians then got a ridiculous tattoo
No Reservations S09E01
SXSW is like Christmas to Austinites, and Bourdain spends the episode opening presents with various musical heavyweights. The who's who of the Austin music scene circa 2012 show Tony the town: Mexican food with Neon Indian, Beard-winning small plates with Ume, fresh fish tacos with The Sword, plus a backyard barbecue with nationally lauded hardcore darlings Sleigh Bells, who make a mean avocado margarita and leave a permanent impression by way of a sun tattoo on Tony's arm.
7. The afternoon when he shot ducks with Daniel Boulud
Parts Unknown S03E03
Truth be told, Tony's shotgun doesn't find the mark until Daniel Boulud knocks a duck out of the sky for him, but he cleans up with a sloppy-second shot that ensures they'll have something to cook for dinner. And cook they do, plucking and roasting the freshly killed woodcock and pairing it with some mashed potatoes that are mainly butter. Contrasting Bourdain's other adventures with famous chefs, this one feels especially classic . It lacks his trademark snark or skepticism, highlighting the fact that despite all the globe-trotting, he's really just a man of simple needs.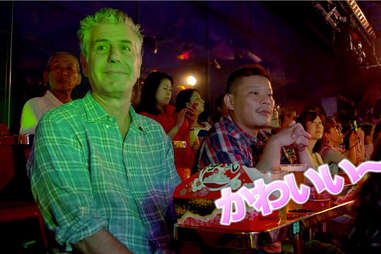 6. When his mind was blown by Japanese robot strippers, courtesy of the Yakuza
Parts Unknown S02E07
After a 12-hour flight without a wink of sleep, Bourdain's move is obviously to hit "the other Tokyo," the weird underbelly where tourists don't know to wander. His first stop is a live show whose strippers and robots top anything he's ever seen, including Jimi Hendrix, Janis Joplin, and David Bowie. Who does he have to thank for underwriting the 100 performers and insane robotic technology? Why the Yakuza, of course! Spoiler alert: Bourdain keeps both of his pinkies.
5. The time when he visited both Israel and Palestine
Parts Unknown S02E01
Perhaps Bourdain's most ambitious conceptual setup was his visit to Jerusalem, Gaza, and the West Bank, in which he straddles the difference between "terrorist sympathizer and Zionist tool." It's near impossible to find a media depiction of the tension in this region that's uncolored by agenda, so Bourdain's ability to use the context of the dinner table to level the playing field makes for truly impressive television.
4. His dinner at the best restaurant in the world, Noma
Parts Unknown S02E04
Noma in Copenhagen is consistently lauded as the world's greatest restaurant, which is the type of accolade that a contrarian like Bourdain would love nothing more than to strike down. But his visit to Denmark only cements the restaurant's reputation, with every ingredient from simple bread and butter to edible flowers and foraged beach mustard delighting the palate in ways both forward-thinking and utterly classic. The waiting list and high price tag make it a near impossibility to experience this yourself, so just be a fly on Bourdain's always incredible life wall.
3. When he shared a giant ribeye with Bill Murray
No Reservations S06E05
It'd be tough to pick a better dream team to tackle a ribeye for two than Bourdain and Bill Murray. Bill and Tony split a steak, as well as more fanciful fare like a lobster cappuccino, while overlooking the Hudson and waxing poetic about how near and far they are to the city they both love. Murray plays his typical mix of goofy grandpa ("we're going to have sandwiches for tomorrow!"), playful prankster (recounting a Stockholm golf cart incident), and armchair philosopher (finding the meaning of a great meal), while Bourdain gets caught in a rare fanboy haze.
2. The shift spent working in the kitchens of El Bulli
No Reservations S07E12
In exchange for access to the revered kitchens of El Bulli in Spain, Bourdain had to don his chef whites and step onto the line. The restaurant closed on a high note, but in it's heyday it was cranking out 1,500 incredibly precise and fragile small plates a night. For all the time viewers see Bourdain at dive bars and exotic food carts, it's not often you see him actually plating food, especially while shaking in his boots. Seeing the magic of El Bulli's molecular takes on hazelnut churros and jamon rose-petal wontons is reward enough, but watching Bourdain struggle to make them takes it to the next level. It might've just been for show, but he's called the best apprentice they've ever had. So, go Tony!
1. The time he had to flee Beirut for fear of his life
No Reservations S02E14
What began as a typical Bourdain tour through a city's burgeoning food scene -- devouring minced meats and visiting the Middle East equivalent of a South Beach nightclub -- ended in what made for the most dramatic moment of his career. There were a lot of firsts in this episode: Bourdain's first missile strike, the first time they've had to use an emergency number, the first time he ate aboard a military vessel. It showed Tony's dramatic side, and that he was capable of much more than just gluttony. Despite the horrific circumstances and glaring lack of food porn, it's Bourdain at his best.
Sign up here for our daily Thrillist email, and get your fix of the best in food/drink/fun.
Dan Gentile is a staff writer on Thrillist's national food and drink team. At this point he knows Bourdain as well as he knows himself. Follow him to giving bone marrow another shot at @Dannosphere.