Watching a train wreck like Paula Deen has its own butter-soaked rewards, but the best cooking shows tap legit chefs to guide you through food scenes ranging from gourmet to everyday to just kinda gross. In order to steer you from the Donkey Sauce to the best awesome sauce, we've ranked the 10 best TV chefs, factoring in both the quality of their shows and the quality of their actual eateries. Dig in.

10. Andrew Zimmern
Shows: Bizarre Foods with Andrew Zimmern, Andrew Zimmern's Bizarre World, Bizarre Foods America
Restaurants: AZ Canteen
We're big fans of Andrew Zimmern -- we didn't get him to write all these articles for nothing! -- and his stomach-churning show Bizarre Foods. Dude is fearless, and stuffs things in his maw that would make Bear Grylls gag. But if we're looking at his restaurant empire, the resume's pretty thin (chalk it up to his questing for delectable gallbladder). His AZ Canteen is pretty great, but one food truck that debuted less than 2yrs ago sets Zimmern back a bit.
9. Emeril Lagasse
Shows: At least eight with his name in 'em, including Essence of Emeril, Emeril Live, and Emeril's Florida
Restaurants: 14, including Emeril's New Orleans, NOLA Restaurant, and Emeril's Delmonico
Sure, watching an Emeril show isn't something you proudly bring up at cocktail parties (and you're ALWAYS bringing stuff up at cocktail parties!), but the man is definitely entertaining. He's also got 14 restaurants that have earned him fans in New Orleans, Charlotte, Vegas, Orlando, and Bethlehem, PA. Plus, he's got more "bam" than a Flintstones family reunion. He's just, well... your aunt kind of loves him.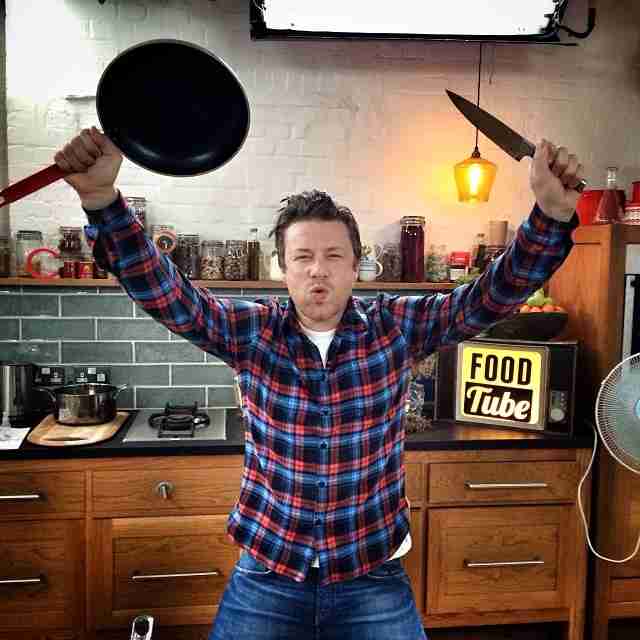 8. Jamie Oliver
Shows: The Naked Chef, Jamie's Kitchen, Jamie Oliver's Food Revolution, and more
Restaurants: Barbecoa, Fifteen, Jamie's Italian, Union Jacks, Jamie Oliver's Diner
While attempting to ruin McNuggets for a group of children seems cruel, we suppose we should be grateful to Jamie Oliver for trying to spare us artery clogs with Food Revolution, the latest show in his 14yr TV career. We still haven't gotten a Jamie Oliver restaurant in the U.S. (apparently a Jamie's Italian is in the works in L.A. though, obviously) but according to a British dude we met at the pub, his dinner spots across the pond are [SOMETHING UNINTELLIGIBLE THAT SOUNDED POSITIVE].
7. Bobby Flay
Shows: A whole lot with either "Bobby" or "Grill" in the title, including Throwdown with Bobby Flay, Grill It!, and Bobby Flay's Barbecue Addiction
Restaurants: Bobby Flay Steak, Bobby's Burger Palace, Mesa Grill, Bar Americain
This guy's grill-heavy shows are the ultimate meat p*rn, and we never get tired of that random bike messenger ninja who delivers all his Throwdown assignments. Unsurprisingly, his burger and steak joints have some decently serious cred among beef aficionados. Also unsurprisingly, many are in casinos.

6. Ming Tsai
Shows: East Meets West, Simply Ming
Restaurants: Blue Ginger, Blue Dragon
Dude had us sold when he cooked up mouth-watering Asian-fusion food on his Daytime Emmy-winning East Meets West, and his current show, Simply Ming, might be the best thing you've seen on PBS since you stopped ironically watching Teletubbies. His two restaurants are Beantown favorites, and the man in charge can frequently be spotted greeting patrons himself. Also, my editor would like to point out that Tsai's first restaurant was in his hometown and everyone in public school called it "that fancy city restaurant". So...

5. Gordon Ramsay
Shows: Hell's Kitchen, Kitchen Nightmares, Masterchef, and more
Restaurants: Nearly 30, including Restaurant Gordon Ramsay, Petrus, and Savoy Grill
The man who takes the Real World philosophy of "I'm not here to make friends" to f-bomb-laden extremes, Ramsay makes some undeniably watchable television. He also operates a large network of undeniably delicious restaurants, including our stateside Gordon Ramsay BurGR.
4. Anthony Bourdain
Shows: Anthony Bourdain: No Reservations, Anthony Bourdain: Parts Unknown, The Layover, A Cook's Tour
Restaurants: Brasserie Les Halles
Basically the Fonz of the celebrity chef world, Anthony Bourdain is so cool it's almost unfair. (Remember when he guested on Archer?!) His one-liners alone make his shows awesome, and his love of eating any and all things doesn't hurt, either. The guy trained at the Culinary Institute of America and did gigs at NYC spots like Supper Club and Sullivan's before he became a TV star, but nowadays he's barely in the restaurant game. He merely serves as "chef at large" at NY's Brasserie Les Halles and occasionally cooks up dishes above the Cunningham's garage. (Look out for that food market, though!)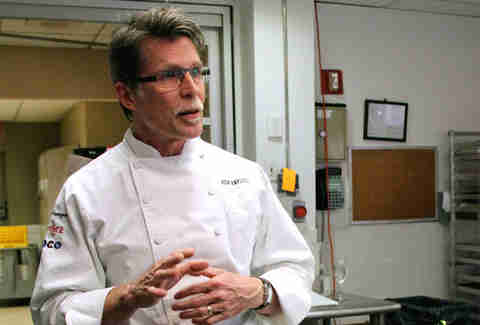 3. Rick Bayless
Shows: Mexico: One Plate at a Time
Restaurants: Frontera Grill, Topolobampo, XOCO, Frontera Fresco, Tortas Frontera
Fact: it's impossible to watch Bayless's PBS series Mexico: One Plate at a Time without going on a manic quest for tacos afterward. The authentic cuisine he highlights is the stuff of corn-shelled dreams, and his Alex Trebek-esque over-enunciation of all the Mexican plates provides some nice comic touches. His restaurants are mostly confined to Chicago, but he did manage to sneak one Frontera Fresco into the Macy's in San Francisco and Red O into LA.
2. Mario Batali
Shows: The Chew, Molto Mario, Mario Eats Italy, Ciao America with Mario Batali
Restaurants: 20+ spots, including Babbo, Osteria Mozza, and Del Posto
We'd like to discredit a man who wears so many orange Crocs, but Mario Batali's food more than makes up for his weird fashion choices. The guy is seemingly on TV cooking amazing things 24/7, whether it's on his actual series or every talk show ever. And there's no fancy television magic making Mario's meals so good -- ask anyone who's been to one of the dude's 20+ restaurants where the waiters inexplicably don't wear Crocs.
1. Tom Colicchio
Shows: Top Chef
Restaurants: Craft, Craftbar, Craftsteak, 'wichcraft, Colicchio & Sons, Riverpark
On Top Chef, Tom is merely judging a bunch of other people's foods, but he's also doing that on one of the highest-rated, most beloved cooking shows around. Colicchio most famously built up the menu at NY's Gramercy Tavern, making it such an institution that The New York Times wept many ink-stained tears when he left. But he's still got his empire of Craft restaurants, which even the ridiculous people of Yelp love, and keeps sammich lovers fed with his 'wichcraft outposts.
Kristin Hunt is a food/drink staff writer for Thrillist, and is still reeling from the time she accidentally drank banana milk in 9th grade. Follow her at @kristin_hunt.