These ants on a log are crazy... crazy delicious!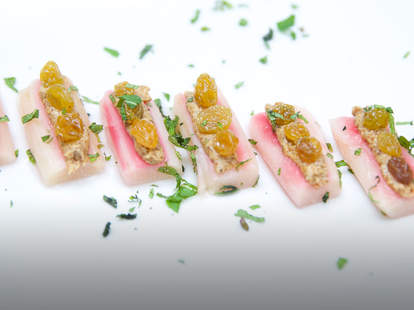 Entertaining for the holidays means creating food that'll please nieces and nephews as well as parents and siblings. That's why we got Top Chef season one winner Harold Dieterle to imagine this grown up take on the childhood classic, which is sure to satisfy the tastebuds of grown folk and wee children alike... and if it doesn't, your nieces and nephews are bad people.
All food styling done by John McLaughlin
Anthony Humphreys
Ants On A Log Recipe
INGREDIENTS:
1 bunch rhubarb
1 gallon water
1 cup sugar
1/4 cup lemon juice
2 cups golden raisins
1 cup amaretto
Almond butter as needed
Maldon sea salt as needed
Micro mint to garnish
DIRECTIONS:
Clean, peel, and cut rhubarb into two bite pieces.
Bring water to a simmer and add the sugar and lemon juice.
Add rhubarb and poach for three minutes, then chill & cover. You may need to level the bottoms with a paring knife once they're poached.
Meanwhile, heat the amaretto in a pot, add raisins, bloom, and chill.
Use a finely tipped pastry bag of almond butter to fill rhubarb and garnish with raisins, sea salt, and mint.