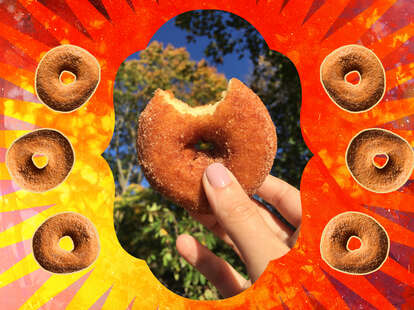 Design by Maitane Romagosa for Thrillist
Sarah E. Daniels, a wine buyer and former pastry chef who lives in New York's Hudson Valley, loves apple cider donuts. Not only are they "dang delicious," but they also "offer quintessential fall flavor in a convenient, warm, comforting little package," she says.
Daniels isn't alone. Apple cider donuts are an autumnal institution, especially in the northeastern and northwestern United States, where annual apple harvests signify the start of fall.
How sought after are these donuts? Searches for "apple cider donuts" peak every September-October, according to Google Trends data, with the highest concentration of searchers in Vermont and New Hampshire. In 2020, Mainer Alex Schwartz launched an interactive map to find the region's best iterations; his Instagram account, @ciderdonuteur, currently has more than 10,000 followers. That same year, New Hampshire residents voted humble apple cider their favorite donut, beating out chocolate-frosted, glazed, and Cronuts.
There's a vast array of options available at specialty bakeries, donut shops, and farmstands nationwide. Apple cider donuts, with their earthy palette and craggy exteriors, are unassuming allstars. Why, then, are they so enduringly popular?
Derek Grout, who manages his family's Golden Harvest Farms in upstate New York farm, thinks the simplicity of apple cider donuts is part of their appeal. "Let's face it, there's only a few ingredients," he says. Without swoops of decorative frosting or cream filling to mask any missteps, an apple cider donut's success relies on its baker's fastidiousness. "It can't be greasy, it can't be cakey, it can't be dry. It can't be overcooked, it can't be undercooked. There are so many details."
At their most essential, apple cider donuts are cake donuts with some form of cider in their batter for moisture and flavor. Specifics vary. There are fried or baked apple cider donut recipes, and they can be dusted with cinnamon sugar or unadorned. You can make vegan apple cider donuts, or enrich yours with buttermilk, yogurt, kefir, or eggs. The common denominator is, of course, the sweet tang of apple cider.
Therein lies some of their seasonal charm, says Sarah Fox, the baker at Milk Glass Mkt in Portland, Oregon. Cideries and orchards press fruit into cider from August-October, during their apple harvests. "This ties [the donuts] in people's minds to a specific time of year, and also encourages their consumption when they show up because they won't be around for long."
Even if you can find the donuts in the heat of summer or dead of winter, they're redolent with the flavors of fall and associated with autumnal activities.
"Once it starts getting cold and people start busting out their sweaters, they think, 'What can we do outside?'" Grout says. "Apple picking is obviously one of those activities. But when you really think about apple picking, you're talking about carrying 20-pound sacks around the orchard. It's not that much fun." Apple cider donuts provide a tasty, crowd-pleasing reprieve.
They're wholesome-seeming, too. "It's a perfect way of thinking you're eating something healthy because there's apples in it," Grout says.
While the actual health benefits of deep-fried dough are dubious, that's hardly the point. Apple cider donuts endure because they're simultaneously seasonal and timeless. They're handheld madeleines of real or imagined autumns in pastoral New England apple orchards, plucking fruit from branches and eating piping-hot donuts from brown paper bags. It's a fantasy, sure; but one that feels oddly within reach.
How to make apple cider donuts
Daniels encourages home bakers to give apple-cider-donut-making a try. "My biggest tips are to have patience, to start with fresh ingredients, and to maintain consistently hot oil—assuming these folks are frying the donuts," she says. She also proposes enjoying the donuts while they're still warm, and maybe rolling them in cinnamon sugar for good measure.
For optimal dough texture, Fox suggests reducing the apple cider "down to a syrup to allow for maximum flavor without causing moisture issues."
Grout firmly discourages all of this. "You have to be a masochist to want to make your own donuts," he insists, noting the messiness of frying and challenges of maintaining oil temperature and achieving ideal donut texture. "If you whip the batter too much, the consistency of the donut will be too firm, you'll get a cakey donut. And if you don't whip it enough, you'll get a grease sponge. If you want to make something fun at home, make cookies, make a cake. Donuts? In hot frying oil? Leave that to people in a commercial kitchen."
Life would be boring if everyone agreed all the time, or if no one ever attempted homemade apple cider donuts. And so, we created this recipe with home kitchens in mind. It doesn't require professional-grade equipment or years of baking experience to master. An oil or candy thermometer will make frying easier, but it's possible to make this recipe without one. The key is to keep batches small—no more than two donuts in a nine-inch skillet at a time—and cook for less than a minute on each side.
Besides, if each donut isn't picture-perfect every time, they'll still taste great. Who can argue with that?
Apple Cider Donuts Recipe
Ingredients:
• 1 cup apple cider
• 1½ cup all-purpose flour, plus more for shaping the donuts
• ¼ cup whole wheat flour
• ⅓ cup packed light brown sugar
• ¼ teaspoon cinnamon
• Pinch nutmeg
• 1 teaspoon baking powder
• ½ teaspoon salt
• ¼ teaspoon baking soda
• 1 egg, at room temperature
• 3 tablespoons unsalted butter, melted and cooled
• 1½–2 cups vegetable, Canola, or other neutral frying oil
Directions:
1. Bring cider to a rolling boil in a small, uncovered saucepan. Reduce by half, about 8–10 minutes.
2. In a large bowl, whisk together flours, sugar, spices, baking powder, salt, and baking soda. Set aside.
3. In a smaller bowl, whisk egg into melted butter and cooled and reduced cider. Whisk into dry ingredients until dough just comes together. Wrap in plastic wrap and refrigerate for one hour.
4. After the dough has rested, turn it out onto a floured surface and use your hands to press it into ½-inch thickness. Use a three-inch donut cutter (or Mason jar!) to cut into 3-inch rounds, reserving the holes.
5. Line a plate with a paper towel or set a cooling rack over parchment paper. Heat oil to 325°F in a heavy-bottomed skillet with high sides or large stock pot, and then reduce burner to medium. Fry two donuts at a time, using a fish spatula or spider strainer to flip them after approximately one minute in hot oil. After they've cooked less than one minute on each side, remove them and place them on the prepared plate or cooling rack. Repeat with remaining donuts, and then the holes in one batch. Serve warm.
Emily Saladino is a writer, editor, and recipe developer based in New York. Previously the Digital Managing Editor of
Wine Enthusiast
and Editor in Chief of
VinePair
, her writing has been published in
The Washington Post
,
Bloomberg
,
BBC
, and others. She currently reviews wines from Greece, Crete, and Georgia for
Wine Enthusiast
. A former professional cook and bartender, she holds a Culinary Arts Degree from The French Culinary Institute and Level II Certification from The Wine & Spirit Education Trust.