Via Carota's Arancini Recipe Inspires a DIY Aperitivo Hour
New York City's Rita Sodi and Jody Williams have perfected this classic Sicilian snack.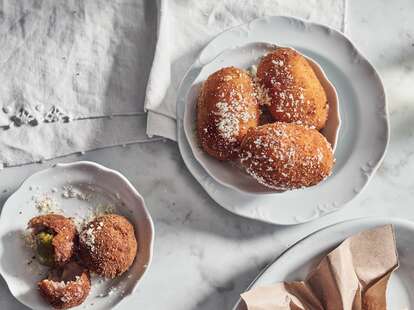 Via Carota's Arancini

| Photo courtesy of Gentl & Hyers
Via Carota's Arancini

| Photo courtesy of Gentl & Hyers
Rita Sodi and Jody Williams exist in a world outside of food trends. And yet, since opening Via Carota in 2014, their dedication to doing tradition untraditionally has shaped the status quo of New York City restaurants. It seems as though when certain ideas become topics of chatter in the food world—seasonality without the gimmick, small plates of vegetables over mains, ramps in the spring, and even the negroni sbagliato—it's Via Carota who just so happened to do it first.
Their latest endeavor, Via Carota: A Celebration of Seasonal Cooking, features all the recipes their guests routinely ask for at the beloved Greenwich Village restaurant. This includes the famous insalata verde, a simple assortment of crisp greens that perfectly encapsulates the chefs' approach: fresh produce that speaks for itself and a vinaigrette made from items found in a small, but carefully curated pantry.
"It's like a white T-shirt," Williams explains. "I think you have to really just love the simple stuff—like a plate of light fennel on the table with olive oil for a pinzimonio or bagna cauda. Leave it alone and know how to handle it."
The cookbook is a love story of sorts, in which Williams shares the first time she met Sodi in 2008. Williams, who was running the French gastrothèque Buvette at the time, decided to pop into I Sodi, where the titular owner was sitting 12 seats away at the bar. Williams visited the restaurant at least five more times before she had the courage to introduce herself—with a gift of farmer's market strawberries. It would only be a matter of time before the couple opened Via Carota together, inspired by Sodi's home on Via del Carota outside of Florence.
Though Williams and Sodi bring a completely different approach to the kitchen, they share an unspoken rhythm. "I'm very methodic. I like to be consistent with everything I do," Sodi says, to which Williams responds, "I don't do anything twice the same way."
The pair agreed to make Via Carota a neighborhood spot in which nothing is dictated, where you can eat however you'd like. Show up for a traditional dinner, or merely pass the time away with a pile of fritti and a spritz. The cookbook encourages readers to replicate this intuitive form of eating, as well as those moments of pause, at home. And one way to begin is with their well-loved arancini, crispy rice fritters stuffed with 'nduja. You can't start a meal at Via Carota without them.
Arancini hail from Sicily, named for the "little oranges" they resemble. They're usually enjoyed as a kind of street food, but Williams and Sodi treat them like a crostini—a small bite to enjoy before lunch or dinner. While arancini are commonly stuffed with extra cheese, Williams and Jody opt for the spicy pork sausage of southern Italy. "We liked having something piccante, or spicy, that suits the parmesan and the cheesy rice wrapped around it," Williams says.
Making arancini is a labor of love. "I think you really need to plan it out. You have your station for risotto, your station for forming the arancini, your station for rolling them through flour, egg, and breadcrumbs, and then your station for frying," Williams explains. "So you can break it up into a couple of days, but you've got these four parts that you've really got to think through."
For Sodi, "the most important thing is the consistency of the rice," she says. It shouldn't be too loose, otherwise you cannot keep the shape and ingredients together." Cook the rice until it's barely tender when you bite into it. While Via Carota's arancini are two to three bites, you can make your fritters larger or smaller by simply adjusting the cooking times.
For the most part, Williams and Sodi prefer to cook with water rather than poultry or meat stocks, which tracks with their philosophy of letting the flavors of their ingredients shine. "You use water when you want to leave the ingredients untouched. The water becomes an extension of the flavor," Sodi says. "If we changed it to chicken stock, then it would be, in our minds, a chicken arancini," Williams says.
While the chefs hope cooks at home will channel the Italian aperitivo and pair this treat with a well-stirred negroni, Williams jokes, "I would probably eat them standing in the kitchen. They wouldn't make it to the table."
Via Carota's Arancini
Makes 24 arancini
Ingredients:
6 cups/1.5 liters water
Extra virgin olive oil
2 shallots, finely chopped
1½ cups/300 grams risotto rice, such as nano vialone
½ cup/120 ml dry white wine
Salt
1 large egg yolk, lightly beaten
2 cups/200 grams finely grated Parmigiano Reggiano + more for serving
5 ounces/140 grams Monterey Jack cheese, medium grated (about 1¼ cup)
⅓ cup/75 grams 'nduja

For frying
1½ cups/180 grams all-purpose flour
2 large eggs
2 cups/100 grams fine breadcrumbs
Safflower oil for frying, about 3 cups/720 ml
Extra-virgin olive oil for frying, about 3 cups/720 ml
Directions:
1. Bring the water to a bare simmer in a medium pot. Coat a wide, heavy saucepan with oil (about 3 tablespoons/45 ml), set over medium heat, and cook the shallots until soft, 2 to 3 minutes, then add the rice. Using a wooden spoon, stir constantly until the grains of rice are glossy and well coated, about 2 minutes. Raise the heat to medium-high and pour in the wine, stirring until evaporated.
2. Add 2 teaspoons/6 grams salt to the pot of water. One ladleful at a time, add hot water
to the rice, and stir until it's completely absorbed. Continue adding hot water gradually, only adding more when the rice is ready to absorb it (you will know it's ready when the bubbling increases and the spoon leaves a slow trail in the rice). Stir after each addition of water and cook until the risotto is loose and creamy and when you bite into a grain of rice it's barely tender, 18 to 20 minutes (you may have up to 1 cup/240 ml of water left). Quickly stir in the egg yolk,
and then the parmigiano and Monterey Jack. Add salt as needed. Spread the risotto onto
a sheet pan to cool as quickly as possible.
3. The risotto can be made ahead up to this point and refrigerated, tightly wrapped, for up to 1 day.
From Via Carota: A Celebration of Seasonal Cooking from the Beloved Greenwich Village Restaurant by Jody Williams and Rita Sodi, with Anna Kovel. Copyright ©2022 by Jody Williams and Rita Sodi. Excerpted by permission of Alfred A. Knopf, a division of Penguin Random House LLC. All rights reserved. No part of this excerpt may be reproduced or reprinted without permission in writing from the publisher.