Arby's Added Pork Belly to Its Meat Mountain, and We Ate It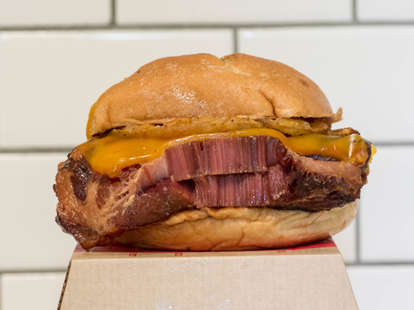 Consider the rise of pork belly. Twenty years ago, it just sounded like a mean name you might call your tubby college roommate. In 2004, New York's Momofuku started using it as an inexpensive filling for pork buns. In 2008, Portland hipster sandwich joint Bunk turned it into a Cubano. Soon it was on basically every menu shy of fast food. Until now: Arby's has announced a new Smokehouse Pork Belly sandwich.
Arby's has long been an underdog in the fast-food world, which is shocking given that at least three of the menu items -- the chicken sandwich, the beloved curly fries, and the mozz sticks -- could stand up to any comparable pub fare. And while people have mixed feelings about the roast beef – they either love it or pretend to dislike it in the hopes that Jon Stewart will appear from the ether to give them a thumbs-up – the Smokehouse lineup of brisket and turkey has been surprisingly serviceable. Does it taste like BBQ? No. But does it taste like smoky Arby's? Hell yes. And that's good enough!
Does the pork belly stack up to the rest of the Meat Mountain? We investigated.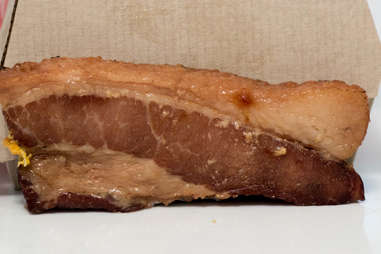 The build
This sucker looked a little smashed on arrival, but the elements consisted of somewhat crunchy fried onions up top with shredded lettuce, melted-then-recoagulated smoked cheddar, and a sad dollop of BBQ sauce the middle. The bottom bun had a bit of mayo, and the star of the show -- that pork belly -- was served up in two gigantic slabs of fatty, gristly glory in the middle. Arby's says it was smoked for five hours. It took me less than five minutes to devour it.
The verdict
OK, so this isn't a pretty sandwich by any means. It was lukewarm despite being ordered mid-lunch rush, and looked like it had been used for Little League batting practice.
But the taste was weirdly alluring. As a BBQ sauce detractor, I really didn't mind the minimal saucing it got. And that pork belly, while far from a high-end indulgence, was pretty on point, with a gentle hickory kick and meat that wedged firmly between teeth, as real BBQ is wont to do. The ratio of meat to fat was about 60/40 (anyone who orders pork belly and bemoans its fattiness is clearly not the audience here). It had the consistency of slow-cooked pork loin with a blanket of soft meat jelly. To that end, it was a success.
It's also probably a flash in the pan. Or smoker. Or whatever Arby's uses to smoke its meats. This is no Beef & Cheddar. But add it as a bacon alternative to the already-great chicken sandwich and Arby's might have just discovered some sort of mutant fast-food cross-species magic we didn't even realize we needed. And until Burger King unleashes Cheetos-crusted pork nuggets on us (good Lord!), it'll stand as a decent argument for the inclusion of pork belly in the fast-food pantheon.
Sign up here for our daily Thrillist email, and get your fix of the best in food/drink/fun.
Andy Kryza is a senior editor at Thrillist who is generally considered the Zebulon Pike of meat mountaineering. Follow him to crampons and cracklins @apkryza.