The Army Wants to Pay You $200 to Eat Its Food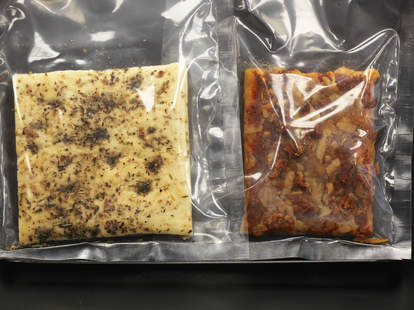 Your mission, should you choose to accept it: eating nothing but US Army rations for three weeks, and nothing else.
While the premise doesn't sound impossible, well, it doesn't exactly sound appetizing. But the military is currently seeking volunteers to participate in a study by the US Army Research Institute of Environmental Medicine, or USARIEM. Volunteers who qualify will eat nothing but Meal, Ready-to-Eat (MRE) rations for 21 days, along with water and black coffee. And for the trouble, the Army will pay you up to $200 -- not a bad gig, really. Free food for three weeks, and $200. It's way better than a seasonal job at the mall.
"Twenty-one days is consistent with current field feeding policy, and research has shown that consuming MREs for this length of time does not hurt a warfighter's nutritional status," Holly McClung, a research dietitian from MND, said in an Army release. "But older and new research shows us that, in addition to nutritional status, a healthy gut is also important for physical and mental health."
The study's goal is to improve the MREs for all military personnel by evaluating how the food affects the microbes living in people's guts. And as the release goes on to detail, the real struggle is finding people who are willing to eat MREs for three weeks without dropping out -- which led the organization to even produce a cookbook that uses all MRE foods to entice participants (and soldiers) into eating the MREs.
Per the study's requirements, eligible participants must:
Be 18-62 years old.
Be willing to eat and drink only MRE items for 21 consecutive days.
Not be trying to lose weight.
Be willing to give blood, urine and fecal samples.
Not have a history of gastrointestinal problems.
Meet additional screening criteria.
As a volunteer, you'll either eat your normal diet for 31 days as part of a control group, or the MREs for 21 days, plus your normal diet for 10 days. Oh, and of course, you need to be able to come to the organization's lab in Natick, MA for about 3 hours at a time on four separate occasions, and 30-60 minutes, three days a week, during the study.
If you're looking to make $200, or just want to serve your country by eating, send an email to Nick at this email address.

Sign up here for our daily Thrillist email, and get your fix of the best in food/drink/fun.
Ryan Craggs is Thrillist's Senior News Editor. He'd volunteer if he could easily get to Natick. It's only patriotic. Follow him @ryanrcraggs.