Jam is way more versatile than we give it credit for. Sure, it's often used as a simple condiment on toast or crackers, but you can also use it to make a gin and jam or a fruit-infused bourbon. Or give your trusty brown sugar a break and add in some tangy cherry or raspberry jam to a pork chop or steak glaze.
But before you run to the store to stock up on some premade jars, consider making your own at home. It's easy to do, and you only need a few ingredients. Most store-bought jams contain a ton of added sugar, fruit pectin, and other thickeners to create the jammy texture you're searching for.
Trade Street Jam Co. founder Ashley Rouse, on the other hand, created her company with a "cleaner label in mind." Rouse, who has 15 years of culinary experience, started working on the jams when she lived in a small apartment on Trade Street in North Carolina. She later moved to Brooklyn where the company is now based.
Using Rouse's experience in the food industry, Trade Street Co.'s vegan jams are "culinary inspired" and come in fun flavors like smoked peach which has perfectly balanced sweet and woody notes that make for a great chicken glaze. Or break out your bartender skills and shake up the sour cherry ginger jam with some whiskey for a sweeter spin on a whiskey sour. The ginger doesn't steal the shine of the sour cherries, which aren't mouth-twistingly sour, and there's quite a bit of vanilla that would make it a great spread for warm scones or biscuits.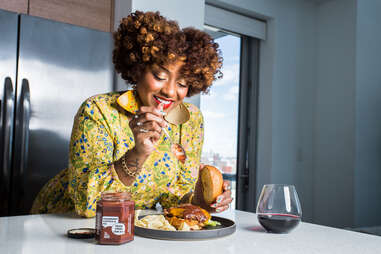 Since the jams are free of preservatives, the consistency is thinner than your typical store-bought jams found on grocery shelves. To remedy this, Rouse recommends storing them in the fridge to thicken it a bit or heat them with a bit of cornstarch if you're baking with them.
"A lot of the jams on the shelves just have crap in them and a lot of hidden ingredients so vegan is just one piece of it, but [our jams] are low sugar, and have no preservatives, pectin, or additives. We just wanted a label that was really simple and people could really understand all the ingredients," she said.
You too, can make your own way-less-sweet, better-for-you jam with the help of Rouse's quick and easy blueberry orange chia seed jam recipe. Chia seeds work as a natural jam thickener without having to add in buckets of sugar, and they're loaded with antioxidants and fiber.
"We try jams all the time and I just find that they're so, so sweet, but they don't have to be. Fruit speaks for itself, especially if you're using local or peak season organic fruit. You'll get really good quality fruit without having to muck it up with sugars or other ingredients," Rouse said.
Blueberry Orange Chia Jam
Makes 3 half pint jars
Ingredients
3 cups frozen blueberries, thawed
2 cups sugar
3 inch piece of ginger, minced on a microplane
1 orange, zested and juiced
¼ cup chia seeds
Directions
1. In a medium bowl, combine the blueberries and sugar. Using a wooden spoon, stir the sugar into the fruit, mashing the fruit up a bit as you go.
2. Add the fruit and sugar to a medium sized pot. Bring to a boil and add the orange zest, juice and ginger. Cook for 10-20 minutes until jam approaches 220℉.
3. Add seeds and cook for 2 minutes longer.
4. When the jam is finished cooking, remove the pot from heat. Ladle into prepared jars, leaving ½" headspace. Wipe rims, apply lids and flip upside down for 2 minutes.
5. Flip jars right side up and continue to cool at room temperature.
Sign up here for our daily Thrillist email and subscribe here for our YouTube channel to get your fix of the best in food/drink/fun.