Chain Restaurant Workers Reveal What You Should Never Order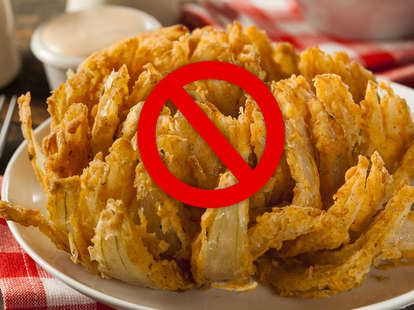 Shutterstock (EDITED)
Shutterstock (EDITED)
Everyone who's ever ordered fast food knows the odds of getting something resembling the photo on the board are pretty slim. Still, we'd all prefer to remain blissfully ignorant of the potentially gross secrets behind our favorite menu items, right?
Well, on the off chance you actually wanna see how the sausage is made, a recent Reddit post asked current and former employees of chain restaurants to dish the dirt on which menu items to avoid, and why. Here are our favorite replies:
10. Meat from Dunkin' Donuts
9. Coldstone's ancient raisins
6. Cookout's chicken strips
5. Veggie burgers pretty much anywhere
4. Outback's Bloomin' Onion
2. McDonald's shakes/smoothies
1. McDonalds' Fish Fillet
Sign up here for our daily Thrillist email, and get your fix of the best in food/drink/fun.