"What's interesting about weed culture is, to non-consumers, it's all Bob Marley and Cheech and Chong. But really, weed culture is everywhere. It's a part of nerd culture. Sports culture. Adult Swim. Absurdist comedy. Gamer culture. Meme culture. Rather, weed is a part of culture everywhere."
Riley Parker had thought these kinds of creative cannabis thoughts for a while now. So when the Portland, OR-based illustrator and product designer by trade found himself at a cannabis grow for a music video shoot he was working on, he couldn't help but share those thoughts.
Kevin Collins—a budding entrepreneur who'd moved from Ohio to Portland for college and a potential Nike career— was eager to hear them. Collins had been mulling on a concept of his own for some time, something for the channel-flipping, Netflix-binging super users that consume pop culture as fast as they finish their 100 mg tin of gummies. While working at this farm, Collins was attending major trade shows like MJBizCon and Hall of Flowers, listening to talks about the future of the industry at the same time he was learning about centering consumer experience in his university courses on athletic branding.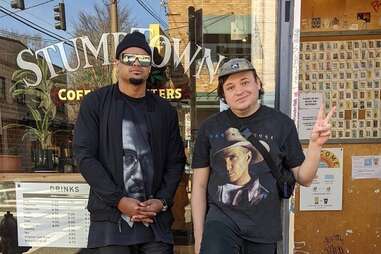 "I just knew there was a consumer group out there that was being ignored," says Collins. "Super consumers who are super loyal and engaged on social platforms. The anime-watching community; the Twitch community—there are tons of people who love pop culture and cannabis, but brands weren't really prioritizing creating content for them."
The two would get to chatting every time they ran into each other after that. Collins would talk about blank space in the edibles scene, and Parker would muse on content that celebrated the "experimentalism" of cannabis culture. Then, in early 2020, they were suddenly laid off from the apparently struggling farm.
"It was just a few weeks before the pandemic descended on the United States," explains Collins. "Our backs were against the wall. I'd been learning so much about the industry, and I saw an opportunity to apply my skills and make something happen. As an African-American man, if I pulled this off, I knew I could inspire other people that look like us, show them that yes, there is a place for us in this space."
Collins asked Parker if he'd like to co-found an edible brand with him and his partner Elle Rahman, he accepted, and Astral began to take its starry shape.
And I mean literally star-shaped. Collins already had the Astral name in mind, he knew he wanted to make edibles, and Parker had experience with molds from working with Nike over the years. They knew they wanted to have larger gummies that maxed out THC limits, and thus would need an easy way to portion out smaller doses. Collins thought out loud, "Why not just do stars?"
Surprisingly enough, no one's done a star-shaped edible, at least to my knowledge, in West Coast markets. They've actually got a patent pending on the star shape with the perforated demarcation of sections. I haven't even told you the best part: they're covered in Nerds-like candy. The gummies—developed by Rose City Confections and riffing off Parker's homemade recipes—are a thick, juicy slab of chewy gummy infused with full-spectrum extract, with the top side coated in crunchy, tart candy bits. They appeal to that dipping-french-fries-in-a-milkshake impulse of stoned cravings; reminiscent of whimsical pairings that can only be concocted or appreciated while high.
The rest of the creative really flowed from there. Parker played with the space-y associations of the word "astral," as well as millennials' love for the slightly woo-woo, creating a cosmic, galactic background and decorating it with zodiac-inspired symbols and glyphs. To me, it truly looks like aliens wrote the directions on the side of the package. To another, they'll see a nod to stoned hours watching Ancient Aliens with your closest friends. That chaotic, creative association is exactly what Parker hopes for.
"When I think about what my friends and I do when we get high, it's going down Youtube rabbit holes and watching Japanese commercials—seeking out the most bizarre, entertaining things we can find," says Parker.
For the website, Astral aims to emulate that sense of discovery and inspiration that comes with the best, most satisfying seshes. They'll host a catalog of independent artists and creators' submitted work, supporting outsider artists and honoring their part in cannabis culture while giving consumers stimulating content to enjoy during or after an Astral treat.
The brand launches April 20th at all eight of Oregon's black-owned dispensaries, followed a week later by widespread distribution. After Oregon, the team is hoping to set up shop in Arizona and Nevada next. With their uniquely content-driven yet endearingly unpolished approach, they just might pull that off, too. So much of "modern cannabis" trends puts every brand in a race to be the most beige, "sophisticated" product possible, and honestly, it's boring. Discretion may serve a certain group of people, but not all cannabis consumers eschew classic stoner tropes and experiences, and a lot of us maintain a special relationship with the plant because of how it creates space to get unabashedly weird.
"A lot of energy is put into making weed 'normal.' Weed is already normal," says Parker. "You don't have to make it dull in order to normalize it. Yes, there's still a lot of stigma around it, and there's pressure to be grown-up. But adults still have a good time. I don't know any regular cannabis user that doesn't associate cannabis with fun or joy in some way. Weed culture is worth celebrating."
Lauren Yoshiko is a Portland-based writer and co-host of
Broccoli Magazine
's podcast,
Broccoli Talk
. She was among the first journalists to cover the commerce and culture of cannabis starting in 2014 and her work has since appeared in
Willamette Week
,
Forbes
,
Rolling Stone
, and
Broccoli Magazine
, among others. Follow her on Instagram at @laurenyoshiko for Portland breakfast sandwich recs, stoned nail art, and moderate cat content.