Why Sports Teams Are (Finally) Lowering Concession Prices, and Everyone Is Winning
Joe Robbins/Getty Images Sport/Getty
When I first read the receipt, I choked on my hot dog, spat out a stream of expletives, and threw it on the concourse floor. As this was still not enough, I picked the piece of paper back up and tore it to shreds. The tab for the six hot dogs I'd just bought at the Giants game (some were for friends, people) came to an astronomical, almost comical $36.
This scenario likely sounds familiar if you've been to a live sports game in the past decade. For NFL fans in particular, complaining about stadium beer and food prices has become as much of a game-day cliché as making fun of the never-ending stream of platitudes that come out of Joe Buck's mouth. In an age when teams effectively punish attendees by charging them $5.75 for water and $8 for large sodas, it's clear that something has to change.
Arthur Blank Jr., owner and CEO of the Atlanta (very very almost Super Bowl Champion) Falcons, shares the sentiment that something needs to change. That's why the Dirty Birds have revamped their in-stadium menu for 2017 with the lowest prices (by a wide margin) in the league. A concession revolution in the sports world remains to be seen, but at least you don't need to make more than a veteran punter to afford a decent meal at the sparkling new Mercedes-Benz Stadium.
"When I talk about the new stadium's Fan First pricing in front of crowds, the initial reaction most people have is just spontaneous applause," said Mike Gomes, Senior VP of Fan Experience for the AMB Sports & Entertainment Group (Blank's business conglomerate, that owns the Falcons). "And I'm serious. People actually stand up and applaud. That should tell you everything."
After 22 years spent playing at the Georgia Dome, the Atlanta Falcons are sliding into some modern digs for the 2017 season: the sleek-as-an-oiled-seal Mercedes-Benz Stadium. And -- starting August 26, when the stadium opens for business -- the Fan First menu will premiere with its absurdly low (but actually normal, compared to almost everywhere else in the world) pricing for core menu items. Those numbers above aren't typos. No, you aren't high (or, maybe you are) -- 20-ounce domestic beers and cheeseburgers will be $5 each. Chicken tenders plus fries will be $6. Soda is will cost you 2 bucks and you'll get free refills. A hot dog will be sold... for $2. For $36, you can get 18 weiners.
"When I talk about the Fan First pricing, the initial reaction most people have is just spontaneous applause."
With the team switching buildings, the Falcons brass decided to take a hard look at the one stadium experience fans consider "overwhelmingly unsatisfactory," according to Gomes -- concession pricing. Well, aside from the wholly unsatisfactory experience of blowing a 25-point lead in the Super Bowl. But... this is something they can change.
"Look, this isn't an experience limited to NFL teams, or stadiums. Movie theaters do it. Theme parks, resorts... any place that has a true captive audience," Gomes said. "Arthur Blank himself made the decision, that from here on out we were going to truly put our fan's experience first. It's not just 'we can, so we should.' We took a long hard look at what people are charging for food and drinks, and what those numbers would actually look like in the real world. If this is what people were charging out on the streets, it would look pretty inflated."
The Goodyear Blimp is pretty inflated, Mr. Gomes. Stadium pricing is about to burst.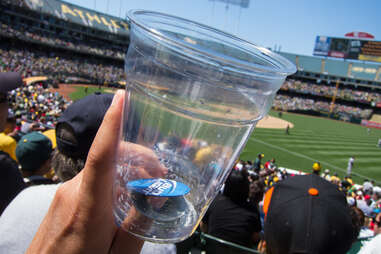 The Falcons aren't the first organization in the sports world to lower concession costs. The Oakland A's slashed beer prices before this season to much fanfare. Augusta, the golf course that hosts the PGA Tour's Masters Tournament (and only a 2-and-a-half-hour drive from Atlanta) keeps their food and drink notoriously affordable. But the A's are a lousy team in a crumbling stadium, and Augusta is an old-timey golf club that only hosts one major event per year.
Mercedes-Benz's fan-friendly structure is the first of its kind in the NFL, America's biggest and most lucrative league.
This is why it matters.
"We're interested in creating customers for life. And a big part is listening to our fans, and delivering on what's important to them. We wanted to make sure you can bring your family to the game, and get everyone some food and beverages... without feeling gouged. Or, feeling like you need to stop on the way to the game to feed the kids," Gomes said.
And while it's pretty dadgum difficult to get cynical about a business lowering their customer-facing prices, this last part could be key. With prices so low in the stadium, it's very possible that fans will end up spending even more time -- and money -- inside Mercedes-Benz's concourses. Why rush to down all your beers and eat that extra burger in the parking lot, when things are so amicable inside? And cheap beers and food mean one less excuse to watch the game from the comfort of your La-Z-Boy. For what it's worth, the Falcons do expect an uptick in sales.
With prices so low, it's very possible that fans will end up spending even more time -- and money -- inside the stadium.
"In the end, we are going to have to wait and see on that front," Gomes said. "We're not going to have a great sense of how this is going to play out, 'til we can analyze the numbers, and really look at results. But, we have set ourselves up -- logistically -- to handle an increase in demand, all around. The entire stadium was built to facilitate this effort. We do expect more demand, and our infrastructure is setup to make it happen."
But as far as tailgating goes, Gomes doesn't see this as a major threat to tradition.
"Tailgating is part of the game day experience, and I don't think this will affect it," he said. "And I don't think that will ever change."
As far as influence goes, Gomes said he couldn't speculate if other NFL franchises -- and sports teams in general -- may follow suit if the Fan First menu proves to be a success. And while the rest of sportsdom's owners continue to pound our wallets and patience like Ndamukong Suh after the whistle, the Atlanta Falcons are trying to do something actually useful for their faithful. So, it's easy to try and pick apart the Falcon's (obviously) PR-friendly brand-speak about the deal. But what they are doing objectively a great thing for anyone who likes experiencing football in the first-person.
"We're not setting out to intentionally change the industry," he said. "We did it for our fans that come here every week, and that's it. We didn't want to just create fair prices for an NFL stadium. We wanted to have fair prices for Atlanta."
If there was ever an aloe for suffering the most stinging Super Bowl loss of all time, it's $2 hot dogs.
No, I'm serious.
Sign up here for our daily Thrillist email and subscribe here for our YouTube channel to get your fix of the best in food/drink/fun.
Wil Fulton is a staff writer for Thrillist. If someone told him he could only eat one food for the rest of his life, he'd be frightened and confused. Follow him: @wilfulton.