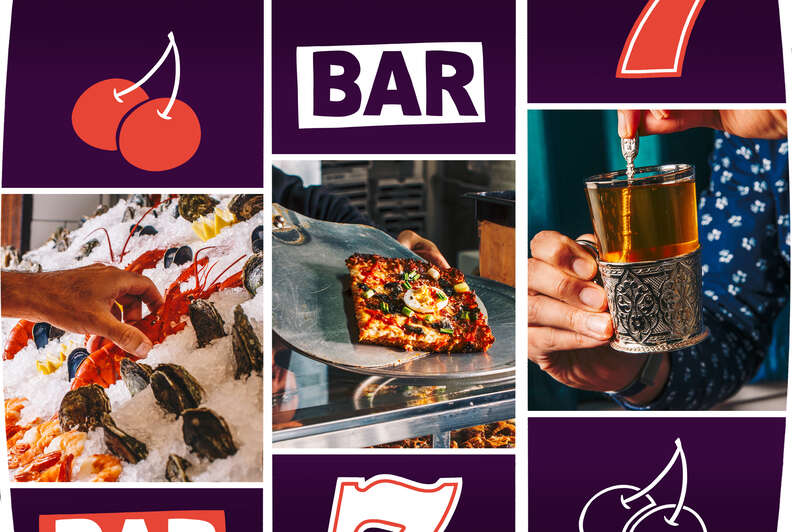 Photos: Cole Saladino; Design: Maggie Rossetti
Photos: Cole Saladino; Design: Maggie Rossetti
Atlantic City's Unsung Food Scene Is Its Greatest Draw
Where does Atlantic City sit in your consciousness? Is it merely a light that flickers on when you consider putting a hotel on Marvin Gardens in Monopoly or scroll past Boardwalk Empire on HBO GO? Would you put it in your word cloud with Mafia, casinos, and horses trained to jump off high dives?
Or are you one of those people who grew up in a certain swath of the Mid-Atlantic where AC exists as a nostalgic fever dream renting space in your collective brain-hive? A person whose ears might perk up when someone mentions the Steel Pier or the jitneys, who still has holidays with relatives who remember when there were three locations of Kent's Restaurant in the city, and Sinatra and Jerry Lewis used to perform at the D'Amato's 500 Club, and they could get the #31 Kornblau Special (corned beef, cole slaw, Russian) for 90 cents at Alex Kornblau's Restaurant and Deli at the corner of Virginia and Pacific?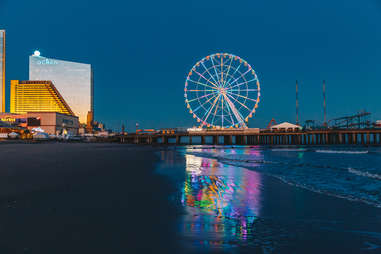 Whatever your associations with Atlantic City, "glorious food town" might not be the first thing that comes to mind. And yet, over the course of several visits and interviews with more than 20 restaurant and bar owners, chefs, bartenders, food writers, local historians, and other assorted AC-related locals, I began to recognize two things:
One, the AC food scene is criminally underrated.
Two, the city itself is more like that uncle you thought you didn't like until you hung out with him at a funeral and discovered he'd partied at the Mudd Club with Basquiat in the 80s. It has an authentic, grimy cool to it, a proud, regal past masked by a well-lived-in overcoat of rough times. And it really doesn't care if you recognize that or not.
But trying to unspool the ball of yarn that is Atlantic City tends to create more questions. How does a city of less than 40,000 permanent residents, a city that has sat at the top of the mountain only to watch the mountain implode beneath it, somehow maintain a dozen restaurants and bars and bakeries (often within the same families) for nearly 100 years? Why does a city challenged with poverty and corruption scandals, and scarily reliant on a single industry, also seem to inspire pride and this dark horse sheen that makes denizens and visitors alike root for its success? And why do I so badly want to use a gambling term right now and say I wouldn't bet against it?

In 1854, Atlantic City transformed into a premier destination after Dr. Jonathan Pitney lobbied to build a railroad into the city. Atlantic City was the premier East Coast vacation destination up until the 1950s. It had a boardwalk, luxurious hotels, and a grand music scene. Plus that horse who could dive from great heights into the ocean.

But in the 1950s, there was a problem. Air travel got cheaper and more ubiquitous, and tourists who always went to AC now opted to board planes and visit the Caribbean islands, Bermuda, and the exotic world of Florida. The grand hotels, almost all of which were completed before the 1929 Stock Market Crash, became considerably less palatial. With the city's tourism dollars eroding rapidly, it fell into a funk in the 60s and 70s. And then came the "Atlantic City Gamble."
In 1976, state voters approved a referendum to allow casino gambling, but only in Atlantic City. As author George Sternlieb wrote in his book The Atlantic City Gamble, the impact gave locals hope for what could become the city's Hail Mary. "Expectations were high: the gaming industry could rejuvenate a dying city core, employment would swell, the tax base would broaden, and welfare rolls diminish, tourism might spread through the state, and the cruel spectacle of a poverty-stricken community would be eliminated."
In 1978, the first casino opened. Ten years later brought a dozen more. The number of yearly visitors jumped from 700,000 to 33 million. Thirty thousand new jobs were created. It seemed like a giant success story. But in Atlantic City, there is always a catch, and here was this one: casinos were their own self-enclosed worlds. Employment growth was largely in casinos and the municipal services protecting them. Casinos opened their own restaurants and bars, boxing out the city's mid-level restaurants, bars, and other businesses from the impact of increased tourism.
Housing prices, inflated by casino development, moved out of the range of most lower to middle-class residents and crime rates increased. It simultaneously became more expensive and dangerous to live in AC, and, as Bob Ruffolo, owner of Atlantic City's Princeton Antiques and Book Service, told me, "the majority of middle-class people who worked in AC had to move out, and most small businesses and restaurants were forced to close or move offshore."
At the time, explosive growth from the casinos papered over most of these deeper issues until the city ran into another problem: competition. By the 90s, nearby states recognized the revenue gains casinos brought in, legalizing gambling for their residents. Suddenly, Atlantic City was no longer the premier destination for gaming. To combat this, the city tried to double down with newer casinos and revitalized... casinos, aiding in a short term recovery until 2012, when Hurricane Sandy hit. Shortly after the city recovered from the storm in 2014, four casinos closed. Thousands upon thousands of jobs were lost.
Six years later, Atlantic City no longer keeps to the casino company line. The modern history from AC's public library discusses new projects devoted to "broadening the appeal of the city beyond gambling." Outlets were built in 2003. The closed Showboat casino is converting its hotel rooms into rental units to help add population density. But, I wondered: What had all this flux and peril done to the city's food scene?
"AC doesn't always make it easy. We're legit underdogs, every time."
On a Wednesday in December, I arrived to Atlantic City to meet up with Adam Erace, a Philly food writer who has spent his entire life coming to AC. After a quick stop at Mike Hauke's original pizza and sub shop Tony Boloney's for subs—filled with his legendary fresh "mutz", we went to El Salvador native Ana Salazar's colorful restaurant Sabor Salvadoreño. Amidst a plethora of hanging vegetation, a giant map of El Salvador, and a painted wooden mural of Jesus and his disciples hanging above a plate of plastic donuts and assorted pastries, we shoveled churrasco tradicional and excellent jalapeño and cheese filled pupusas into our mouths, then shuffled on to Pancho's Taqueria in Ducktown.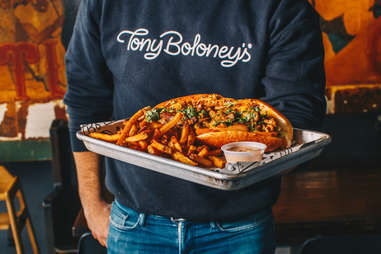 In 2006, Fabiola Cruz, a Colombian native, opened Pancho's as a way to serve the growing population of Latinx people in the community. "We started noticing that there were lots of Latin cooks in the area at the casinos," Joshua Cruz, Fabiola's son, and current Pancho's owner, told me. "They would get out of work and be hungry, and there weren't many places around to serve them, so we thought 'we should do something about this.'"
Cruz's intuition was on point. According to the US Census Bureau, 31% of Atlantic City residents identify as Hispanic or Latinx. That number has been steadily increasing over the last twenty years, so it made sense that places like Salazar's Sabor and Cruz's would prosper. Cruz and his mother worked with Mexican cooks to build the menu, keeping it simple. Tacos were made to order, and that meant everything including the tortillas. Hot sauces were also made in-house. There's an open kitchen so that, as Cruz said, "everyone can see that we don't mess around."
Thanks in no small part to a 2016 co-sign from star chef David Chang in his now-defunct magazine, Lucky Peach, which described Pancho's as "the best Mexican food on the East Coast," the restaurant created inroads into the nearby student populations and tourists alike. After eating there, I understood why. The tacos suadero (brisket) and lengua (cow tongue) were very good; the al pastor though, excellent. With crispy bits of maroon tinted pork and the acid from the pineapple melding with the raw white onion, cilantro, and hot sauce, all washed down with their agua de Jamaica, it was hard not to be excited about their prospects. Cruz was hopeful, too. When I spoke with him, he had just come from talks with the bank about expansion and a potential revitalization of the space. "After 14 years, she needs a little nip and tuck," he said, modernizing the menu by rolling out veggie tacos and discussions with Impossible Foods about incorporating their plant-based meats into the menu.
"I grew up on the island, and I think that instills in you a loyalty to this place," said Cruz. "AC doesn't always make it easy. We're legit underdogs, every time."

In Atlantic City's African American Heritage Museum, as part of its permanent collection, there sits the original Club Harlem door, and neon sign with Ella Fitzgerald and Sammy Davis, Jr. as headliners. It is hard to overstate Club Harlem's influence not only in Atlantic City, but as one of the premier black-owned clubs in America. Opened by Leroy "Pop" Williams and his brother Clifton in 1935 at 32 North Kentucky Ave, the club featured the top black entertainers in America, including Ella Fitzgerald, Count Basie, Duke Ellington, and Billie Holiday. It became famous for its summer Sunday "breakfast" shows involving pretzels and a chaser, often attended by entertainers from other venues all over town as they ended their nights.
Harlem was part of a coterie of clubs including Little Belmont, The Paradise Club, and Wonder Garden, on Kentucky Avenue, which acted as the entertainment center for the Northside neighborhood in AC. Thanks to redlining and other discriminatory practices, the black professional class was boxed in on the Northside of Atlantic Avenue, and segregated beaches meant that the vacationers staying at black-owned hotels like the Randall and Wright's could only go to the Missouri Avenue beach in front of the convention center. Folks came from all over to eat Sap's Barbecue and sausage sandwiches at Clifton and Alma Washington's Wash's Restaurant. The African American Heritage Museum's founder Ralph Hunter told CityLab that, at one point, there were also 37 black-owned bars just in that neighborhood alone.
Today, all that's changed. Desegregation signaled the end of a lot of duplicate black-owned businesses that provided infrastructure for the Northside but didn't have the capital to compete across the city. In 1972, five people were killed in a brazen Philadelphia gang-related shootout in Club Harlem and, afterward, many businesses on Kentucky Ave suffered. Sap's Barbecue became a barbershop. Wash's shut down in 1974, and moved. Club Harlem hung on as long as it could before closing its doors for good in 1986. After devastating damages caused by a Nor'Easter in 1992, the building was bulldozed. And despite the rich history of black-owned bars in Atlantic City, according to Hunter as of 2019, there's not "one liquor license held by an African American."
If there is a current culinary torch being held aloft as a nod back to what the Northside had, it's thanks to Kelsey and Kimberly Jackson. The Jacksons own and operate three restaurants in the area, two in AC proper: Kelsey & Kim's Southern Cafe, and the more upscale Kelsey's, which features live music on the weekends. Walking into Kelsey's, you could see a mural along the backstage announcing it as "Atlantic City's Premier Supper Club." There's live soul and jazz almost nightly. On my visit, the crowd was the most diverse of any I'd encountered in Atlantic City, with mostly everyone's attention turned towards the musicians as they tucked into plates of fried chicken and waffles, shrimp and grits, and Cantonese-style whole red snapper.
"You're competing against people's memories."
One of the fascinating aspects of Atlantic City is how it seems to have ducked out of the Culinary Revolution of the last decade. While the rest of America was experiencing a groundswell of chef-owned farm-to-table joints, craft cocktail bars, and artisanal donut purveyors, AC seemed to take a pass. When I brought this up to Erace, he mentioned Mike Fitzick, a pizzaiola who goes by the name "Pizza Jew," and is making incredible pies (plus pastries and bread) out of his Bakeria 1010 space in nearby Linwood. When I point out that this isn't actually AC proper, Erace counters again. "You need to go down Tennessee Avenue."
Tennessee Avenue, at Pacific Ave., is where developer Mark Callazo is making his play. Callazo has teamed up with other food industry entrepreneurs to open four concepts: Tennessee Avenue Beer Hall, which features a giant backyard with picnic tables; Made Atlantic City Chocolate Bar, a bean-to-bar shop with chocolate conched on-site by co-owners Mark and Deb Pellegrino; the Iron Room, Collazo's collaboration with Chef Kevin Cronin, which began in 2013 as a speakeasy-ish cocktail bar and progressive restaurant on the other side of town, but moved to Tennessee Avenue last year to be part of the growth of the block; and Rhythm and Spirits, a music venue, bar, and restaurant, with an interior they describe as "a modern take on a mid-century tiki bar with a dark side."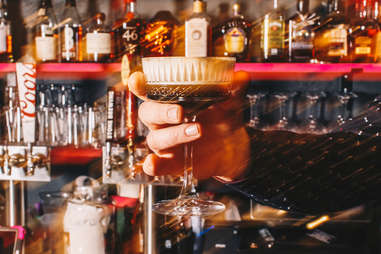 The idea, at least in theory, is that all these different concepts will push Tennessee Avenue into a new era known for its destination as a cool, off-casino experience. In talking to Chef Kevin Cronin, he mentioned that the original iteration of Iron Room attracted a lot of the service industry folks and younger summer tourists from Philly, DC, and New York. But he admits many of the summer tourists in Atlantic City aren't looking for something new.
"If you've got a week or two here each summer, and you've been doing that since you were little, you want to come get the same seafood at Dock's, the same ice cream, the same everything," said Cronin. "And because AC has been a destination forever, way before the casinos, you've got a template for what that's going to look like. And those folks are understandably not that open to changes or newer, edgier foods. You're competing against people's memories."

After bidding Adam Erace adieu in the early afternoon, I started my own version of the Atlantic City nostalgia food tour. The first stop was Angelo's Fairmount Tavern, an Italian American restaurant and bar that's been open and in the same Mancuso family since 1935. Angelo's is the type of place that has spaghetti with seven different types of sauces (including "Aglio e Olio and Broccoli Rabe"), and its own house wine, which Angelo told me his grandfather used to make in the basement. Thanks to regulations, they are now shipped in from California.

From there, I stopped by a few other Ducktown favorites. White House Sub Shop, which has been around since 1946, for a cheese steak submarine and a White House Special (essentially an Italian with extra meat), then Formica Bros bakery (open since 1919). Formica is famous for its bread, which they claim gets its distinct flavor because the water in the New Jersey Pinelands is slightly acidic thanks to the cedar trees. This "allows the bakery to add more flour." Whatever it is, it's working. Formica makes 25,000 loaves a day.
There were more stops. To Tony's Baltimore Grill, a 24-hour joint around since 1927, with a divey, red-tinted glow and a collection of regulars who all looked like the secrets they could peddle in might be worth knowing. For some reason, I ordered mozzarella sticks and ravioli with meat sauce. After that, cocktails at the Knife and Fork Inn, which started in 1912 as a men's drinking and dining club that counted "Nucky" Johnson (the character Steve Buscemi's Boardwalk Empire character is based on) as a regular, fell into disrepair in the 90s, but was purchased and refurbished by Frank Dougherty from one of the other longstanding legendary restaurants in the city, Dock's Oyster House.
Then Dock's at happy hour, which is the time to go to Dock's. And even though it was a Wednesday in the middle of December, by 5pm, every seat at that bar was full of folks eating oysters and shrimp cocktail and drinking cocktails and engaging in ballyhoo. Opened in 1897 by Harry "Call me Dock" Dougherty, the restaurant has been in the same family for 123 years "I started on second base with this place," says fourth-generation owner, Frank Dougherty. "My parents had done a great job, we had name recognition, we just had to keep pushing it forward."
As I sat at Dock's, eating oysters, drinking gin 'n tonics, and listening to the group of older women next to us debate whether or not it was okay to ask for a vodka martini, I thought about why, despite all its struggles, an impressive number of restaurants and food shops in AC have managed to flourish in the same families for fifty or more years. When I posed that question to Dougherty, he remarked that "What's even more crazy is, fifteen years ago, there were probably double the amount of long standing restaurants. When people plant their roots here, they stay." He laughed. "Sometimes longer than is rational."
I could've stayed at Dock's all night, but around 5:30pm, I had to leave for a special date. Adam Erace's mother (shout out Frannie Erace!) had pulled strings and gotten a reservation at Chef Vola's. And of all the restaurants in all of Atlantic City, Vola's is the white whale. The one you chase. The one you pine after. The one I couldn't get into on my own, as hard as I damn tried.

Chef Vola's is yet another of the old school Atlantic City restaurant legends. Joe Vola opened it in 1921 in a rooming house that doubled as a speakeasy. The Esposito family has run it since 1982. They won a James Beard "Classics" award in 2011. Like Fight Club, there are rules to Vola's. For one, it's cash only. Two, it's BYOB. Three, there is no real website, email, or listed phone number (though the Internet can help you with that last one). Reservations often run three months out on the weekends (and weekdays in the summer). I'd tried to get into Vola's the last time I was in Atlantic City in March. We'd called every day to see if someone had canceled. No dice. And this time, things appeared bleak until the glorious angel Mrs. Erace came through.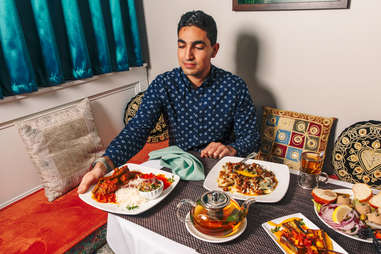 When I say the restaurant looks like a private home, it's because it basically is a private home, on a mostly residential street on Albion Place. The 65-seat dining room was cramped, filled with December revelers celebrating holiday party meals. Along with a buddy, I had a tiny two-top the size of a large throw pillow in a side room in the basement. Our knees touched under the table.
On the surface, the meal itself was incredibly good, but not remarkably creative. We got fresh buffalo mozzarella with prosciutto and roasted peppers, then pasta with their special clam sauce, and the famous bone-in veal chop Parmesan, and each dish was fantastic, but that was barely the point. Everything else about Vola's makes you feel bathed in the warm glow of a special night. The mystique around getting in. The feel that you're sitting in a grandmother's basement eating a meal. The server famously reciting dish after dish almost as a Shakespearean spoken word poem. The tiny flower-adorned bathroom you have to pass through the kitchen to get to. The check coming in a fancy wooden box with Chef Vola's imprinted on it. The twinkling Christmas lights and people in weekend clothes standing up to give toasts, and the way that everyone eating seems delighted to be there. "Jeez," my friend said as we walked out after our meal into the cold December night. "That place is a goddamn miracle."
There is something hopeful about the diversity of AC's small businesses
Of all the Atlantic City spots I visited, the dark horse story that clung like taffy to my brain was also one of the newest. Setaara is a French-Afghan restaurant that opened last summer. A collaboration between Abdullah Panah, an Atlantic City native who is now in medical school and his aunt Homa Bazyar, a chef originally from Kabul, Afghanistan, who owned and operated a French restaurant in Denver for 22 years, Setaara feels unlike anything else in the city. The care they took in building the restaurant (Abdullah told me the front door was handmade and imported from Morocco, the lanterns in the restaurant are from Egypt, the alcoves from Turkey, and the mirrored front entrance is based off that of a 300 year old Persian palace) is evident. Bazyar's food, from the hand-formed Mantu (Afghan dumplings), to the Uzbeki Palau (lamb shanks, rice, and onions mixed with carrots and raisins), to the Koobideh Kabob (marinated ground beef), is all excellent and flavorful.
I asked Abdullah if they opened an Afghan restaurant to fulfill a need in the city, and he laughed. "I can count the Afghani population of Atlantic City on just one hand." Abdullah had different goals. "I want to introduce Americans to Afghan food, to educate them, so they know how delicious and flavorful it is, and also showcase a side of Afghanistan that isn't about war and conflict." So far, it appears to be working. Bazyar told me they sell 90% Afghan food, versus 10% French, something she didn't expect when they first opened.
After hearing Abdullah talk about his travels all over the world, another question came to mind. Why Atlantic City? He didn't hesitate. "I'm from here. Plus," he said. "Why would you do it anywhere else?"

While writing this, my friend Alessandra sent me a video from the band Low Cut Connie's show in Philadelphia at the end of 2019. In it, frontman Adam Weiner sits down at the piano and says he's written a sequel to Springsteen's Atlantic City.

"They built casinos in 1981, they said the whole freakin city's going to grow," he sang. "Donald Trump made half a billion, what have we got to show? Look at what they did to the people. Look at what they did to the town. Look how they built up the dream and now they're tearing it down."
And while anyone who sees some of the city's crumbling infrastructure could understand Weiner's point, there is something about Atlantic City that sticks to you, like that ubiquitous salt water taffy they peddle on the boardwalk. Something about it makes you believe that beyond those torn down dreams and struggle, there are more hopeful stories in and outside the restaurant world, thanks to the young diners from Stockton's gleaming new college campus and an influx of newer immigrants from Central America and Southeastern Asia.
Just look at the small businesses that surround Dock's on Atlantic Avenue. Deshi Bazaar & Produce. Pho Sydney. La Bodega. La Cosecha grocery store. Keep going east a couple of blocks and you'll hit Mr. Steak Halal and Yardy Real Jamaican Food. It's certainly a far cry from what The New York Times' original restaurant critic, Craig Claiborne, said in a 1964 article about AC's food scene: "the restaurants of Atlantic City fall into two categories: those that offer fish... and those that offer steak."
Most of these places opened in the past decade, as poverty and unemployment reached a fever pitch, which just speaks to how, in the cycle of any city, struggle begets opportunity. There is something hopeful--even to a cynic like me--about the diversity of AC's small businesses. I was reminded of this when I spoke to Ruffalo from the antique book store. He'd been in the city since the early '70s, and spent the first few minutes of our conversation patiently reading me restaurant advertisements in the back of a 1966 Amusement Magazine ("Here's one for Alfred's Villa. And Luigi's Gondola Room. And Orsatti's").
Back then, he said, it was either Italian, or, as Claiborne pointed out, steak or seafood. But now, Ruffalo estimated, there were likely "sixty or so" bodegas, and small mom & pop food shops servicing the incredibly diverse newer population. He mentioned the goat you could get at one, and the delicious Peking duck at another, and he was still discovering new ones. "After all these years," he said. "This city can still surprise you."
Sign up here for our daily Thrillist email, get Eatmail for more food coverage, and subscribe here for our YouTube channel to get your fix of the best in food/drink/fun.