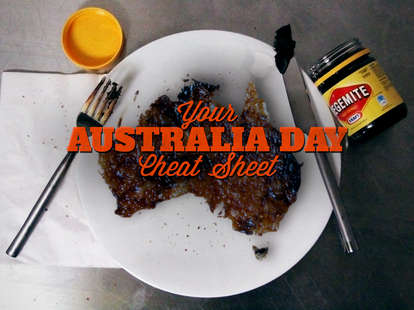 Adam Lapetina
Adam Lapetina
Australia and America have a long history of friendship and camaraderie -- it started when we realized we both spoke and kind of disliked the English, improved during Crocodile Dundee 2, and has just grown stronger since. But if you ask an American who didn't go abroad to Uni at Sydney to start telling you what they know about Australian food and drink culture, they become quiet and insecure, and start quoting Foster's commercials. That's why, in preparation for Australia Day this weekend, we've taken it upon ourselves to inform you, dear reader, about the ins, outs, downs, and unders of Aussie cuisine.
Let's start out with the continent of Australia. Here it is! The world's sixth largest country is also its smallest continent, but that doesn't mean it isn't filled with a super-diverse array of beautiful flora and fauna -- most of whom are secretly trying to kill you. But don't let that stop you. In Australia, it's eat or be eaten. And eat, they do.
The kangaroo question:
Ever since the movie Kangaroo Jack won all those Oscars, people have been wanting to put sunglasses and hoodies on kangaroos ask: Do people in Australia really eat a lot of kangaroo?
Well, yes and no. While they're not gorging themselves on the regular with kangaroo health drinks and Lunchables, they do eat it a lot more than we do here, mostly in pubs, and in the form of steaks or "kanga bangers", which are sausages made of 'roo meat. And if the Australian naming methodology seems inherently bizarre now, just wait until later in this story.
On beer and the Foster's fallacy:
Australia's favorite beer, rather than Foster's (which apparently isn't Australian for "beer" at all -- they just call it "beer"!), is either VB (Victoria Bitters) or XXXX Gold. And while the Australian beer scene hasn't yet exploded in the same way as the States, there is a large developing craft movement, with notables like Burleigh Brewing in the Gold Coast, Coopers in Adelaide, and the bad ass Feral Brewing Company outside of Perth.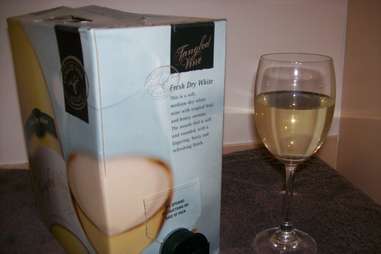 On bottled, and non-bottled wine:
Though the Aussies have long been known for their wine production (they're the fourth largest exporters of wine in the world, shipping off around 750 million liters), their singular most influential vino invention has got to be boxed wine, which they call "goon", invented in Renmark, South Australia by Thomas Angove in 1965.
When drinking goon in Australia, it's important to remove the "goon bag" from the "goon box" and dangle it over the mouth of the person imbibing. That's just goon etiquette 101.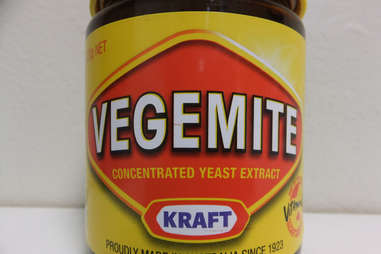 On that weird stuff they put on toast:
Yeah, we're finally at Vegemite, that dark paste made from yeast extract which has enchanted Aussies since 1923. While the stuff is pretty polarizing in the states, any Aussie will tell you that it's incredibly delicious and especially good thinly spread on toast with some butter or margarine. Vegemite's salty, potent flavor also lends itself well to "cheesymite scrolls", which're basically cinnamon rolls with cheese and Vegemite instead of sweet stuff. Actually... we'll let you have this one, Aussies.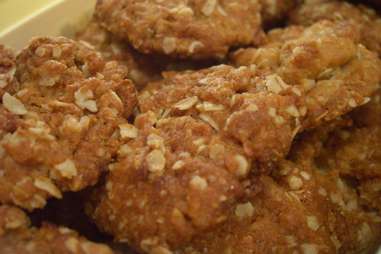 On other popular Aussie snack foods:
Some other AU-specific snacks include ANZAC biscuits (an oat & coconut cookie), Jaffas (chocolate-orange candies), meat pies, Balmain bugs (a type of small slipper lobster), dim sim (a Chinese-style meat dumpling), and Tim Tams (chocolate cookies with various fillings), which have been made famous by the Tim Tam Slam (not as dangerous as it sounds).
On even stranger Aussie foodstuffs:
Some of the weirder foods you'll find in Australia (note: this is coming from a country that deep fries PB&J sandwiches to use as buns on a hamburger) are fairy bread (white bread covered in butter and sprinkles), Chiko rolls (a giant, deep-fried Chinese egg roll), kanga bangers (we went over those earlier), and musk sticks, which are pressed pink candy sticks... that smell like musk.
On the language of eating:
Aussies also have some pretty funky terms for foods, making for some hilarious intercultural exchanges. Here are some of our foods' names, with their Australian equivalents:

Raisins = Sultanas
Bell peppers = Capsicums
Cotton candy = Fairy floss
Cilantro = Coriander
Ice cream float = Ice cream spider
Avocados = Avos
Candy = Lollies or sweets
Scallions = spring onions
Popsicles = Icy poles or iceblocks
Jell-O = Jelly
Jelly = Jam
How the Aussies do a burger:
When it comes to burger toppings (and it often does), some of the more popular ones Down Under are beetroot, pineapple, and fried eggs, and the most popular sauce to top it all off is a chili mayo. And if you are now a little jealous of Aussie-style burgers, yeah, so are we.
On the ubiquitous "Bundy and Cola":
This here is Bundaberg Rum, which is often (incomprehensibly and loudly) called "Bundy". It's probably the most Australian booze there is (having been around since 1888), and is most often enjoyed mixed with cola, which Bundaberg now produces themselves. My editor proclaimed that, during his time abroad in Australia, he likely had "eleventy thousand" Bundy and Colas. Then he kind of stood there looking all wistful and teary. It was a little sad.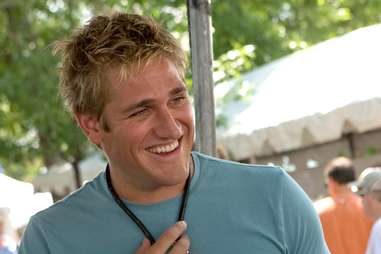 On Australia's top chefs:
Australia's got a burgeoning community of celebrity chefs mostly centered in Melbourne, and includes Curtis Stone above, who might be recognizable to State-siders as the guy who helps people cook meals in their homes on Take Home Chef, or as an occasional contributor on the Today show. Some other famous/notable/badass Australian chefs you should likely know:
David Thompson (an expert on Thai cooking)
Peter Gilmore (proprietor of beloved Sydney restaurant Quay)
Kylie Kwong (chef/owner Billy Kwong in Surry Hills; TV presenter)
Tetsuya Wakuda (Japanese-born chef and owner of restaurant Tetsuya's)
Andrew McConnell (heavily awarded chef from Melbourne's Cutler and Co.)
Ben Shewry (a Kiwi and head chef of heavily lauded Attica)
Mark Best (former gold mine electrician turned French cuisine expert; runs Marque)
Peter Doyle ("father of contemporary Aussie cuisine"; head chef at est.)
Neil Perry (creator and chef at legendary Rockpool restaurant in Sydney)
Maggie Beer (TV chef/host; restauranteur; maker of all sorts of gourmet products)
Dan Hong (executive chef at Mr. Wong in Sydney; rising star; only in his early thirties)
Bonus Fun Fact: David Chang's first Momofuku outside of NYC (Momofuku Seiobo) is in Sydney at the Star Casino, and is apparently just as hard to get into as the ones here in the States.
On Australia's delicious foodstuffs coming to the States:
The awesome myriad components of Australian cuisine are just starting to influence our food scene over here in the Americas, with meat pie shops popping up all over major cities and drinks like "flat whites" (foam over a single or double shot of espresso) growing in popularity in American coffee shops. As for our influence on their cuisine...
Let's just say that there are seven Outback Steakhouses on the continent of Australia, and people eat there when they want a nice taste of American food. Sigh.
Adam Lapetina is a food/drink staff writer at Thrillist, and wholeheartedly believes that the best things in life are fried. Read his musings on Twitter at @adamlapetina.