The 6 Signs of a Truly Outstanding Taco Joint
Dan Gentile/Thrillist
Dan Gentile/Thrillist
"Where are the best tacos?" "Where can I find legit tacos?" As a writer who spends his time traveling across the country in search of tacos near and far -- and I'm based in Texas, so many excellent tacos are nearby -- I get those questions all the time, and the response is trickier than you might think. My answer is always, "What kind of tacos are you looking for? Cheap tacos? Gourmet tacos? Regional tacos?"
Such particularity is usually met with a mix of blank stares and slumped shoulders for people looking for some simple instruction on where to get an inexpensive meal. But alas, tacos are no simple subject. There's a variety of things that need to go right in order to execute a truly transcendent taco -- and really, when it comes down to it, isn't that the kind of taco you should be after?
While there's no 100% failsafe formula, I've developed a list of questions and criteria you can use to quickly evaluate a taqueria and determine whether or not it's worth your time, and whether or not you're likely to find it worthy of a second, third, and fourth trip. Free chips have nothing to do with it. Neither does whether or not they're cash-only. The following items, however, do.
The place is packed
Say you put together a short list of taco joints to hit up during an afternoon. While you're cruising around town checking off taquerias, you come across a business that does not have a presence on your itinerary, but does have a full parking lot. Or a line that's starting to creep out the door. Stop. Take a break from the list and wait for a table.
While a crowd isn't a 100% guarantee of quality, a jammed taqueria strongly suggests something worth enduring the madness of a busy eating establishment. This is the first sign things are looking good for your taco experience. Throw in any or all of the criteria below, and you just might have a sure thing on your hands.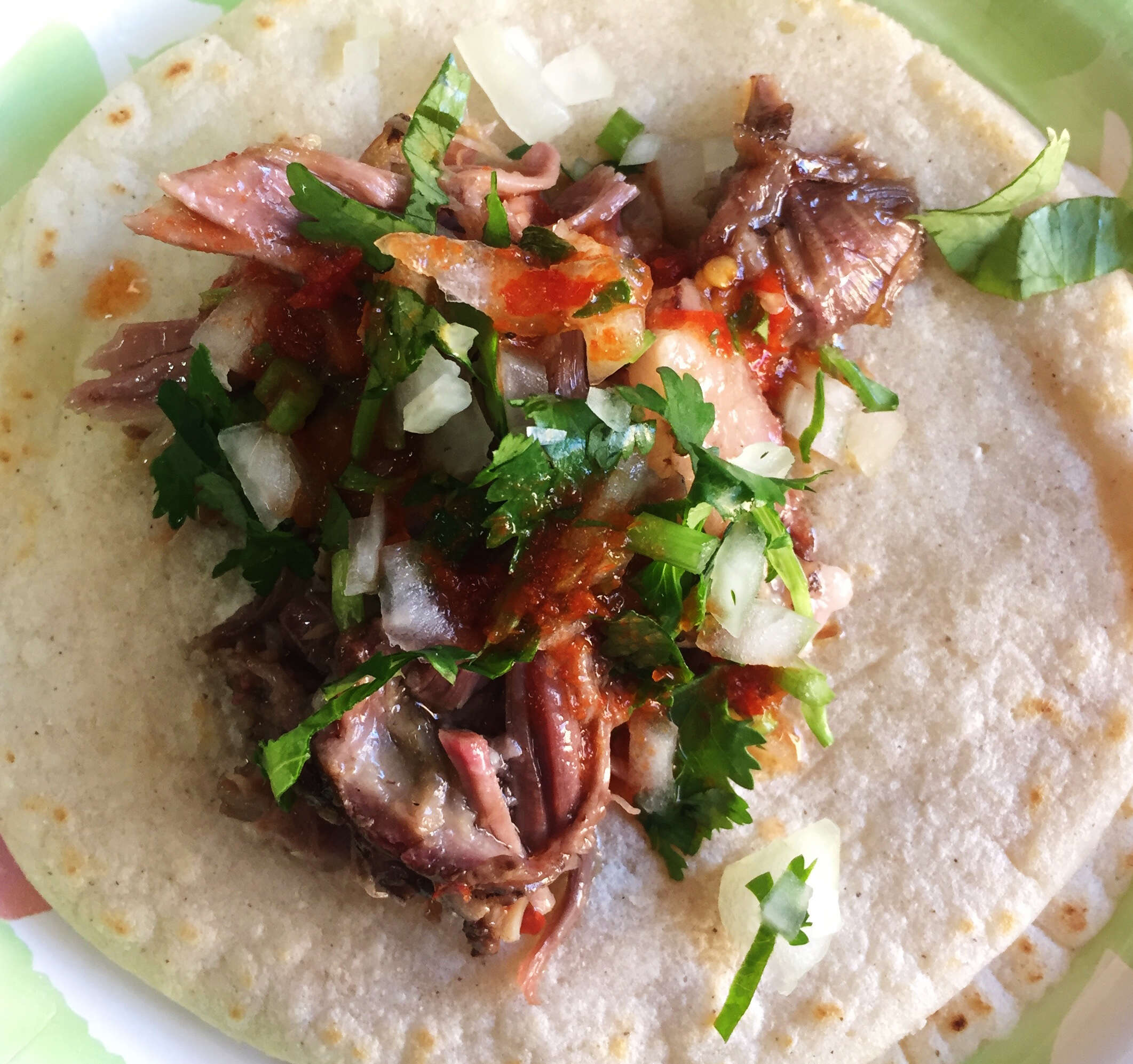 They're repping a particular regional cuisine
Any indication that taqueria owners are slinging tacos and other dishes from their home state or other regional specialties is a promising one. Are the words "Barbacoa Roja estilo Sinaloa" splashed across a taqueria window? Odds are the makers of the pork-and-beef barbacoa are from the northwestern state of Sinaloa. (Estilo means "in the style of.") They might also have goat birria, red and earthy from chiles, cinnamon and cloves. Is that birria de res (beef)? You might have stumbled upon a Zacatecas-style joint. What's up with that taco dorado de camaron? It's a shrimp-stuffed fried taco specialty out of San Juan de los Lagos in the state of Jalisco.
However, scarf enough tacos across your hometown and you'll notice a glut of Mexican restaurants and taquerias with names including "Jalisco." Not all of them serve Jalisco cuisine. Rather, the frequent use of the name has to do with Jalisco state's being considered the soul of Mexican culture. It's from Jalisco we get mariachi, pozole, and tequila. Be wary. That goes double for "DF-style" spots. DF, or Distrito Federal, the Mexican analog to DC, is shorthand for Mexico City, whether used in conversation to refer to one's home or to refer to the cuisine. In cases of the latter, DF is usually code for generic tacos -- the same examples found in taquerias across the world: carne asada, pastor, pollo, lengua, and chorizo -- or, as I like to call them, pork-beef-chicken. (More on that later.) As the capital, Mexico City draws people from across the country who in turn serve their own regional specialties.
So again, look for for words or phrases beyond "estilo-PLACE NAME." Search for specific dishes. If you see suadero or cabeza al vapor, two dishes that can claim actual DF provenance, you might just have a true Mexico City spot before you. Does the taqueria claim to trade in food from Puebla? Look for tacos arabes. You can do this even before entering the taqueria. Just look for the art on the exterior of the building -- what I call "tacos illustrated."
A bit more about "tacos illustrated": The neighborhood I call home has a large Mexican immigrant population from the northern city of Monterrey, in the border state of Nuevo León. Gastronomically, Monterrey is known for its cabrito (kid goat) and tacos de trompo (a regional cousin to tacos al pastor). Like al pastor, tacos de trompo are roasted on the vertical spit known as a trompo (Spanish for "spinning top," which the pork-stacked spit resembles). Unlike al pastor, tacos de trompo come lacquered in a sticky, lightly smoky paprika-dominated marinade. Representations of these rotisseries are painted on the brightly colored signs or exterior walls of taquerias.
Monterrey is also famous for la Cerro de la Silla, a saddle-shaped mountain. It too is often painted on the taquerias specializing in trompo. Combined, the trompo and the landmark signal the potential for sliced and chopped pork served on shimmering tortillas.
They're paying serious attention to their tortilla game
A primer on tortillas, as they relate to tacos: A taco is composed of three elements -- the tortilla, the filling, and the salsa. The tortilla being the foundation of the taco means that without a great tortilla, there is no great taco. Repeat that. Seems simple enough, right? Wrong.
There is nothing like a freshly made corn tortilla if it's actually done right, redolent of a cornfield with an aroma that lingers on your fingers. Same goes for fresh flour tortillas. Handmade versions come in several regional variations, including nearly translucent, oversized discs on the border, to the fat, squishy kind found in Central Texas and the surrounding areas. These tortillas are transportive, but they will cost you. Handmade anything commands a higher price point. If you encounter an unforgivable supermarket-grade tortilla that chews like worn rubber, leave.
They have fillings beyond the typical pork-beef-chicken trinity
Now that we've covered tortillas, let's hit the second component of tacos: the filling. The majority of taco operations trade in the MVPs (most viable products) of pork-beef-chicken. Inoffensive and approachable, the meats come grilled or simmered. This isn't to dismiss the more common proteins, which can be magnificent when prepared by master taqueros (taco chefs) -- simple, elegant, hit-the-spot munchies dotted with char.
However, these fillings are but a few checkpoints on a potentially limitless lifelong taco bucket list. There are home-style south-of-the-border classics like weenie and eggs, chile relleno, cauliflower fritters, all manner of lamb and goat preparations, roasted grasshoppers, and ant larvae. If you can ingest it it, the stuff has likely already been put in a tortilla in Mexico. Fillings you're less familiar with are a solid indication the establishment in question has more up its sleeve than your average taqueria.
They go beyond the standard salsa options
When it comes to salsa, the final component of a taco, the more options the increased chances of a superlative, personalized experience. In an ideal world you have a colorful cornucopia of salsa excellence at your fingertips, well beyond the usual suspects of roja, verde, and pico de gallo. Whether they're in refrigerated squeeze bottles, brought to the table in little plastic bowls, or stocked in a sneeze-guarded salsa bar, you're looking for something a little less common. Maybe they have a dark and piquant salsa de chile morita, or some elusive throat-melting habanero-peanut salsa. Maybe there's an off-menu topper for those in-the-know. So always ask, or you'll never know.
Sign up here for our daily Thrillist email and subscribe here for our YouTube channel to get your fix of the best in food/drink/fun.

José R. Ralat is a Texas-based food writer specializing in tacos. He's written for Texas Monthly, Munchies, Dallas Observer, D Magazine, Imbibe, this fine online media outlet, and other publications. He curates the ¡Taco Libre! taco festivals, is the author of the forthcoming book
American Tacos: A History and Guide to the Taco Trail North of the Border
, and does not believe in the existence of an inauthentic taco. Follow his trek on the Taco Trail at his website www.thetacotrail.com as well as on Twitter and Instagram: @TacoTrail.