It's grilling season, but everyone knows the best part of firing up some BBQ (ugh yes grilling and BBQ are different, we know, Doctor Pedantic) is the delicious accompaniments that tend to come with. To help up your side game, we enlisted chefs and restaurants across the country to submit their recipes for tasty town: population all these bangin' side dishes.
BBQ Carrots
Recipe courtesy of Lo Spiedo, located in Philadelphia, PA
How to make healthy carrots grill-side appropriate? Ranch, of course.
Ingredients:
For the ranch dressing:
2 tbsp. dried parsley
1 ½ tsp. dried dillweed
2 tsp. garlic powder
2 tsp. onion powder
1 tsp. ground black pepper
1 tsp. dried chives
1 tsp. salt
1/8 tsp. Cayenne pepper
1/3 cup of mayo (per 1 tbsp. of spices)
Buttermilk, as needed
For the BBQ sauce:
2 onions, diced
2 ½ tablespoons garlic, minced
1 quart OJ
1 cup Balsamic vinegar
1 cup sherry vinegar
¼ cup soy
1 ½ cup ketchup
1 cup honey
1/3 cup Tabasco
¼ cup cumin, toasted
2 cinnamon sticks, toasted
¼ cup brown sugar
1 tablespoon sage
1 teaspoon. thyme
½ cup tomato paste
1 ½ cup molasses
For the carrots:
2 carrots
BBQ sauce, as needed
1 ounce ranch dressing
Directions:
For the ranch dressing, grind all of the spices together until fully mixed. Add in the appropriate amount of mayo (1/3 cup per 1 tablespoon of the spice mixture) and add buttermilk until it reaches the desired consistency.
For the BBQ sauce, sweat the onions and garlic down until the onions are translucent. Add in the rest of the ingredients and let it simmer on low heat until the sauce has thickened.
Then, wash and cut the carrots into large matchsticks.
Rub with the BBQ sauce, salt, pepper and olive oil. Grill the carrots while basting with the BBQ sauce until it acquires a nice char. Be sure not to burn the carrots, just give them some color.
Finish the carrots in oven until tender, about 15 minutes.
Drizzle with ranch dressing.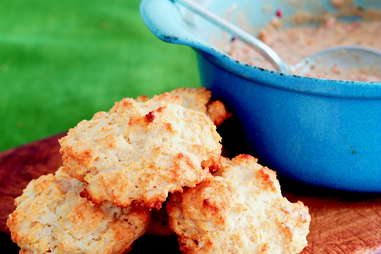 Elvis Biscuits with Pepper Gravy
INGREDIENTS:
1⁄4 cup rendered bacon fat
1 cup minced red onion
Kosher salt
1 pound ground pork
2 tablespoons chopped fresh sage
1 teaspoon red pepper flakes
Freshly ground black pepper
1⁄4 cup all-purpose flour
3 cups whole milk
4 ounces lard, cubed, plus
2 tablespoons melted
2 cups cake flour
2 teaspoons baking powder
1⁄2 teaspoon baking soda
1⁄2 teaspoon kosher salt
3⁄4 cup buttermilk
DIRECTIONS:
To make the gravy: Heat the bacon fat in a 4-quart saucepan over medium-high heat. Add the onion and a pinch of salt and cook, without coloring, for 3 minutes. Turn the heat up to high and add the pork, breaking it up into small pieces. Add 1 tablespoon of the sage, the red pepper flakes, 1 teaspoon salt, and 1 teaspoon black pepper. Brown the pork, turning occasionally, for about 5 minutes.
Add the flour, which will help thicken the sauce. Cook, stirring, for 1 minute and then add the milk, whisking to incorporate it. Bring the mixture to a boil, reduce the heat so that it simmers, and cook for 30 minutes, stirring occasionally.
Meanwhile, make the biscuits: Preheat the oven to 400°F. Brush a baking sheet with the 2 tablespoons melted lard.
In a large bowl, combine the cake flour, baking powder, baking soda, and salt. Add the cubed lard and blend the mixture by hand, crushing it between your fingertips, as if you were making pie dough. Continue mixing while adding the buttermilk. Make sure not to overwork the dough.
Drop the biscuits with a spoon onto the prepared baking sheet, leaving space between each one. You should have 12 biscuits, each about the size of a peach. Bake until lightly browned, about 15 minutes.
To finish the gravy and serve: Stir in the remaining 1 tablespoon sage, 1 teaspoon salt, and ½ teaspoon black pepper. Put 2 biscuits on each of 6 plates and ladle the gravy over the top of the hot biscuits.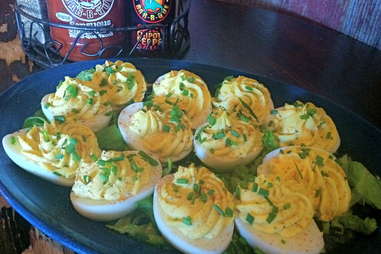 Creole Deviled Eggs
INGREDIENTS:
12 large eggs
9 tablespoons mayonnaise
4 tablespoons Zatarain's Creole Mustard or Spicy Brown Mustard
2 tablespoons celery, minced
½ teaspoon black pepper
1 teaspoon kosher salt
A couple of dashes of Tabasco sauce
½ teaspoon sugar
1 rounded tablespoon snipped fresh chives
Smoked paprika or Creole seasoning
DIRECTIONS:
Set the eggs in a pan just big enough to hold them in one layer. Cover with water and slide the pan over a high flame. Bring to a boil.
Pull the pan off the heat. Cover and let sit for 12 minutes. Pour off the hot water and run cold water over the eggs to chill them for about 3 minutes. Peel the eggs and cut each in half lengthwise.
Scoop out the yolks, saving the whites, and transfer all of the yolks to a bowl. Mash the yolks with a fork and add the mayonnaise, mustard, celery, pepper, and salt. Mash everything again and mound the yolk mixture into spoonfuls back into the white halves.
Garnish each half with chives and a sprinkling of smoked paprika or Creole seasoning. Serve on a platter and watch 'em disappear.
Griddled Corn & Bacon
INGREDIENTS:
8 cobs of corn
1 *~*~FORKLIFT~*~* of bacon, cut into lardons
DIRECTIONS:
Boil corn until fully cooked.
Shock corn in cold water.
Using a knife, remove the kernels from the corn. 
In a large cast iron skillet over medium heat, griddle your bacon until desired crispness.
Using a slotted spoon, remove bacon and rest on plate with paper towel to absorb excess fat.
Pour off the excess fat in the pan, reserving 2 tablespoons rendered bacon fat to cook the corn.
Add the corn to the bacon fat and sauté over medium heat until heated through, about 1 minute.
Toss with bacon and serve warm.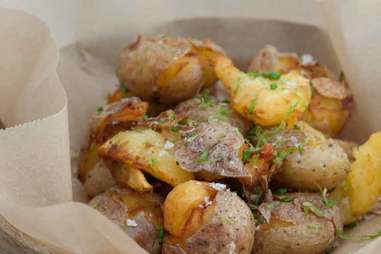 Spicy Fried Potatoes
INGREDIENTS:
2 pounds baby Yukon gold potatoes
Kosher salt
1⁄4 cup olive oil
1 tablespoon smoked paprika
1 tablespoon chipotle powder
3 garlic cloves, smashed and peeled
1⁄2 cup mayonnaise
2 tablespoons Sriracha sauce
1 cup rendered fat (I love bacon or duck)
Flaky sea salt, such as Cyprus Flake or Maldon
Grated zest and juice of 2 limes
1⁄4 cup chopped fresh chives
DIRECTIONS:
Put the potatoes in a pot, cover with heavily salted cold water, and bring to a boil. Cook until tender, about 20 minutes. Drain the potatoes and let cool.
In a small sauté pan over medium heat, combine the oil, paprika, chipotle powder, and garlic. Warm for 1 minute, then remove from the heat and discard the garlic. Combine the mayo and Sriracha in a small serving bowl and whisk in the oil mixture.
In a large cast-iron skillet, heat the fat to 350°F. The fat should come 1 to 2 inches up the sides of the pan.
Smash each potato with the palm of your hand so it is relatively flat, but still holding together. Add the potatoes to the fat and cook for about 3 minutes per side, or until golden brown.
Remove the potatoes from the fat with a slotted spoon and put in a large bowl. Sprinkle them with sea salt, the lime zest and juice, and the chives. Serve immediately with the spicy mayo on the side for dipping.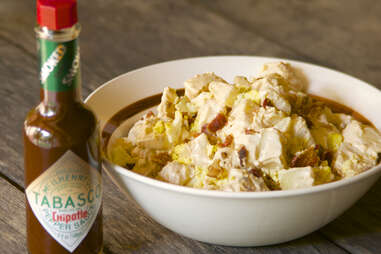 Got your corn? Check. Got your mac'n'cheese? Check. Now…what are you forgetting? Two words: TABASCO® Sauce. It's the essential sauce to zest-ify your grilling creations, because it's so good you could put it on a shoe and not notice you were eating a shoe.
Longhorn Mac'n'Cheese
INGREDIENTS:
1 pound Penne Rigate
4 cups half and half
4 tablespoons (1/2 stick) unsalted butter
6 tablespoons unbleached all-purpose flour
1 teaspoon smoked paprika, plus more for garnishing
Sea salt and freshly ground black pepper to taste
4 ounces best-quality gruyere cheese, grated
16 ounces best-quality extra-sharp white cheddar cheese, grated
6 ounces best-quality Fontina cheese
2 ounces grated Parmigiano-Reggiano cheese
DIRECTIONS:
Preheat the oven to 350°F.
Bring a large pot of water to a boil. Add the pasta and cook at a rolling boil until just tender. Drain, rinse under cold water, drain again and set aside in a large bowl.
Bring the half and half just to a boil in a heavy saucepan and set aside. Meanwhile, melt the butter in another heavy saucepan. Add the flour, and whisk over low heat for 5 minutes. Do not brown. Remove from the heat.
Add the hot liquid to the flour mixture, and whisk well. Add the paprika, season with the salt and pepper, and return the pan to a low heat. Add half of all of the cheeses and stir until combined.
Cook over medium heat, whisking constantly, until the mixture thickens; about 5 minutes. Add sauce to the pasta. Toss well to coat completely.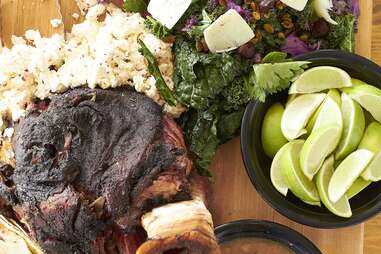 Borracho Beans
INGREDIENTS:
1 pound dry pinto beans
1/2 pound diced poblano
3/10 pound diced jalapeno
1/2 pound diced white onion
3/5 pound chopped bacon
2 cups Sierra Nevada or a dark beer
1/2 of a tomato, diced
1/2 cilantro bunch
DIRECTIONS:
Render bacon in a heavy bottomed pot on medium-high heat and add the above vegetables to sweat.
Once vegetables are sweated, add beans and 2 cups of beer. Top with water and simmer until beans are soft. Check after 30-45 min. Season with salt to taste.
When the beans are cooked through add 1/2 of a diced tomato and half a bunch of chopped cilantro. The beans are now ready to serve with your favorite smoked meat.