The 10 coolest-looking food trucks in the USA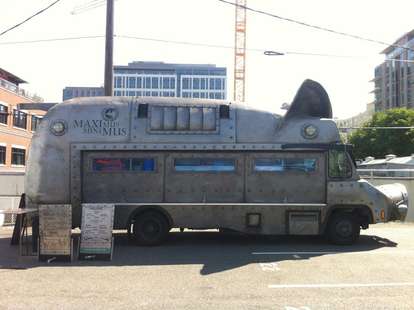 Maximus Minimus
Maximus Minimus
Even before Ford decided to create the Edsel with a front that everyone thought looked like lady bits, autos and design were inextricably linked. But in this century, the food truck has really taken cars and art to the next level. So with that in mind, we searched all over this great nation to find the 10 truck designs that're far more than just billboards advertising the tasty eats they're slinging.
Dallas's Gastro Bomber's a vintange WWII-themed truck doling out modern pub-grub like green chile mashed potato-aided fried shepherd's pie croquettes that thankfully don't taste like rations.
It's not without its tidbits of historical irony that Off The Rez went back on the reservation to bring Seattlites Native American staples like frybread-enhanced Indian tacos. The truck depicts a Native American smoking a "peace pipe", which helps to explain why you can never eat just one of their tacos.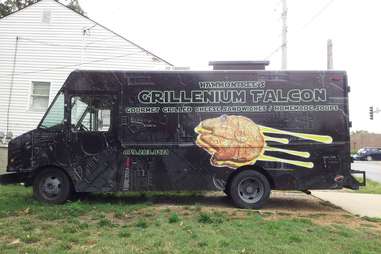 Technically the mobile outpost of Fayetteville grilled cheese maven Hammontree's, the Grillenium Falcon has somehow avoided the wrath of Lucas, possibly because of the undeniable awesomeness of numbers like the Cheebacca (sharp cheddar, a house blend of cheese, bacon, pulled pork, grilled onion, and garlic cilantro on sourdough).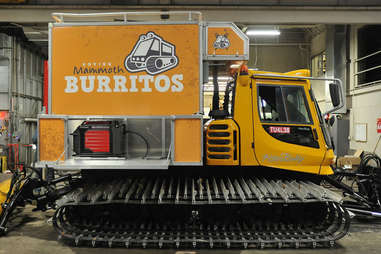 Roving Mammoth lives on -- wait for it -- Mammoth Mountain, where it roves around the slopes feeding hungry, hungry skiers whatever they want, so long as what they want is burritos.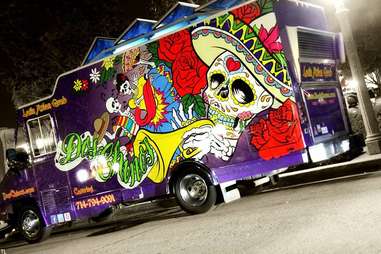 If you see dancing skeletons on the streets of Orange County, it's probably just a couple of out-of-work models... unless they're on the side of a truck, in which case it's probably Dos Chinos, which cooks up all sorts of pan-Asian merriment, like Vietnamese pork and Korean-Mexican beef.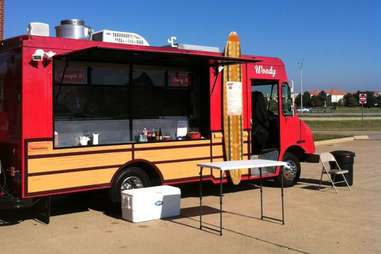 So-Cal Tacos is a fish taco specialist that's based in Dallas -- a land-locked city -- but that doesn't stop this Hobie board-equipped woodie-esque truck from making a sea of awesomeness, including panko-battered fish numbers like the San Diego Classic, which is perfect for a hot Dallas Summer, Padre.
While Austin's East Side King is known for Asian awesomeness like a slow-poached egg- and sweet chili sauce-topped grilled and glazed pork shoulder, it's their artwork that really stands out, since it was done by Peelander-Z, which is literally a "Japanese Action Comic Punk Band" and less literally R. Kelly's 2012 Zoolander remake.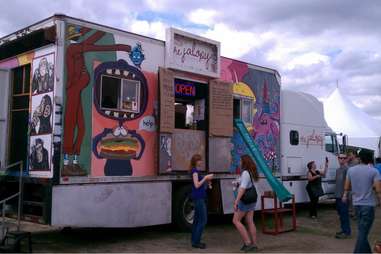 In Austin, Jalopy Rotisserie and Press is a) a brilliant sandwich-making trailer towed by a semi, and b) hand-painted by a virtual army of artists, including one that just showed up one day, painted for about six hours, and was never heard from again.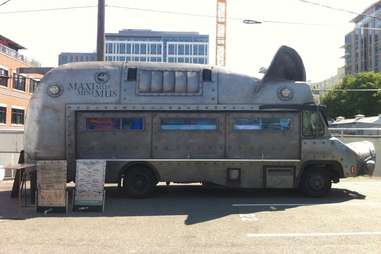 Rain or shine (but mostly rain), Seattle's Maximus Minimus brings home the bacon -- almost literally, with its pork (and chicken) sandwiches -- from a truck sculpted into the shape of Anthony Weiner a giant pig.
Because climbing all those hills in SF imbues its residents with a certain incurable need for pizza, the dude behind Del Popolo went all-out with his build, mating a semi-truck with a shipping container (take that, NatGeo!) and outfitting it with 1500lbs' worth of glass doors that swing out, so you can see the 5000lb wood-burning pizza oven.