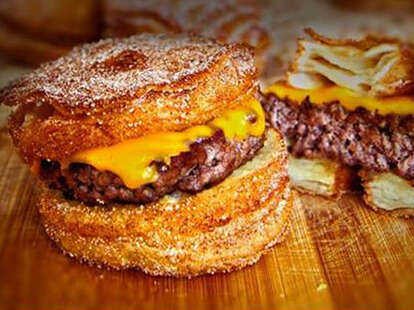 Facebook
Facebook
Though bakeries around the world are mounting an impressive cronut knock-off campaign, we were especially taken with our northern neighbors' "Crookie", a delectable croissant with Double Stuf Oreos baked right in, available only in Toronto. But those crazy Canadians didn't stop there. This Friday at the Canadian National Exposition, they'll debut a -- drumroll please -- Bacon. Jam. Cronut. Burger.
This frankenfood is the joint effort of the bakery Le Dolci and Epic Burgers and Waffles, a.k.a. the people who brought Krispy Kreme burgers to the expo in 2011. It'll roll out on Friday and stay at the Epic Burgers and Waffles CNE spot until September 2. One of these creations will cost you $10
Considering that the CNE will also host a War of 1812 dress-up area, you're definitely gonna want to make a day of your cronut burger pilgrimage.