Win the Stuffing Game With This Bacon, Mushroom, and Sage Masterpiece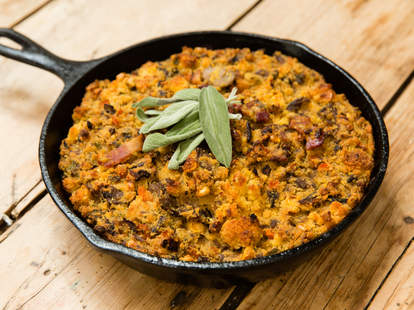 Oh, sure, you could get lazy and just make a box of Stove Top this Thanksgiving and nobody would bat an eye (for real, that stuff's great). But with this super-simple recipe you can straight-up make eyes roll back with ecstasy. That's the magic of adding bacon, sage, mushrooms, and other stuff to a pre-made cornbread stuffing mix. There's minimal prep involved in this one, and you get the added satisfaction of explaining that you used mirepoix, which is just diced celery, onion, and carrots, but it sounds impressive -- and pushes your stuffing from "great" to "game-changing."
Cornbread Stuffing with Bacon, Sage, and Mushrooms
INGREDIENTS:
1 box TJ's cornbread stuffing mix
4 slices bacon, cut into ½-inch pieces
1 14.5-ounce container TJ's mirepoix
1 12-ounce bag TJ's Mushroom Medley
4 fresh sage leaves, torn up into small pieces
2 ½ cups (or more) TJ's chicken broth
2 large eggs
1 teaspoon salt
½ teaspoon ground black pepper
DIRECTIONS:
Fry bacon in a big pan (a cast-iron skillet if you have one) until it's nice and crispy. Save about 2 tablespoons of the drippings in the pan. You're gonna need it.
Add the container of pre-diced mirepoix to the pan. Season with 1 teaspoon salt and ½ teaspoon pepper, then sauté it over medium-high until tender and beginning to brown. That'll take about 10 minutes, during which time you can practice pronouncing mirepoix.
Add mushrooms and sage to the pan and sauté until tender, about 10 minutes. Adjust seasoning to taste.
Place cornbread cubes from stuffing mix in large mixing bowl. Pour mushroom mixture over the cubes. Add bacon and toss to blend, then mix in 2 cups broth. Mix eggs into stuffing, blending well. Your stuffing should be quite wet… if it seems too dry, add more stock, a ½ cup at a time.
Transfer to baking dish or cast-iron skillet and bake at 350°F until cooked through and golden brown on top (about 1 hour). Now say it again: "mir-pwah." Damn that sounds classy!
Sign up here for our daily Thrillist email, and get your fix of the best in food/drink/fun.
Melissa Locker is a writer in New York and only eats marshmallow Peeps. Follow her on Twitter @woolyknickers but don't follow her in real life.