Donuts have Munchkins, pizza has Totino's, but where is the compact, snackable version of the bagel? The West Village. At the end of the month, Bantam Bagels will open on Bleecker, and these guys are peddling a seriously radical take on New York's beloved breakfast food. They're called Bantams and are, in the site's own words, "fresh, filled, artisanal bagel balls". Every day, the shop will offer a menu of basics: your choice of plain, sesame, or everything bagel filled with spreads such as peanut butter, plain cream cheese, butter, and veggie cream cheese. But the husband-and-wife team behind Bantam also has a roster of rotating specials that'll make your mouth water and your eyes tear with joy. Up top is "The Slice", a pizza dough bagel filled with marinara and mozzarella and topped with pepperoni. Let's take a look at a few other options, shall we?
Presenting the Cinnamonster, a cinnamon raisin bagel filled with sweet walnut cream cheese. Kanye is already writing a song with Nicki Minaj about them.
Next up is the French Toast, a cinnamon nutmeg egg bagel with a maple syrup cream cheese injection.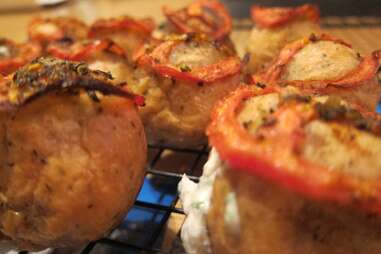 The Athena is an oregano-spiced bagel filled with spinach, olive, and feta cream cheese. It also wears a rosemary-marinated tomato slice for a hat, because it is fancy.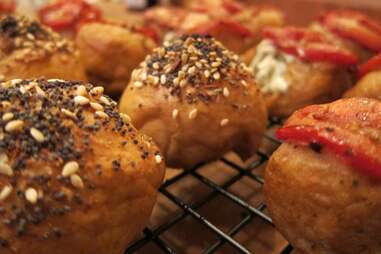 And to close things out, a twofer! On the left, we have the Weekend Brunch, an everything bagel injected with lox, tomato, and red onion cream cheese. On the right is the Grandma Jojo, an Italian-spiced bagel with fresh basil pesto cream cheese on the inside and a tomato slice on the outside. Best start camping in front of 283 Bleecker Street now, folks.