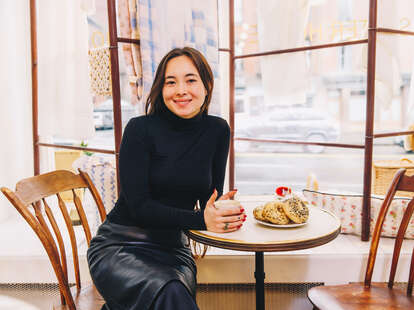 Sakura Smith, founder of Bagel Bunny

| Photo by Cole Saladino for Thrillist
Sakura Smith, founder of Bagel Bunny

| Photo by Cole Saladino for Thrillist
It's a rainy morning in Brooklyn Heights—an ideal morning, really, for experiencing the zen-like Salter House, a cafe/boutique where rustic, baked goods and crisp, cotton linens commingle. I'm greeted by Sakura Smith, who leads me to the best seat in the house—a window-side table for two—housing a plate of orange-speckled bagels.
Smith, who goes by the moniker Bagel Bunny, is a resident baker of sorts. To prep for her weekly drop-off at Salter House, she wakes up at 4am, ready to shape her bagels from dough made the night before. The dough gets its color from a fermented vegetable yeast, which feeds on rice, apples, carrots, and yamaimo (Japanese mountain yam)—kind of like a bunny.
"Baking has somehow become spiritual to me, a moment to take time for myself and actively care for others," Smith tells me. "There's something so unusual and thoughtful about baking in the dark, early morning." The starter itself is spiritual in origin. A Japanese Buddhist monk named Yugen Yamanouchi developed it in 1974, dubbing this unique style of fermentation the "Rakkenji process."
Because the bread is completely fermented, Yamanouchi follows the Ayurvedic line of thought that it can pull toxins from the body and promote purification in the stomach. "A lot of his spirituality seems to be about movement—connecting the mind, the body, and the heart," Smith says. "So I think for him, the bread just becomes a part of that."
Smith's starter has, in effect, been alive since the '70s. She received it from her mom, who received hers from Smith's Japanese preschool teacher, who received hers from Yamanouchi himself. "She makes everything from scratch—homemade natto, everything," Smith says, describing her preschool teacher, Michiyo Masubuchi. "Her house is filled with fermented foods." Masubuchi spent some fruitful time with Yamanouchi in Nara, Japan, bringing back the everlasting souvenir.
Knowledge was passed down, too. There was a real community of health-conscious, Japanese baker moms in Smith's native Los Angeles. While her own mom dabbled in bread-making, it was a friend's mom, Ryoko DeCoste, who really showed Smith the ropes. "It's interesting because my reading of Japanese is very poor. So it's nice to have this verbal communication of it all," she says. "I don't have a strong Japanese community here."
Bagel Bunny is, in some ways, the antithesis of a New York City bagel. The ring-shaped creations are not borne out of bustling delis and long lines, but rather, Smith's own apartment. When I ask her, "Why bagels?"—she could've created anything with that magic starter—she responds, "I did ceramics in school, so it feels good for me to just, I don't know, have a little bit of a shape of something. I think there's something more personal about a bagel than a whole loaf of bread."
The bagels on the table are, in fact, perfectly imperfect, decidedly plump, and somewhere between miniature and full-size. They come in Plain, Black Sesame, and Everything. Smith slathers one with honey and butter, the other with cream cheese and sliced cucumber. I'm enamored by the texture, which is just the right amount of fluffy, and can taste that subtle, fermented funk right away. It's similar to a sourdough, edging on the sweetness of a brioche. Even the Everything hits a little different, with hints of fennel seed.
Sometimes, Smith will experiment with more Japanese flavors, seasoning a few bagels with shiso or topping them with ingredients like ikura (salmon roe), miso butter, and adzuki (red bean). "It's been really nice to connect to that side of who I am," she says.
With a previous career in fashion, Smith never set out to be a baker. But when she moved to New York from Los Angeles, she carried a jar of the orange-pink starter in her suitcase, intent on sharing her bread with friends. The overall consensus was, "That's the best bagel I've ever had." In addition to Salter House, Smith also sells her treats at other NYC purveyors, like Dimes Market, and will run her own deliveries to homes and offices. "I like to walk and interact," she says.
Bread-making has taught her everything from patience and flexibility to the ability to trust in herself—but in a fun way, she adds, "because it's just bread. I'm not going to die over it. It's really nice to remember that." She joins a movement of home bakers in Brooklyn, like Gautier and Ashley Coiffard, the couple behind L'Appartement 4F or her close friend, Aimee France, the baker of extravagant cakes also known as Yung Kombucha. "Everyone wants comfort, and there's something so nice about knowing that someone made you something from their home," she says.
So can we expect a reality TV show on Brooklyn bakers or Bagel Bunny expanding nationwide? Smith simply looks forward to sharing her bagels with people in the most enjoyable way possible.
She hints, "To me, that means right out of the oven."