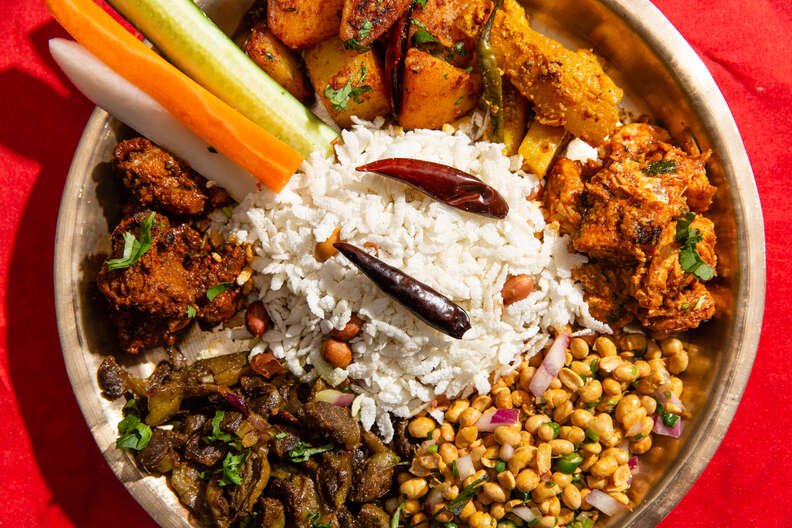 Nepal's Biggest Barbecue Chain Is Set to Take Over America
For Manoj Devkota, good sekuwa -- Nepali kebabs -- should be more than tender and smoky from their blazing sear over a charcoal grill. The spices in their yogurt marinade should sizzle into a kind of crust on the meat, crackles of cumin and pepper that detonate like small ordnance in your teeth.
This is what barbecue fans from Central Texas to St. Louis call bark. And Bajeko Sekuwa, a barbecue colossus with 14 locations across Nepal, is known for exceptional bark.
"There's sekuwa everywhere in Nepal," Devkota explains, "but the secret here is the spices. They're grown in my country and have more texture and taste." Bajeko's blends are a trade secret on the order of the Colonel's 11 herbs and spices, and their balance of heat, umami, musk, and twang is why Devkota returned to eat at his local Bajeko Sekuwa week after week until he immigrated to the US in 2010.
For eight years, Devkota could only enjoy that taste as a memory -- until this spring, when he became service manager at the brand new Bajeko Sekuwa in Sunnyside, Queens, the nearly 40-year-old Nepali chain's first location abroad. The bark is back, and the cumin, mustard oil, and ginger-garlic paste in it taste just like he remembers.
After spending decades building itself into one of Nepal's largest restaurant chains, Bajeko Sekuwa has set its sights on the rest of the world. The company aims to expand across India, Dubai, Qatar, Australia, and Europe, and has plans for five to six more locations in the US. As Devkota and executive chef Surendra Rayamajhhi explain over a plate of momos, the goal is nothing less than spreading the gospel of Nepali cooking abroad and win over the palates of billions the way Indian chefs have over the years.
It's an audacious vote of confidence in the Nepali-American community, which in recent decades has grown from a mere handful to over 100,000. And so far it's working. Stop by Sunnyside on the weekend and you may run into families from as far as Maryland and Virginia that have made the trek for a taste of the chain's famous barbecue. Call it the next great advancement for our barbecue-mad nation; move over, brisket -- grilled goat has arrived.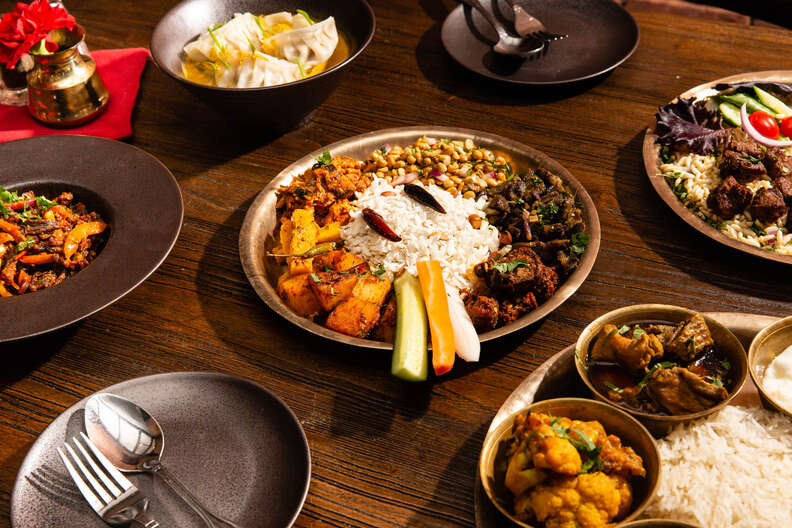 As franchises go, Bajeko Sekuwa is a hometown hero; you regularly see glowing reviews on Instagram, and over the past couple years, the brand has become a Nepali household name with a line of spice mixes for curries and kebabs.
Like many global restaurant brands, it began as a humble family business. Thirty-seven years ago, Dinanath Bhandari set up a small barbecue stand off the main road to the Kathmandu airport. The stand's name was really just a nickname; Bhandari wasn't a young guy, and bajeko means "grandpa." Like countless other grill men in Nepal, Bhandari sold sekuwa as fast food: boneless chunks of beef, wild boar, goat, or mutton marinated in yogurt and spices, then skewered and grilled over hot coals. You eat it quickly, preferably washed down with beer.
A roadside stall became a restaurant in the city, then two, then four. When Bhandari had to leave the country on business for a few weeks, he brought his son Chetan to stand in. The young man stuck around, bringing a new marketing panache to the company and transitioning it to a franchise model that has now expanded to multiple locations across the country. He's currently Bajeko Sekuwa's chairman and the mastermind of its would-be global takeover.
Beyond the standard sekuwa, Bajeko Sekuwa offers a cornucopia of grilled meats, such as hyakula, spine-adjacent bits of goat rib meat striated with chewy, crunchy layers of fat and cartilage. Kitchens dry their own meat for sukuti, a dense, exceptionally savory goat jerky. And they do choila with duck, grilling the flesh to make it more absorbent of other flavors, then marinating it in yogurt and spices to serve cold -- like a smokier chicken salad. This is in addition to other Nepali classics like goat bone soup, steamed wild boar belly, and all sorts of offal. The Sunnyside location isn't carrying the pan-fried ostrich or spiced lungs (yet, anyway), but you can sure get gizzards stir-fried with fragrant chiles, plus all the crispy goat head you like. Executive chef Rayamajhhi considers the Queens flagship a testing grounds for the rest of the US: "We'll be revising the menu in six months, seeing what works."
Rayamajhhi isn't sure yet how future locations will adapt their menus to local markets, nor how they'll spread the word about Nepali barbecue in particular. The core Nepali audience is sure to get it, but it's a tall order to sell the Texas brisket crowd on spiced goat kebabs. Instead, Bajeko Sekuwa franchises may find themselves acting as ambassadors for Nepali cuisine to a nation still relatively unfamiliar with Nepal's foodways.
Even in dense communities around the country, genuine Nepali restaurants are rare. In order to attract enough business to survive, Rayamajhhi explains, most Nepali-owned restaurants have to focus on tried-and-true Indian restaurant classics like tikka masala and vindaloo. "It's hard for Nepalis to get investment," he goes on. "We're lucky to have the support of a large brand, and we're confident because of the community here."
Rayamajhhi, a childhood friend of Chetan Bhandari who has a background in hotel kitchens and owns a Nepali restaurant of his own in Baltimore, is one of five franchise partners currently scouting locations around the country with dense Nepali communities, including Dallas-Fort Worth and cities in Colorado, Virginia, California, and Massachusetts. The plan is to open a new location every year.
"The community demanded this," Devkota says. "Everyone is making the same momos and thalis, and noodles, and people want something different. We give out feedback cards to guests and have so many that read, 'Please keep these flavors, don't change anything.' One table left a $100 tip on a $200 bill. They told me they were just so happy to have that taste again."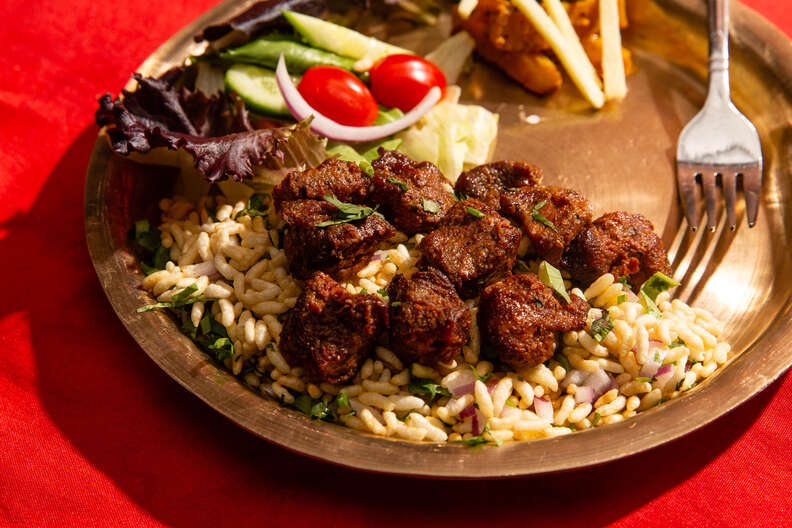 America's Nepali population has been booming since the 1990s. 2016 data from the Census put the country's Nepali-American population at nearly 130,000, almost double the number from six years prior. Nepalis have been major beneficiaries of the diversity visa program, established in 1995 to offer people from nations underrepresented in the US a chance to enter a lottery for a green card. Less than 1% of applicants receive one, not that that stopped over half a million Nepalis from trying in 2015.
If Donald Trump has his way, the diversity visa program could come to an end. The President claims the lottery selects residents randomly regardless of record and work qualifications (this is a lie) and has set out to shut it down. He's also ended special visa protection for 9,000 Nepalis that immigrated in the wake of the country's devastating 2015 earthquake.
But despite the administration's best efforts, the Nepali-American community is on track to keep growing, making space in the restaurant world for more cuisine to call their own. "At a lot of Nepali-owned restaurants it's 90% Indian food and 10% Nepali," Rayamajhhi says. "We're trying to do the reverse."
The arrival of far-flung restaurant chains on American shores has always been synonymous with representation. Just as McDonald's and KFC speak to an Americanization of the rest of the world, iconic brands like Jollibee from the Philippines and Pollo Campero from Guatemala speak to the ever-diversifying definition of mealtime in America. It may take a while for non-Nepalis to fall for Bajeko Sekuwa's crispy goat head -- but the bark on that hyakula might just crackle better than a rack of St. Louis ribs.
Sign up here for our daily Thrillist email and subscribe here for our YouTube channel to get your fix of the best in food/drink/fun.