T
he rose-hued light glinting off the downward-tilted gilded mirrors, the high-backed red leather banquettes, the patina on the walls that look aged with decades of smoke, the wafting aroma of snails in garlic and butter -- it all evokes Paris in a visceral way. So do the servers dressed in all-black with white aprons, some of whom say their uniforms make them feel they're in a play instead of a dining hall. But, then, Balthazar from the beginning has been a kind of theater, the play always the same and always different, on a set where 10,000 customers have crossed the tiled floor every week for the past 20 years.
The Manhattan brasserie reaches its second decade on April 21, an incredible age for a New York restaurant. It's a landmark now, but originally, 80 Spring St was a tannery and leather warehouse, the stench infesting the derelict street where the city's underbelly lurked at night. Back in 1997, Keith McNally, Balthazar's owner, now saddled with his own restaurant empire, had been crafty in keeping the restaurant's construction on the down low to avoid break-ins. There was always brown paper in the windows. 
The night it opened, though, the unsheathed windows spilled golden light onto the pavement, and on the red awning in a blocky, Art Deco font was the word "Balthazar."
    
"I'm in Paris!" cried a famous French chef that first night. "Balthazar is an elaborate recreation of an imaginary place -- not a fake, but a delicate hybrid, a product of this city, of New York, as much as Paris," said Adam Gopnik who writes about, amongst innumerable other things, restaurants for the New Yorker. Not only does Balthazar conjure up Paris, it has also influenced restaurants around the city, the country, and the world.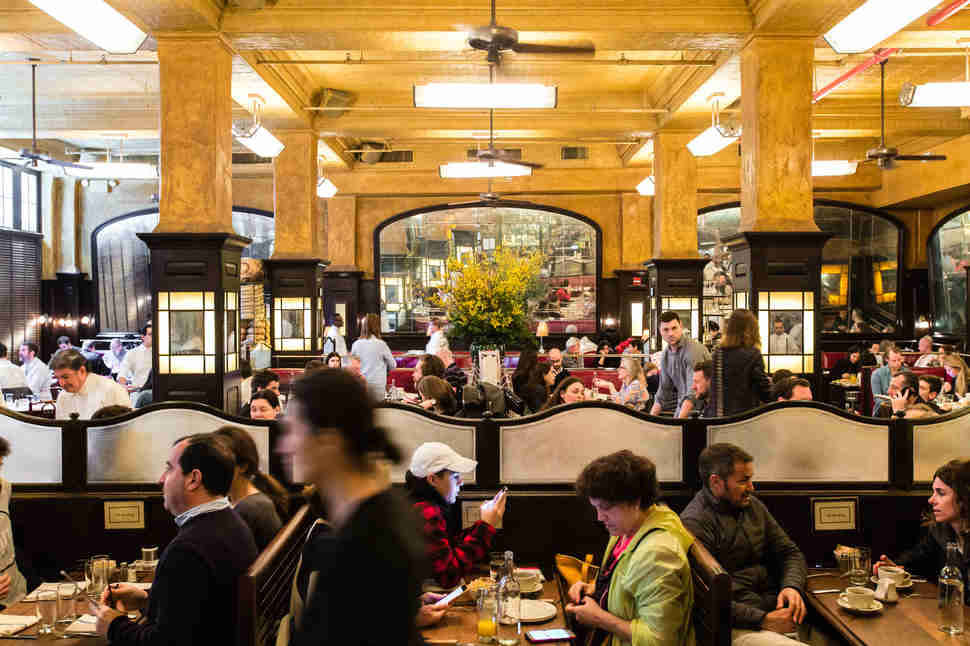 It would come as no surprise, then, that Balthazar's chef de cuisine Shane McBride loves Ernest Hemingway, particularly A Moveable Feast, the writer's memoir about expat life as a young journalist in Paris. "I think it's better than The Sun Also Rises," McBride said. 
Written in the 1920s and published posthumously in 1964, the book made Paris an icon for generations of Americans, just as Hemingway's other novels and short stories had done. In his distinctly concise manner, his references to Le Dome and La Coupole -- and to Brasserie Lipp, responsible for inspiring Balthazar's mirrors tilting downwards -- potently evoke the world of the brasserie. You can smell the beer, taste the herring. The title in French is Paris est une fête, which translates literally as "Paris is a party." People broke bread together day and night, all of which translated directly into Balthazar's DNA.
The brasserie as we know it came into being in the 1870s when Alsatians, fleeing the capture of their province by Germany after the Franco-Prussian War, made their way to Paris. With them they brought their skills as brewers ("brasserie" actually means "brewery"), a taste for big noisy collegial restaurants where you could get a brew, and the dishes they liked with their beer: the fish, the sauerkraut, and sausages. 
Some of the refugees went much farther. They crossed the Atlantic to America; most of them settled in New York around Washington Square. A French quarter took shape between the south of the park and Grand St, West Broadway and Greene; in other words: today's SoHo. 
    
Balthazar feels old and French; it has an innate Gallic sense of itself. From nearly the day it opened, it felt that it had been there forever. It had locals and and tourists, artists and celebrities -- Madonna, Meryl Streep, Calvin Klein, Michael Jordan, and Jerry Seinfeld -- the social climbers and elite clamoring for a table. But Balthazar never employed a snotty French maitre d' in a dusty tux. Keith McNally was not French, but had spent time in Paris. He was English, a working-class kid who hated snobbery.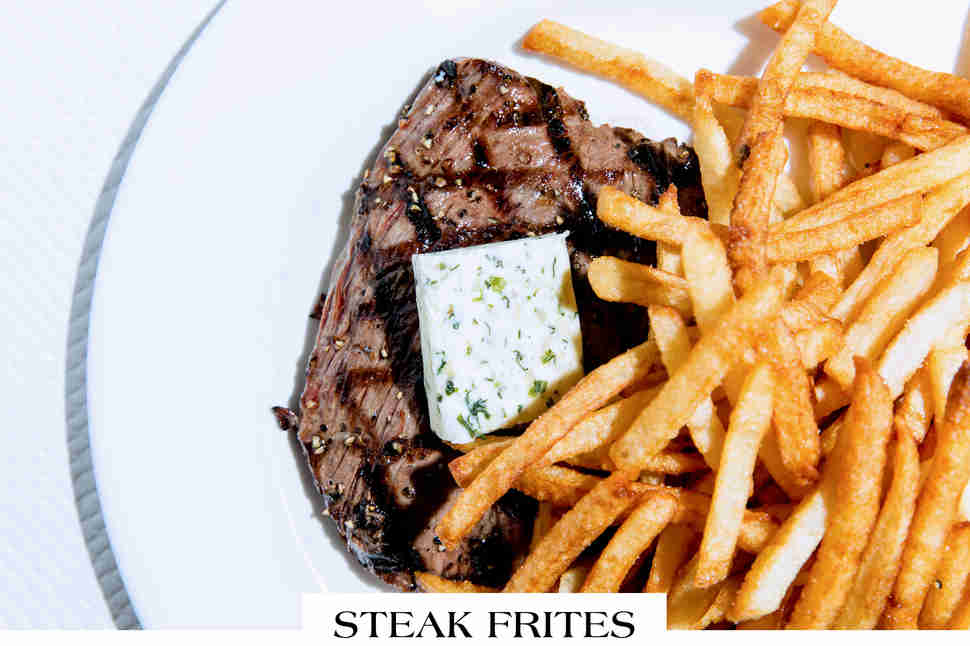 For a century and a half, French food held New Yorkers in thrall. A real restaurant was French. Right through the '80s, every critic and magazine felt compelled to publish round-ups and rundowns of French restaurants. But by the 1990s, food now a national obsession on TV and off, a new zeitgeist took hold. People wanted something different, and food became everything but French. There was fusion, there was sushi, there was tall food and tiny food and raw food. Italian ruled. 
    
"There were always French restaurants in New York, but they were so geriatric, still are," said Ruth Reichl, former restaurant critic for the New York Times and editor-in-chief of the now-shuttered Gourmet. "The great Italian craze came and whipped them off the map, at least as far as cool was concerned. It took balls for Keith [McNally] to put this kind of workingman's French food on the menu at Balthazar. It made this kind of food -- brandade, mussels, onion soup, steak frites -- made it hip. [Young] people who wouldn't be caught dead eating frisée aux lardons with their grandparents were suddenly eating it with their friends."
Eventually, from Balthazar's menu, a whole new trend in French food began to spread, across New York and the country, and it included skinny, crispy French fries in paper cones, skate with black butter and capers, and duck confit. The tower of shellfish -- le plateau de fruits de mer -- was one of Balthazar's great treats and if Balthazar wasn't first with it, it seemed that way. (Of course, the French thing might eventually have re-emerged anyhow, according to Reichl. The only issue of Gourmet that ever sold out when she was the editor was her first Paris issue.)
    
Keith McNally had always loved Paris; and if you loved Paris, there was always the bread. McNally lived on the rue du Cherche-Midi opposite Poilâne, the great bakery that introduced the French country loaf, a hefty, dark peasant boule with a deep, thick, crunchy crust, into a Parisian world where only a skinny white baguette was fashionable. And so the Balthazar Bakery, adjacent to the restaurant, sold this same dark bread.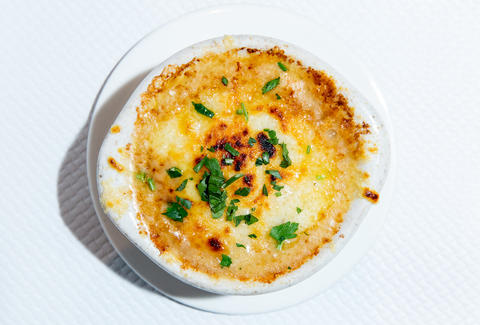 In 1997, great French or Italian bread wasn't so easy to come by in New York City -- at least not the stuff you traveled for like the bread that you'd find in Paris. Chefs like Jean-Georges Vongerichten fled to the bakery. The trend has spread across the country -- more and more bakeries are producing great versions of French bread.
New York is also now loaded with French brasseries, bistros, and cafes, including McNally's own Cherche Midi, Pastis (which will re-open next year), Schiller's, and Augustine. There are others, scores of them in New York, Brooklyn, Chicago, LA, London (which now has its own Balthazar outpost), and around the world. The accessible French food, the easygoing ambience of a restaurant that's open both for the early-rising breakfast crowd and swill-sipping late-night revelers, and the décor have made the Balthazar style a romantic obsession. In the greatest irony of all, one restaurant in Paris ripped off Keith McNally's décor at Schiller's, his bistro on Manhattan's Lower East Side.
    
High French food is on its way back into fashion, too, with the cream sauces and dishes of another era, among them the three-Michelin-star-rated Le Bernardin. Open since 1986, it's often considered the best French restaurant in the country. Now a legendary (and celebrity, thanks in part to Tony Bourdain) chef, Eric Ripert himself is a regular at Balthazar.
"I try to go as much as I can," he said. "Some people believe Balthazar is trendy, but for me, it's eating at my favorite restaurant. They have great energy in the room and good service." He always has a good bottle of Bordeaux and steak tartare or steak frites. He calls the bakery to ask them to reserve some cannelé, baked delicacies in a fluted copper mold so the crust is caramelized and crisp, while the inside remains eggy, spicy, and sweet.
"There's always something that you crave. It's why you go back to Balthazar. Who doesn't want a good steak au poivre?" continued Ripert. Not only does he regularly covet the food, but this world-renowned chef also uses Balthazar essentially as a training manual for his staff. "I'm like, 'We have to create menus where people, especially the regulars, should always have the desire to come back to try something that they're craving."
    
In the half-hour I spent with him, I could not detect a speck of bullshit in his love of Balthazar and Keith McNally, a man he hardly knows. Ripert resembled a passionate convert reciting the catechism. In his French accent, he preached, "Maybe it has fallen to us in New York to preserve some of the traditions of France." For a moment, he paused. "When I'm at Balthazar, I feel really at home."
Sign up here for our daily Thrillist email, and get your fix of the best in food/drink/fun.