Old-school pitmasters tell us how the BBQ industry has changed
Dan Gentile
Dan Gentile
Few food cultures are as rooted in tradition as barbecue. Yet, for every third-generation pitmaster following in the smoke-filled footsteps of his Grandfather, there's a legion of young whippersnappers turning the barbecue world upside down.
To take the pulse of the industry and find out how it's changed over the last few decades, we talked to an all-star cast of 15 BBQ insiders. Everyone from Wayne Mueller, third-generation pitmaster at Louie Mueller BBQ, to Ken Hess, two-time World Championship-winning cook at Big Bob Gibson's, weighed in on everything from the price of brisket to how the hell barbecue ended up on salad.
Read on to devour our contributors' hundreds of years of meaty knowledge.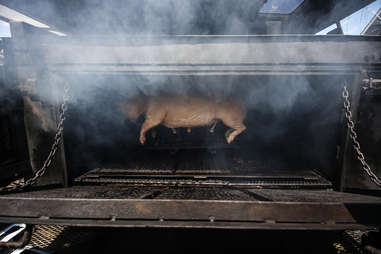 Cooking
"To cook pork shoulders the way we do it, it's a 10-hour process. It's hard these days to find young men to learn a trade like this that they're proud of, that have 10-hour days. People take shortcuts, like gas cookers. But the more gas cookers there are, the better my business gets." - Rick Monk, Lexington Barbecue (Lexington, NC)
"A lot of people are going to Old Hickory pits lately, but I've learned that it's not the pit that makes the meat, it's the pitmaster. If they came up with something right now that cooked brisket in an hour, I wouldn't use it. BBQ to me is one of those things that doesn't change; it'll always be low and slow." - Kevin Bludso, Bludso's BBQ (Los Angeles, CA)
"Because of automation and food science, the change in consistency has exponentially improved within the BBQ mainstream over the past few decades, but it has just recently plateaued and declined to a large degree. The advent of 'set it and forget it' smoker has all but made the modern day "pitmaster" a success overnight, but it has opened the BBQ industry to accelerated food abuse. Everything is just okay -- not mind blowing -- with the only differentiation being the rubs and sauces being used.
"For the sake of simplicity, I am over-generalizing. There are a lot more okay BBQ places out there, so I see this all as an improvement in BBQ overall, but because most of it is being produced in 'set it and forget it' smoke ovens, it's limited in distinction. Still, there are a respectable number of craftsmen doing it old-school and really standing out." - Adam Perry Lang, Chef and Author of Serious Barbecue (LA)
"Barbecue's a lot like farming. Back in the day, you had to go chop down a tree. You had to stay up all night. Same with farming, with horses and hand plows. Now with farming technology, you can get in an air-conditioned tractor and hit the GPS and you just make sure you don't run into anything. Pellet cookers are the same. You can make badass barbecue that compares to someone who's stayed up all night. It takes the work out of it, but it's still a great product." - Brad Orrison, The Shed BBQ (Ocean Springs, MS)
"I think that the smoke flavor is not as heavy as it used to be. BBQers have learned how to use the wood better and get more value out of it. To me, smoke should not be the dominating flavor. I want to be able to taste what I eat. It shouldn't be disguised. I don't want it to taste like wood. I want to taste the spice, if it's got sauce, the sauce, and I also want to taste the smoke.
"You're finding a lot of the old traditionalists are mixing woods now, because hickory and oak are dominating flavors. They're using more fruitwoods, which are a milder smoke. Also, they've learned that the bark on the wood darkens. But if you use the inside wood, it's got a different flavor to it. So a lot of people are debarking their wood now to get rid of the blackening effect." - Mike Mills, 17th Street Barbecue (Murphysboro, IL)
Geographical spread
"There's a lot of different styles that have been taken across borders which probably wouldn't have happened 25 years ago. Once upon a time, it was my belief that I wouldn't be able to take my product and make a living in another part of the country with it. Now people are a lot more open-minded about what BBQ is." - Sam Jones, Skylight Inn (Ayden, NC)
"Now when people come down to Texas from Chicago or California they want you to open up a place there. Everybody wants Texas-style BBQ in their state." - Doug Pickering, D.W.P Grill MD (Dallas, TX)
"Over the years, barbecue restaurants outside of their mother regions have become more specialized and focused on one specific style of barbecue, rather than showcasing a variety of different styles. At some point during the New York barbecue boom, sauce and pig left the building and Texas-style barbecue became king. Pitmasters are now showing what they can do with simple rubs, smoke, time, and a lot of love." - Ash Fulk, Hill Country Barbecue Market (New York, NY)
"The primary change in the barbecue business over the last 20 years has been the dramatic increase in the popularity of barbecue, nationally and internationally. Even as globalization has had a universalizing and homogenizing effect on culinary developments, barbecue is rightfully understood to be a genuine and original food tradition that is deeply rooted in regional histories and represents a return to something authentic. People have sought it out for this reason. It's real, and it's local. Plus, it's delicious. Related to this development is the boom in food tourism. People are traveling great distances to experience foods that are different and unique. Barbecue is a natural beneficiary of this. - Doug Worgul, Oklahoma Joe's Bar-B-Que (Kansas City, KS)
"One thing that's for sure is that now, because of the Internet, every five-star chef is putting barbecue on their menus. It used to be an old-school, family recipe thing. It used to be in people's blood, but now you can do enough research online to make damn good barbecue. You'll be at a fine-dining place, and the special of the day is a uniquely crafted pulled pork sandwich with Asian slaw. - Brad Orrison, The Shed BBQ (Ocean Springs, MS)
"Since social media and Yelp, now everybody knows good BBQ. You'll find people in Southern California who've tasted better BBQ than some guy in the heart of Mississippi. It's such a hot topic, it's so cool. When people go to certain places they want to try the barbecue, so there are a lot of new places opening up, but just as many closing. - Kevin Bludso, Bludso's BBQ (Los Angeles, CA)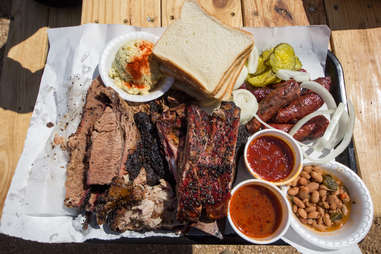 Tastes
"We started turkey about 15 years ago, I think because we have more educated customers in the last 20 years than ever before. We now need to know what we're cooking with, and be educated to talk to the public about sodium content and other things like that. They ask if you use peanut oil. 20 years ago, people weren't asking about that. But we haven't changed how we cook."- Rick Monk, Lexington Barbecue (Lexington, NC)
"Even five years ago, brisket was a sandwich. In the past, people would be more interested in ordering chopped beef, but now everyone wants the moist sliced brisket. They're going to use their fingers to pick up the meat to see if it's cooked right. They're always trying the meat without the sauce first." - Doug Pickering, D.W.P. Grill MD (Dallas, TX)
"In terms of meats, we were the first people to offer giant beef ribs. 15 years ago, I would've never guessed they'd become so popular." - Kent Black, Black's Barbecue (Lockhart, TX)
"There are more sauces and rubs available in retail stores than ever before. 10 years ago, when you went into the BBQ aisle you would just see Sweet Baby Ray's. Now you see 20 others! Any flavor that you're going for, you can find it. And the flavor of the meat itself is changing through heritage breed animals from Meyer and Compart." - Brad Orrison, The Shed BBQ (Ocean Springs, MS)
"In the '70s, skirt steak was a cast off cut of meat. A little lady in Houston began marinating it and serving it wrapped in tortillas, and thus began the incarnation of the modern fajita. The same thing is happening now with brisket. We've lived in isolation from the rest of the country, because they didn't know how to cook brisket. They'd serve it like pork shoulder. Chop it up, sauce it up, and serve it on a bun. So that's what everyone thought beef barbecue was. Except for Texans, who served it sliced up like a prime rib." - Wayne Mueller, Louie Mueller Barbecue (Taylor, TX)
"In Texas, people are probably using less sauce than they used to. When it's described by an outsider, they say it's all about fatty brisket without any sauce. But if you go outside of Central Texas, they're probably going to spoon on some sauce. New places popping up will ask you if you want sauce, but a lot of places will just put sauce on it." - Daniel Vaughn, Texas Monthly BBQ editor
"Whole-hog cooking had become less popular, but it's coming back now. I used to discourage it because it wasn't a good value, there is so much waste. Value-wise, you can buy the shoulders or hams or loins separately, so you can produce more meat at a lesser price. You think that a whole hog will feed 200 people because you see this whole mess, but the amount of loss from the skin and bone, you get about a third of what the weight is.
"But there are so many people who've never seen a whole hog being cooked. It's incredible; they're amazed. They think meat comes from a package in the store. They have no clue. I think that over time the younger generations will have no clue as to the structure of that animal.
"The vast majority are really fascinated by that part of it. You can give somebody a little of the bacon and some of the loin, and they've marveled. It's really been a good thing. Whole hog was becoming a lost art, with the exception of the Carolinas, but now they're even doing whole hogs in Texas." - Mike Mills, 17th Street Barbecue (Murphysboro, IL)
"Our pork nachos are a great example of change. We're taking our BBQ and putting it on chips, because people ask for nachos. Are nachos traditionally what Big Bob did? Not at all, but it still has those traditional meats that we cook every day.
"I don't think Big Bob would've ever thought about a BBQ Salad. But it was a huge request in the '80s, and we sell tons of them now. It gives our guests more options to try our BBQ in different ways and still keep the traditional foundation." - Ken Hess, Big Bob Gibson Bar-B-Que (Decatur, AL)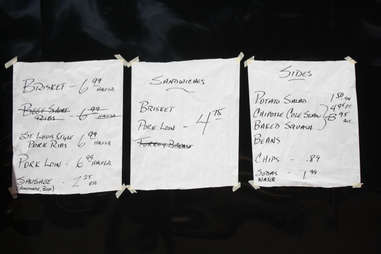 Pricing
"When we went plastic, I thought it was a bunch of crap. But it's just the way it is: more and more people are using cards. I have to pay a fee no matter what card you use. It affects the business: credit card fees are a big burden on people like me. I don't have that factored into my price." - Rick Monk, Lexington Barbecue (Lexington, NC)
"At Black's, customers have enjoyed the same dining experience as customers back in the 1930s, except with one small addition: air conditioning. Otherwise, barbecue in Central Texas hasn't changed much, with the exception of the price due to an increased global demand for beef and a recent drought causing a decreased number of cattle herds." - Kent Black, Black's BBQ(Lockhart, TX)
"Barbecue was inexpensive because there wasn't the demand. It was cheap. Not anymore. The price of beef has risen 100% in the last 18 months. With so many people entering the market, and the droughts that occurred that caused herds to be sold to market, supply keeps going down. We're almost becoming a victim of our own success.
"Strictly from an economic perspective, all products and services reach saturation levels. They go through predictable life cycles. The thing that Central TX-style barbecue has going for it today is that it's not limited by geography. It's spreading throughout the country and world like wildfire. It's an international thing. We'll see it rise and fall first here, then nationally and internationally." - Wayne Mueller, Louie Mueller Barbecue (Taylor, TX)
"I opened my first restaurant in 2008, and the economy was so rough. These people who have been selling BBQ for decades have based their menu on cuts that historically have not cost very much. I'm paying twice as much today per pound for pork butt than when I opened. I can only imagine these other establishments that have been in business so much longer dealing with these increased prices on pork and beef. Historically, you could always get a BBQ sandwich and not spend a whole lot of money. That's changing." - Tuffy Stone, Q Barbeque (Richmond, VA)
"Pork's gone up almost $1 per pound since five years ago. It doesn't sound like a lot, but it makes a big difference. When I started it was $.86, we're now at a $1.74. There's a lot of people using all Wagyu beef or heritage breed pork, but our restaurant isn't in an area that supports that. We charge $3.24 for a sandwich in Alabama. I can't charge $10. People ask about the breed, but it's just commodity pork, because we're not a market that can support $6 a pound pork shoulder." - Ken Hess, Big Bob Gibson Bar-B-Que (Decatur, AL)
"My family felt like they had to be ashamed of our prices. That we couldn't be ahead of the curve, that we always had to beg for table scraps. In people's minds, historically, BBQ means cheap. And that simply is not the case anymore.
"We don't want to cut any corners. I don't want to stop cooking with wood, whole hogs... I don't want to quit buying quality meat. So to do that you've simply got to educate your customers on what you're doing. We're not charging you this price so we can build a house on the beach.
"But still, when people come in with exact change to buy the same thing they bought last week, if you charge 50 more cents, you might as well be holding a gun on them." - Sam Jones, Skylight Inn (Ayden, NC)
Competitions
"Competitive barbecue has grown from a game to a sport." - Hobson Cherry, The Shed BBQ (Ocean Springs, MS)
"At barbecue contests, there has been a trend over the last 10 years toward sweeter sauces and seasonings. Since judges and contestants are frequently traveling significant distances to participate in such competitions, often across traditional barbecue borders, this trend has had the effect of blurring the lines separating one regional tradition from the next. This is not a welcome development. Hopefully we are beginning to see signs that the sweetening of American barbecue is coming to an end." - Doug Worgul, Oklahoma Joe's Bar-B-Que (Kansas City, KS)
"I was active in BBQ contests from 1990-94. What they cooked back at that point in time compared to now is 200% different. Especially on the ribs. You're not going to win unless they're cotton-candy sweet with a little heat on the end. And steamed to almost fall off the bone. It is not something the vast majority would want to cook and sell in a restaurant.
"To me, a good rib... you sit down and eat it, and you'll finish a whole side. If you eat about three bones in competition, you're full. You get that sugar rush. I don't personally think that's a good thing.
"In terms of a competition cooker and a judge, I've judged hundreds of contests. It's just incredible the transition that I've seen. The brisket, it almost tastes like pot roast. Instead of just taking a natural piece of meat with a dry rub, they inject them with saline solution, apple juice, or a mixture of brine with coffee in it.
"I'm not a traditionalist, but there are certain things to me that need to be traditional. Salt and pepper and a little garlic is my main thing. It used to be 100% traditional, now it's gone to where they're going to wrap it up in foil and put all this beef baste in there to tenderize it. You don't have to do that. It's like taking a prime rib and soaking it down in aus jus: it becomes pot roast." - Mike Mills, 17th Street Barbecue (Murphysboro, lL)
Tradition
"If you look back at Texas in the 1890s, 1880s, you were likely to see whole hog, whole goat, whole sheep, on an open-pit trench dug in the ground. That was Texas BBQ. People didn't just move to Texas all of a sudden and start smoking brisket. Those traditions took a while to evolve.
"For the most part, the beginnings of Texas BBQ had a lot more to do with slaves coming in from the East. As you moved further West and beef became more prevalent, you saw more beef. When German sausage guys moved in, they probably didn't use beef for that.
"If you ordered beef barbecue, you used to get whatever they happened to be cutting at the time. As far as the brisket goes, nobody used to ever complain about it being dry. Now you definitely hear about it. That has something to do with Yelp culture, where everyone's a critic, but once you experience that great brisket experience, you know what to ask for, what to complain about. Once you've eaten on the mountaintop, you don't want to go back to the valley." - Daniel Vaughn, Texas Monthly BBQ editor
"BBQ has always been very popular and approachable. If you track BBQ back into its origins, it has always been a cuisine that lent itself to family reunions and picnics and political gatherings. It's always been a food that you fed to a crowd. Historically, it's always been a cuisine that's centered itself around a few cuts of meat. Brisket, pork butt. This process of using fire and trying to cook something great out of it.
"I go back in my mind to 9/11. When that happened, we as a country took stock of our lives. We're such an immediate society. Nobody's waiting for a letter anymore. You get BBQ, and it's this grounding food, slower cooked food. It takes time; it doesn't discriminate. I think after 9/11, we stepped back and asked if we were living life too fast. Things that are American started to really resonate with people." - Tuffy Stone, Q Barbeque (Richmond, VA)
"Where it is and where it's going today is so much different than where it was in the past. I was working for my father, who took over from his father. I looked at it as more of a form of indentured servitude. I saw how hard my father worked, how many hours and days, how we never went on vacation. From my perspective, it wasn't the career that I wanted at that age. I saw it as too difficult, too straining. Not forgiving or flexible enough to have a family. By high school, I didn't think this way of doing things would make it long term. There had to be a cheaper, automated way to do it without relying so heavily on one person. But we're shooting for 100% quality. In the McDonald's model, they figured out how to hit 70%.
"But then something happened. There was this weird convergence of heightened foodie interest, hobbyists, overlay with a medium by which they can share with others. When Food Network came on the scene, it changed everything. There was this hipster movement and all of the hole-in-the-wall places became in vogue. Ideas were percolating in backyards. This was in 2005-07.
"BBQ started as a means to maintain the product. It was a necessity to preserve a product. So the new guys look at the old tradition and like the craftsmanship. They don't see themselves as merchants, but as artists. So they focus very heavily on cooking for cooking's sake. The whole thing has evolved.
"Today's kids, this generation of thirty-somethings that are blowing up the barbecue scene, they're following their hearts and not their pocketbooks. It gives a certain level of quality that you just wouldn't receive otherwise. Love and necessity bring about two separate results. Everything is focused on detail. When you have to do something, you do just enough to get by. There's so much bad BBQ because people are doing it just to get by. - Wayne Mueller, Louie Mueller Barbecue (Taylor, TX)
Dan Gentile is a staff writer on Thrillist's national food and drink team. He lives in Austin, TX, the barbecue capital of the known universe. Follow him to the moistest brisket at @Dannosphere.
[We want to thank our illustrious crew of contributors, which included some of the biggest names in barbecue: Wayne Mueller, Louie Mueller Barbecue (Taylor, TX); Sam Jones, Skylight Inn (Ayden, NC); Kent Black, Black's Barbecue (Lockhart, TX); Daniel Vaughn, TX Monthly BBQ editor; Doug Worgul, Oklahoma Joe's Bar-B-Que (Kansas City, KS); Ash Fulk, Hill Country Barbecue Market (New York, NY); Doug Pickering, D.W.P. The Grill MD (Dallas, TX); Brad Orrison and Hobson Cherry, The Shed (Ocean Springs, MS); Kevin Bludso, Bludso's BBQ (Los Angeles, CA); Tuffy Stone, Q Barbeque (Richmond, VA); Rick Monk, Lexington Barbecue (Lexington, NC); Adam Perry Lang, Chef and Author of Serious Barbecue (Los Angeles, CA); Mike Mills, 17th Street Barbecue (Murphysboro, IL); Ken Hess, Big Bob Gibson's (Decatur, AL).]