Inexpensive Tools That Serious Grill Masters Swear By
Summertime in a big city consists of taking in all the smells of hot garbage and sweaty straphangers on the morning commute. Everywhere else, though, it's prime-time grilling season, in backyards that aren't 4sqft of concrete lorded over by rat kings. Please take advantage of it, and let us city dwellers live vicariously through your well-marinated meat.
In order to live your grill-life to its fullest, you need the right stuff. Author, television host, and overall grilling star Steven Raichlen benevolently laid out all the grilling essentials you can snag at Home Depot. (We linked to a few of his official products, but many of these items can be found at any ole hardware store.)
Instant-read thermometer
Price:$18.95
Digital or not, an instant-read thermometer is a grilling essential, even for professionals. "Look, I can tell when a steak or pork shoulder is done... but you don't want to mess around with uncooked poultry," Raichlen said. "You definitely need a thermometer. You don't want your chicken below 165 degrees." Yes, no one wants salmonella. Even to get out of work.

An attachable light
Price:$28.11
And on the third day, God said, "Let there be light so people can drink beer and cook meat in my kingdom." While my Genesis knowledge is a little murky, your grilling situation should not be. A light is key for dusk cooking, especially when you're hunched over the grates with your back blocking the patio light. "In that case, you might need a fire extinguisher handy," Raichlen said.

Cedar planks
Price:$5.47
"The perennial problem with cooking fish is that it sticks to the grates," Raichlen told me. To assuage this sticky situation, a cedar plank will make sure your grill stays clean, and adds a smoky cedar flavor.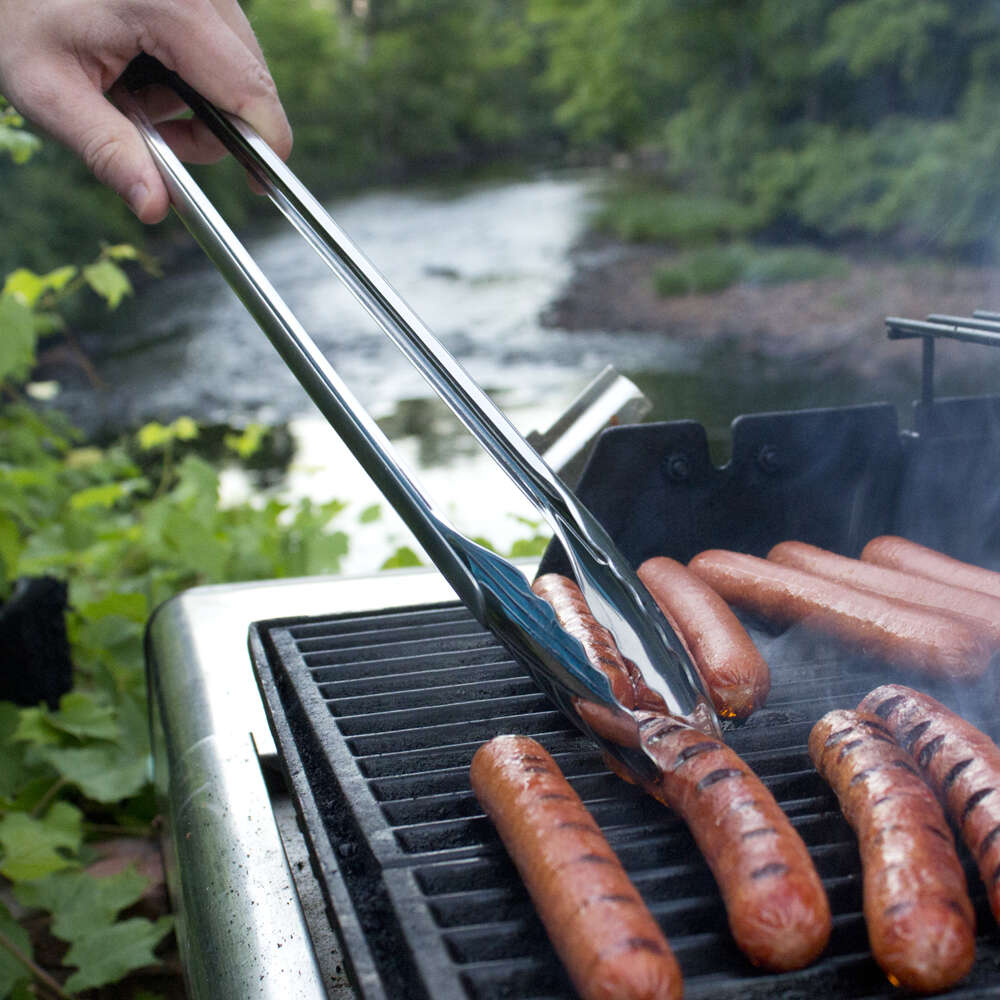 Long-handled tongs
Price:$12.51
Spring for some spring-loaded, long-handled tongs to protect your precious mitts. You can't handle piping-hot meat with your bare hands.

Long-handled, stiff-wired brush
Price:$21.40
A clean grill means your meat won't have burnt detritus all over it. "Make sure to get a brush with twisted armature," advises Raichlen, because they don't pull out as easily. Aside from the brush, Raichlen recommends simply using paper towels and a little olive oil to clean your grates before you grill. Also, "Twisted Armature" is an excellent DJ pseudonym.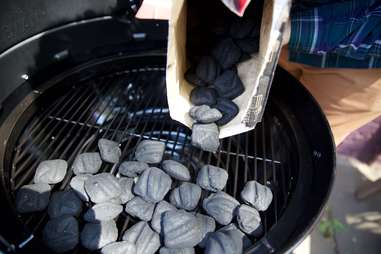 Charcoal... maybe
Price:$12.97
"Look, I do use gas grills on occasion," Raichlen said. "But if you really want to get serious, and climb the ladder of barbecue enlightenment, you need to get some charcoal." So, do you want to get serious, reader?

Garden hoe
Price:$22.91
"Best thing to rake old coals out of a grill," Raichlen told me. Obviously, this only applies to charcoal grills.

Spray bottle
Price:$9.12
The easiest way to apply any cooking liquid or marinade to your meat while it's cooking is with a mister or spray bottle. "I use it to cover my pork shoulders with apple cider throughout grilling," Raichlen said.
Chimney starter
Price:$26.43
A chimney starter is an inexpensive little tool that helps light charcoal efficiently, so it doesn't need to be nursed or doused in lighter fluid. You need fire, it's what separates us from chimps!

Rib rack
Price:$24.01
This allows you to cook twice the amount of ribs on a smaller surface area, clearing room for other meats (or even vegetables... if you're into that kind of stuff). It's the ultimate multitasking tool for grillers who have no damn time to fool around. Which should be all of you. Double ribs are at least twice as good as single ribs.

Insulated gloves
Price:$22.89
Unless you want to squander a potential/lucrative hand-modeling career, don't let what happened to George Costanza, happen to you.
Sign up here for our daily Thrillist email, and get your fix of the best in food/drink/fun.
Wil Fulton is a staff writer for Thrillist. His hand-modeling career is but a distant memory. Follow him: @wilfulton.