Good Lord, Cirque du Soleil Performers Eat Really Well
You might know Cirque du Soleil because you've seen one of its seven Vegas shows while drinking a margarita the size of your head. But you might not know that Cirque has a number of touring shows circumnavigating the globe at any moment. One of those is TORUK - The First Flight, a show inspired by the art-house flick Avatar. And while all the athletic feats in this Cirque show are stunning, I was more interested in three things: how do you feed all the people who work on the show? What do they eat? And most importantly -- is it any good?
So when TORUK stopped by Denver's Pepsi Center one July weekend, I went into the bowels of the arena to talk to two of the performers -- and the chefs who keep them fed -- about what they eat before and after pulling Olympic-level feats of strength five nights a week. Turns out, feeding what amounts to a traveling international city is pretty complicated.
Traveling with this show is a serious grind
Showbiz isn't as glamorous as Vinny Chase made it appear. TORUK kicked off its tour in November 2015, and the cast and crew have been on the road ever since... and on that road, they're rolling with a 48ft truck with 10ft of refrigerated space packed full of ovens, burners, tables, utensils, and non-perishables. All that kitchen gear comes in handy, since everyone works for 10-12 straight weeks at a time (August includes stops in Chicago, Indianapolis, Birmingham, and Nashville), meaning nobody has time to run out and grab a coveted Triple Double Crunchwrap. Luckily, they've got everything they need under the tents, and can somehow do better than Fourth Meal. Somehow.
The kitchen basically caters the equivalent of a huge wedding every day
The menus change daily, and incorporate local dishes from wherever they're performing. In Denver, that meant bison sirloin, local lamb, and "Mile High" pork. About 90-100lbs of protein are served up per meal. But not all the dishes have lean meat or seafood -- since some of the performers have dietary restrictions (there're a few vegans, vegetarians, dairy-free, and gluten-free folks), the catering crew makes sure to whip up something for everyone.
A crew of five chefs, one of whom has been on the road with different Cirque shows for six to seven years now, is responsible for cooking lunch and dinner each day. I stopped by on tapas day, so the chefs whipped up a ton of different food options for lunch. Let's see what was cooking.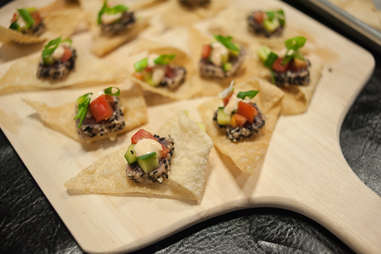 Fancy ahi tuna on tortilla chips
The performers love it when seafood's on the menu.
Prosciutto-wrapped asparagus
It's like bacon-wrapped asparagus, but fancier.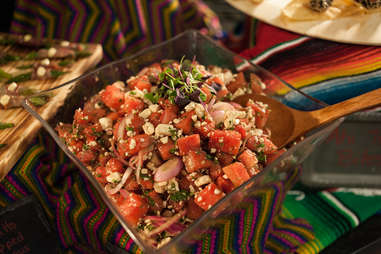 Watermelon + feta salad
I ate a lot of this, and am sorry if any performers didn't get any because of me. (But not really sorry.)
If you want to eat healthy...
If the performers can't find anything on the buffet they want to eat at lunch, the salad bar always has 22 ingredients, a suite of rotating house-made dressings, and rotating lettuces (lettuci?). Lunch is served at noon and dinner at 5:30pm -- a full 2.5 hours before the show kicks off. That gives the performers plenty of time to digest before running around on stage and twirling in tight outfits. If the salad bar isn't enough, there are also rotating nuts and dried fruits, two fresh soups, a juice bar with a Vitamix and fresh fruit/veggies to throw in, and a rotating dessert bar.
... or not so healthy
Turkey, ham, and salami are available in the sandwich bar, along with this fancy panini press. This sandwich in particular belongs to one of the performers -- a 33-year-old Hungarian aerialist and porter (as in, he flies around and throws people in the air!) named Viktor Franyo. Let's meet him, and also compare his muscles to those of a journalist who also has large muscles!
If you look like that, you can eat whatever you want
This is just to show you what Franyo looks like next to another super-strong guy (me). He's been with TORUK for about a year -- it's his first Cirque show, but he's been a circus performer since he was 11. He even went to circus school! Since he woke up late on this day, he was eating breakfast at noon.
Looking like he does, I expected him to tell me about his high-protein, low-carb diet, but mostly he tries to eat healthy and doesn't worry about counting calories. And yeah, it helps that he works out most days. It also turns out that throwing people in the air and flying around for a living burns enough calories that he can eat whatever he wants. He loves the food on tour, and says it beats the Indian cuisine he ate while performing in a different Dubai-based show.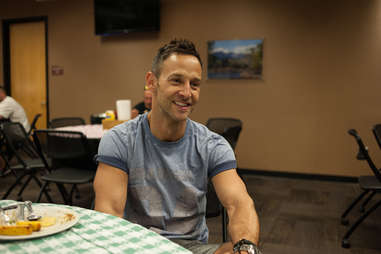 Sometimes you eat oatmeal in a hotel room
Nick Beyeler is an aerialist who plays a Na'vi inhabitant, and looks like he might be related to The Situation from Jersey Shore (he's not). Beyeler, a 41-year-old Swiss who eats a healthy Mediterranean diet, only has 5.7% body fat – to put that in perspective, male marathon runners usually have between 5-11%. Even though the dining hall is open in the mornings for breakfast on performance days, he makes oatmeal in his hotel room and travels with an espresso machine.
While he loves when the catering crew cooks fresh pasta dishes, he still misses high-quality cheese and chocolate from Switzerland on the road, so when his mom visits him, she makes sure to bring some. He's a super-nice guy, so I'm not going to say anything about him being a momma's boy, mostly because his background is in contemporary dance. Oh, and martial arts.
Home is where the taste buds are
I ate much of what's pictured on this plate here, and it was damn good. I'd say the quality here is somewhere between upscale catering at a wedding and what you'd find at a nice restaurant. No wonder the cast and crew love the food.
But sometimes the catering crew goes above and beyond the food shown here. Like many Hungarians, Franyo loves goulash, and he says the chefs have been nice enough to make him that and other Hungarian dishes. He's not the only one missing a taste of home. One of the chefs also told me that after they break down whole chickens, they save the liver and gizzards, fry them up, and alert the four Europeans in the cast. The Czechs, Hungarians, and Romanians appreciate the gesture.
After all, in a job where it's easy to lose track of which city you're in at any given moment, it's always nice to have a taste of home.
Sign up here for our daily Thrillist email, and get your fix of the best in food/drink/fun.
Lee Breslouer is a senior writer for Thrillist, and is going to be in the circus one day. Follow him to aerialist training: @LeeBreslouer.