Back in 1964, the New York World's Fair introduced us to all sorts of future icons, among them the Ford Mustang, RCA color TVs, and, most crucially, the Belgian waffle. A family of Belgian expats -- who had tested their waffles out in Seattle two years prior -- saw their breakfast staples explode at the fair 50 years ago today, marking Belgium's third-best contribution to society (right behind beer and Bloodsport). In the ensuing 50 years, the waffles have only gotten better. To celebrate, we rounded up 10 of our favorite waffle mutations from around the nation, beginning with the Benedict from Seattle's Waffle Wagon you see above and getting somehow more decadent from there.
Boddington's Belgians
Confusingly, at Dallas's British Beverage Company (BBC), you don't get powdered wigs and weird Parliamentary shouting. But you do get Boddington's-infused Belgian waffles, which you could definitely dunk in a Guinness for a hearty take on the black & tan.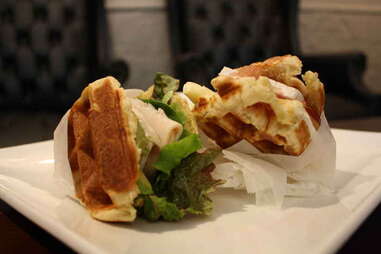 Waffle Sandwiches
Ditching slices of bread for Belgians is practically old hat now, thanks to the waffle-taco revolution. But there's no beating a classic, and few do it better than San Francisco's Dash Cafe, which offers picks like a prosciutto, brie, and apple wafflewich and a Belgian BLT.

Waffle Burger
Or you can go full 'Murica and get your waffles in burger form, as they do at Chicago's On the Bun.

Stuffing Waffle
If the Pilgrims had allowed Belgians on the Mayflower, crescent rolls would be totally knocked off the Thanksgiving table. Luckily, just East of Plymouth Rock in Philly, Chhaya Cafe has incorporated waffles into a Thanksgiving-inspired mini-feast... it just took a couple centuries.
Chicken and Waffle Slider
San Francisco's SliderBar made the best breakfast dish in existence portable and snackable through this brunch slider, which has resulted in many happy diners and infinite sticky steering wheels.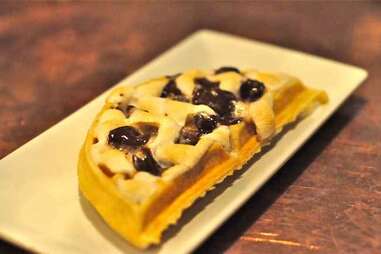 S'maffle
On the sweeter side, there's the s'mores waffle -- or s'maffle -- from DC's Petworth Citizen and Reading Room, which ditched the burnt marshmallow and smoke inhalation for something more low maintenance.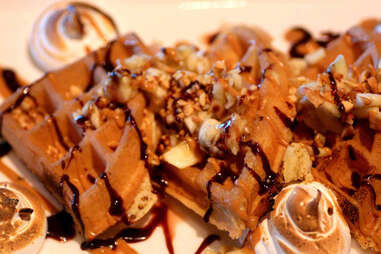 Fluffernutter Waffles
Think the s'maffle just isn't daring enough? You could personally fund your dentist's retirement via these peanut butter, Marshmallow Fluff, and Nutella-drenched Belgians, courtesy of Atlantic City's The Continental.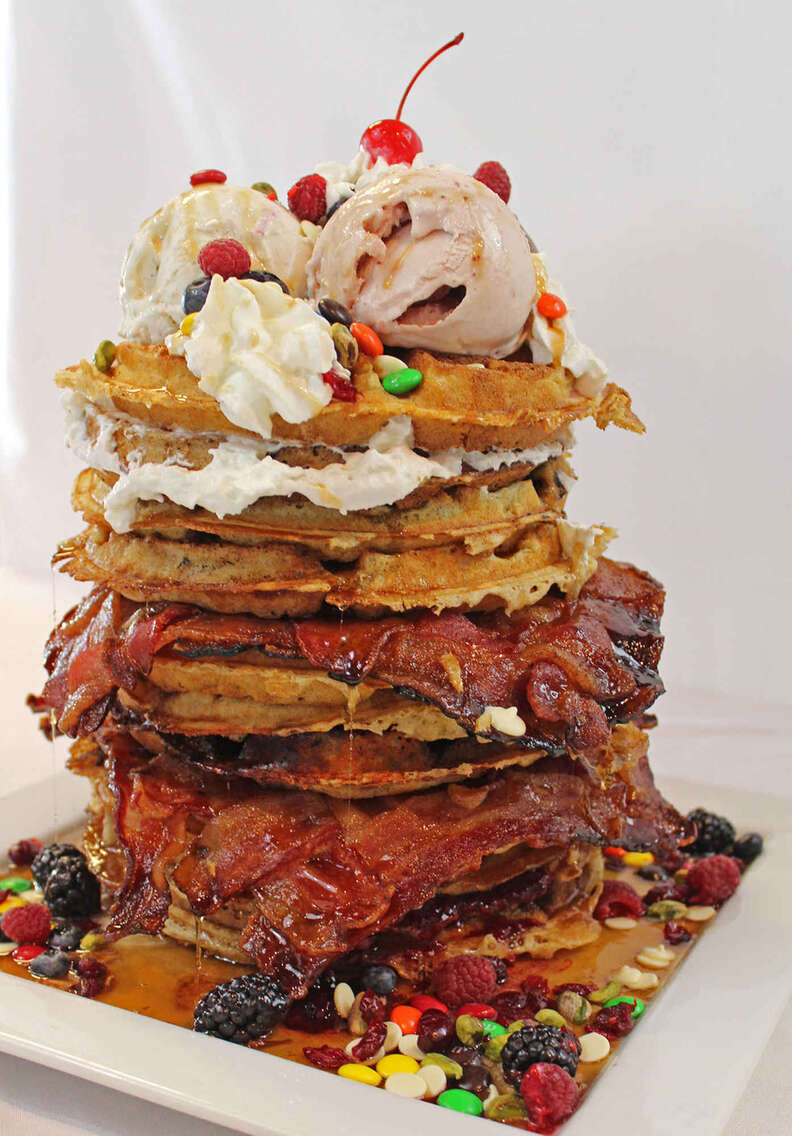 Waffle Tower
Finally, for those who want a little bit of everything, Reddit invites you to copy this vertigo-inducing waffle tower, featuring bacon, ice cream, M&M's, and berries... you know, because you're watching your figure.
Kristin Hunt is a food/drink staff writer for Thrillist, and exclusively ate Belgians with whipped cream and strawberries for several years of her breakfast buffet career. Follow her at @kristin_hunt.