Every Ben & Jerry's Scoop Shop Flavor, Ranked
Lee Breslouer/Thrillist
Lee Breslouer/Thrillist
Have you ever wondered what it'd be like to ask for a sample of every single flavor at a Ben & Jerry's scoop shop? Of course you have. The scoop shop is a magical place where the flavors you know and love from the freezer section of the grocery store commingle with flavors exclusive to the shops. And while they're pretty generous with doling out free tastes, there are only so many tiny spoons you can waste before you're just being a freeloader.
But how else would you know how every single flavor stacks up against its sugary counterparts? I lived the dream by setting up an appointment with my local scoop shop, where I tasted all the ice cream currently in its freezer, and ranked the heck out of it. In one sitting. Turns out, the dream kind of hurts your stomach.
Editor's Note:Your local Ben & Jerry's scoop shop might have a slightly different ice cream lineup, but it should be mostly the same. And while we fully support non-dairy ice cream alternatives, we stuck to milk-based ice cream for this ranking.
Main ingredients: Peanut butter ice cream, pretzel + fudge swirls
I love peanut butter, and yet my only notes for this were "tastes like sand with pretzels."
Main ingredients: Bourbon brown butter ice cream, dark chocolate whiskey cups, bourbon brown butter swirl
Like 99% of Ben & Jerry's flavors, this is delicious, but it's also so rich it's impossible to enjoy more than a spoonful. Not waffle cone material, at least for me.
Main ingredients: Vanilla ice cream, fudge-covered toffee pieces
This tastes like an ice cream only a British person could love. Does anyone in this country care about toffee-based anything?
Main ingredients: Buttery ice cream, roasted pecans
Lots of real pecans and a buttery-as-Hades ice cream combine for a nostalgia-inducing scoop. Remember a time when TVs only got 30 or so channels and this was one of the few flavors you could order at an ice cream shop? In 2016, I'm grateful for streaming live NFL football on my phone and not having to order this ice cream flavor by default.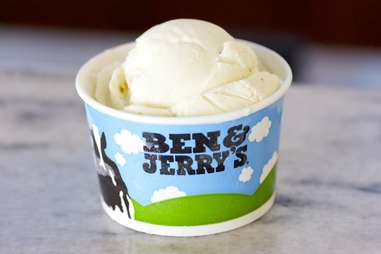 Main ingredients: Vanilla ice cream, absolutely nothing else
This is a perfectly edible vanilla ice cream, but ordering this at Ben & Jerry's is like going to Hamilton and sitting in the lobby the entire show. Sure, you get the feeling of being there, but you're missing out.
Main ingredients: Sweet cream ice cream, chocolate sandwich cookies
This was my favorite ice cream growing up. Not anymore. Also, Ben & Jerry's makes a souped-up version of this that's way, way better. You'll see it later in the ranking.
Main ingredients: Cotton candy ice cream, cotton candy pieces
Good news: it tastes exactly like cotton candy! Bad news: I stopped liking the flavor of cotton candy the moment I entered puberty last year.
Main ingredients: Chocolate ice cream, white + dark fudge chunks, pecans, walnuts, fudge-covered almonds
As you can probably tell from the main ingredient list being 4,000 words, this is overstuffed. It's strange -- plenty of Ben & Jerry's flavors with tons of mix-ins manage not to overwhelm the ice cream backbone. This is a rare exception.
Main ingredients: Banana ice cream, fudge chunks, walnuts
Fudge chunks aren't interesting enough to offset the sheer boredom that washed over me as I was eating a mix of banana ice cream and walnuts.
Main ingredients: Strawberry ice cream
I'm deathly allergic to strawberries, so I asked the owner of the Boulder, CO scoop shop to help me rank this one. She likes the real strawberry chunks in this, and says you won't be overwhelmed by strawberry flavor -- it's perfectly balanced. I have to believe her. Or I would die.
Main ingredients: Mint ice cream, fudge chunks
This is tastier than I thought it would be, but if you're jonesing for a mint ice cream flavor, #19 is the way to go.
Main ingredients: Peppermint ice cream, fudge brownies + swirls
The peppermint ice cream here is more minty than the Mint Chocolate Chunk, and is made more delicious with the addition of fudge brownies and swirls. The ice cream doubles as a political cause, which makes this the tastiest Trojan Horse I've ever had.
Main ingredients: Chocolate ice cream, fudge brownies
There's a far superior brownie flavor coming up in the ranking. But here's something noteworthy: its brownies are made by the NY company Greyston, which has a generous hiring policy: "anyone [who] comes to the front door of our bakery is given the chance to work."
Main ingredients: Caramel ice cream, caramel swirl, fudge-covered caramel chunks
At first I thought I was eating enormous chocolate chips, but it turns out it was just more caramel covered in fudge. You sure did trick me, Ben! Or Jerry! Whichever one of you is responsible! Despite what the ingredient list might lead you to believe, you won't tire of the caramel flavors here.
Main ingredients: Vanilla ice cream, chocolate cookie swirl, chocolate chip, chocolate chocolate chip cookies
This is more cookies-and-creamy than the Sweet Cream & Cookies flavor from earlier. And it's a more modern version too, as a "chocolate cookie swirl" was not an ingredient in the cookies and cream I remember from my adolescence. Though if it were, I'd probably have eaten this ice cream while listening to a cassingle of Bon Jovi's "Bed of Roses."
Main ingredients: Chocolate + vanilla ice creams, fudge brownies, chocolate chip cookies
There was once a time when brownies and cookies in ice cream felt revolutionary. But since B&J changes the ice cream game about once a year now, it's a little quaint. Which is not to take anything away from how delicious this ice cream still is.
Main ingredients: Coffee ice cream, espresso bean fudge chunks
This coffee flavor in here is smoother than Billy Dee Williams telling you about his favorite alcoholic beverage. And the espresso bean fudge in every scoop elevates it to something special. I'm surprised a coffee ice cream flavor is ranked this high, too.
Main ingredients: Chocolate + vanilla ice creams, fudge brownies, brownie batter core
Licking the spoon while making dessert is usually better than eating the dessert itself. B&J knows this, so it clearly stole the brownie batter-covered spoons out of America's kitchens and made this ice cream. How else could it have nailed this flavor so hard?
Main ingredients: Vanilla ice cream, fudge-covered waffle cone pieces, caramel swirl
Fun fact: this ice cream was created by a fake news show anchor who doesn't have a TV show anymore. But I'm glad they kept the flavor around, because while I love the taste of waffle cones, I prefer to eat my ice cream in cups. I don't like ice cream melting on my hands, call me crazy. With this ice cream, I can have the best of both worlds!
Main ingredients: Chocolate ice cream
You can't purchase this flavor in pints. Isn't that strange? This flavor is a stalwart of basically every other ice cream maker, but B&J forces you to go to its scoop shops if you want a taste. And it's a shame, because this way you can taste the engine that drives so many of its ice cream flavors. It's excellent on its own, too.
Main ingredients: Cherry ice cream, cherries, fudge flakes
It's a little strange that this doesn't have fudge-covered cherries, but I'll give it a pass. The chocolate-and-cherry combo never fails to be a pleasant one. If you visit the dispensary located .1 miles away from the Boulder, CO scoop shop I went to and then eat this ice cream, you will find the ice cream's name to be extra clever.
Main ingredients: Strawberry cheesecake ice cream with strawberries, graham cracker swirl
I'm still allergic to strawberries from earlier in this ranking, so the owner of the scoop shop assisted me again. She says the graham cracker swirl is "like the crust of a strawberry cheesecake" and that the ice cream is "creamy like a cheesecake should be." That sounds great. Sigh.
Main ingredients: Vanilla ice cream, chocolate chip cookie dough
Ben and Jerry first made this flavor in 1984 -- or that could be some misinformation from The Ministry of Truth. Ben and Jerry were the cookie dough originators, and the flavor still holds up after all these years. For my money, no other brand has as many chunks of sugary goodness in its ice cream as Ben & Jerry's. (Fun fact... the dough actually makes a decent cookie.)
Main ingredients: Chocolate ice cream, chocolate cookies, chocolate pudding ice cream swirls
Say it with me: chocolate pudding ice cream swirls. I eat chocolate chip-based cereals for breakfast, dark chocolate before bed, and other kinds of chocolate all through the day, and even I thought this flavor was intense. But it works. All the different chocolate blends together quite nicely.
Main ingredients: Chocolate ice cream, marshmallow + caramel swirls, fudge fish
I give this ice cream Trey out of four stars. The marshmallow swirl is the star of this concoction, like a Page solo in "Squirming Coil," and it combines beautifully with the chocolate ice cream. One time at a Phish show in Camden, NJ, a random guy I stood next to during the set break gave me a backstage pass. After the show, I stood on a crowded patio to wait for beer, but they ran out. This ice cream tastes better than that experience.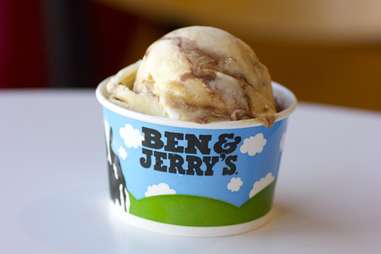 Main ingredients: Dark caramel + vanilla ice creams, caramel + fudge swirls
Don't bother looking for this in your grocery store, as it's only available in B&J scoop shops. And it's worth the trip for the complex, layered caramel and fudge flavors. It was made in honor of SNL's 40th anniversary, which is no longer happening. Then again, there's still an ice cream based on a fictitious character at #12, so hopefully this gets put in pints at some point.
Main ingredients: Sweet cream ice cream, blonde brownies, salted caramel swirl
I hate to be the bearer of bad news, but this is another flavor you've gotta get in the scoop shop. And it's a doozy -- the blonde brownies are perfection in every bite, especially when you get a little bit of that salted caramel with it.
Main ingredients: Milk chocolate ice cream, peanut butter swirl
I swear I didn't mean for the top five so far to all be scoop shop exclusives, it just happened that way. The flavors here are deceptively simple, and there aren't even any of those famous Ben & Jerry's mix-ins. But you've gotta believe me that this is like eating a creamier, frozen Reese's cup, and there ain't much better than that.
Main ingredients: Coconut ice cream, coconut + fudge flakes, walnuts, graham cracker + butterscotch swirls
OK, this is getting absurd. This ice cream is only available in scoop shops too. Why is Ben & Jerry's keeping America's greatest ice creams out of our supermarkets? Can we have a Senatorial committee look into this? Please, talk to your state senator! Even more surprising is that I didn't expect this ice cream to be anything special, but once those graham cracker swirls started mixing with the fudge and coconut, I was hooked. Every bite introduces a new flavor combo, and every single one is amazing.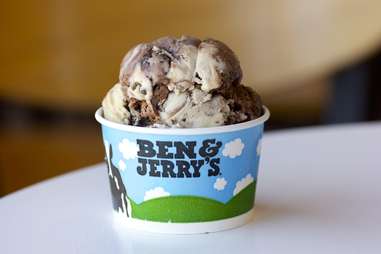 Main ingredients: Caramel + chocolate ice creams, chocolate cookie swirls, chocolate chip + peanut butter cookie dough
Finally, an ice cream you can buy in the stores, too! You might think I'm biased because one time I went backstage at The Tonight Show with a pile of deli meat and made a friend. But I had never tasted this before I went to the scoop shop, and looking at the ingredient list, I was ready to dislike it. Two different kinds of cookie dough and ice cream and then chocolate cookie swirls? It sounds like a sugary mess.
Then I ate it, and I realized my preconceived notions of this ice cream were all wrong. The peanut butter and chocolate chip cookie doughs are the stars of the show here, and somehow don't overwhelm the ice cream completely. Chocolate, peanut butter, caramel, and cookie flavors are in full force with every bite, and it tastes so good you'll be smiling and giggling like Jimmy Fallon in a sketch where he's definitely trying not to laugh.
Sign up here for our daily Thrillist email, and get your fix of the best in food/drink/fun.
Lee Breslouer is a senior writer for Thrillist, and is not sick of ice cream somehow. Follow him to scoop shop exclusives: @LeeBreslouer.