Ben & Jerry's Cores are the delicious ice cream equivalent of drilling to China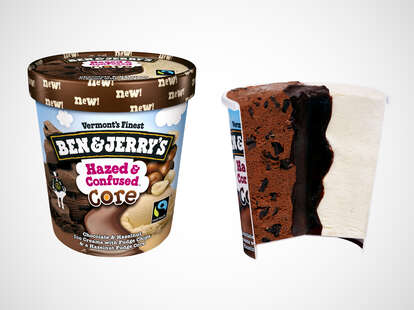 Not content to let Milky Buns dominate ice cream for the week, Ben & Jerry's has made an innovative bid to dominate your freezer: Brace yourselves for the Cores, a line of ice creams featuring fudge or jelly "cores" that divide two separate flavors.
British consumers have been quietly enjoying Cores since 2012, but this marks the first time they're making their way stateside. The Neapolitan upgrade you see above is the Hazed & Confused, a blend of chocolate and hazelnut ice creams with fudge chips and a hazelnut fudge core. But that's not all. Behold the rest of the Cores' starting line-up.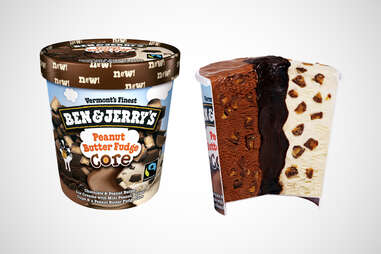 The Peanut Butter Fudge Core smashes chocolate and peanut butter ice creams together, with mini peanut butter cups sprinkled throughout. Then there's the peanut butter fudge core running down the center.
Ever the wordsmiths, Ben & Jerry chose an actual raspberry jam for the That's My Jam Core, repping chocolate ice cream on one coast and raspberry ice cream (with fudge chips) on the other.
This delicious cheater is just sweet cream ice cream on both sides of the salted caramel core, but since it's full of blondie bits, we'll look the other way. Or, actually, we'll look right at it as we consume the entire pint.
Kristin Hunt is a food/drink staff writer for Thrillist. Some of her strongest friendships are built on cheeseburgers. Follow her at @kristin_hunt.