A Tour of Ben & Jerry's Solemn, Delicious Flavor Graveyard
Last week, I traveled to the best ice cream social in existence: a press trip at the Ben & Jerry's headquarters in Vermont. Over the course of two days, I played with a lot of office dogs, ate a lot of ice cream, made ice cream, and, to cap it all off, snowshoed over to the famed Ben & Jerry's Flavor Graveyard. The faux-cemetery (located near the factory in Waterbury) houses tombstones for about 30 discontinued flavors. Obviously there are way more deceased pints than that, and obviously none of the tombs contain actual ice cream ashes. But the featured graves were all pretty incredible, so I thought I'd share a few of the best crypts I snapped while trying not to trip over the aluminum contraptions on my feet. Have your tissues ready: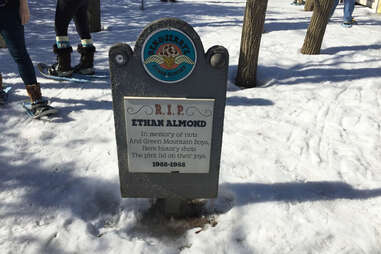 Ethan Allen was a Revolutionary War hero whose name is now used to sell expensive furniture. Ethan Almond was a vanilla ice cream with chocolate-covered almonds. Both left us too soon.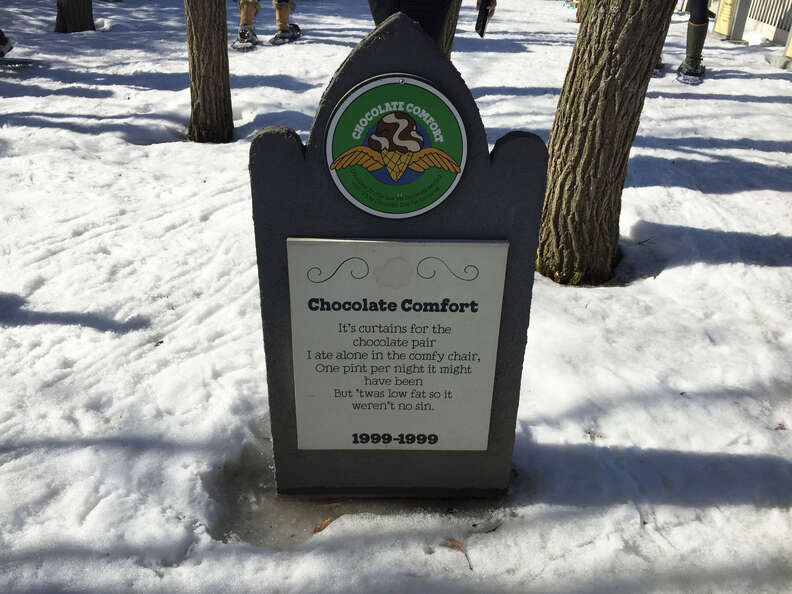 Everyone was clearly too busy buying iodine tablets for their Y2K bunkers to give this low-fat chocolate truffle ice cream (with white chocolate swirl) a real shot.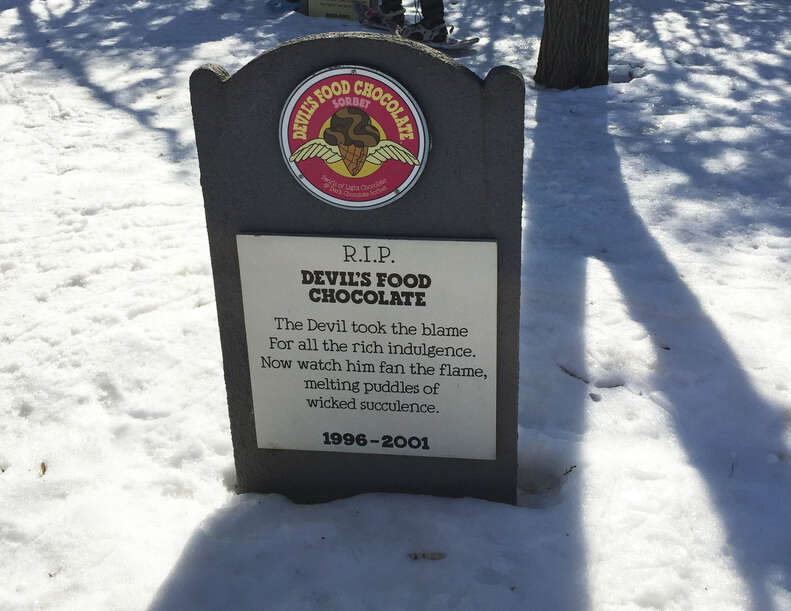 It's always harder out there for a sorbet, but having Lucifer's name attached probably doomed this guy from day one.
This one is highly misleading, since White Russian actually rose from the dead in 2013 after years of relentless fan outcry. It's now available in Scoop Shops nationwide, but the same cannot be said for Economic Crunch, which lived up to its stock market-inspired name by crashing in a single year.
Urban Jumble was a mess of chocolate chunks and nuts, while Rainforest Crunch staked its name on its "Brazil nut butter crunch." Creme Brulee was obviously a sweet custard ice cream with caramelized sugar swirls -- though Ben & Jerry's disappointed pyros everywhere by not including a lighter with each pint.
Curiously, this tombstone is nowhere to be found on the official Ben & Jerry's Flavor Graveyard site. Is it because they're secretly planning to bust this zombie out of the cemetery? Or because the pint died under suspicious circumstances? Someone should really look into where Robert Durst was in 1997.
The mash in question consisted of almonds, raisins, chocolate chips, and pecans. As always, raisins remain the obvious scapegoat.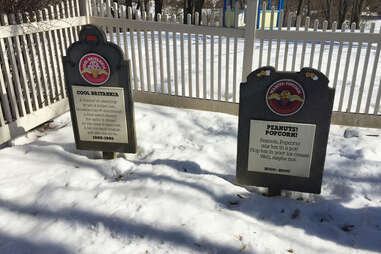 Contrary to my wild and stereotype-driven imagination, Cool Britannia did not contain any Union Jack swirls or watercress sandwich chunks. It was actually a vanilla ice cream with fudge-covered shortbread and strawberries. Still more creative than its crypt buddy Peanuts! Popcorn!, which had peanuts and popcorn.
In case you were wondering, the rest of the entombed pints include Wavy Gravy, Fossil Fuel, Turtle Soup, Tennessee Mud, Bovinity Divinity, Tuskeegee Chunk, Sugar Plum, Fresh Georgia Peach, Vermont Python, The Wich, Aloha Macadamia, This Is Nuts, Oh Pear, Chocolate Chip Cookie Dough Frozen Yogurt, Miz Jelena's Sweet Potato Pie, and Peanut Butter and Jelly. You can see them for yourself the next time you're in Waterbury -- after you've devoured a surviving scoop at the factory, of course.
Kristin Hunt is a Food/Drink staff writer for Thrillist, and is currently attempting to resurrect Wild Maine Blueberry. Follow her to blood rituals at @kristin_hunt.