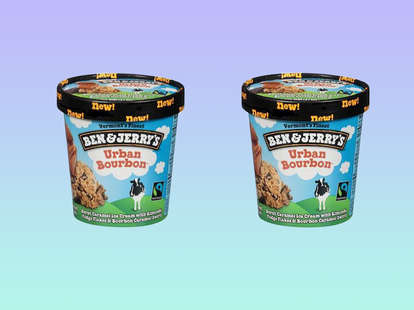 If anything, ice cream iconoclast Ben & Jerry's is not afraid to experiment with wild, idiosyncratic flavors. Just look at its flavor "graveyard." And that spirit of unbridled innovation continues with its latest flavor: the booze-tastic Urban Bourbon. The new pint combines two of our favorite things -- ice cream and brown liquor -- into one, so we may never leave home again.
Urban Bourbon, according to Candy Hunting, is a burnt caramel ice cream loaded with almonds, fudge flakes, and a bourbon caramel swirl -- and don't worry, it's safe for the kids (it's been done before with Bourbon Pecan).
While there is no official announcement from B&J's yet, there are several signs that point to this flavor being the real deal. First and foremost, the company has applied for trademarks for the name "Urban Bourbon" -- a damn good sign that this is going to be a reality. Either that, or the ice cream maker just likes wasting money.
Secondly, there's a landing page for purchasing Urban Bourbon on Walmart's website, but it's oddly blank... almost like it's just waiting for an imminent announcement. For what it's worth, Candy Hunting claims the flavor will hit the supermarket aisles in just a few months.
Things are already looking up for 2017. In the ice cream world, anyway.
Sign up here for our daily Thrillist email, and get your fix of the best in food/drink/fun.
Wil Fulton is a staff writer for Thrillist. He actually blames Gwyneth Paltrow for most of the world's problems. Follow him @wilfulton.