DJ Oskar Melzer has been the music mastermind behind some of Berlin's most prime parties, including Pogo Club, F.U.N., and Weekend. With his modern Jewish deli Mogg & Melzer, he's now bringing New York-style pastrami to the city. And while he technically lives in East Berlin, the self-described Berliner wants you to stop snubbing the West. We sat down over a slice of the deli's incredible cheesecake (so difficult, we know) to get the lowdown on this guy's favorite Berlin pit stops.
Favorite Restaurant
I think my favorite restaurant in Berlin is called Edds, a Thai restaurant. It's in Schöneberg. That's, like, the only restaurant that I know of that people from outside Germany also know, and they're like 'Wow'. The others you can find all over the world, but that's amazing. They have this big shrimp, I don't even know the name of the dish because always when I come in, she's like, 'Oh, you want the shrimp'. And as a starter there's a cold noodles dish with peanut sauce and peanuts... that's amazing. Those two dishes are my favorite dishes there. But everything is amazing. I think the grandmother of the chef used to cook for the Thai king, so that's where he learned all the dishes.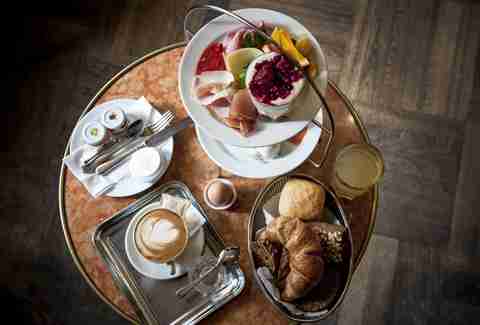 Best Brunch
I'm not really into brunch, but I really like the old Café Einstein in West Berlin.

Best Coffee
Actually most of my coffee I drink here. I think Mogg & Melzer's my favorite coffee. It's because we're doing amazing coffee, and I'm here all the time. It's coming from a guy called Andraschko, he's from Vienna, he's our coffee diva, and he's like the coolest guy in the world. Most of the time I drink espresso.
Best Burger
I think The Bird is a good burger place. I get a cheeseburger with bacon. Classy.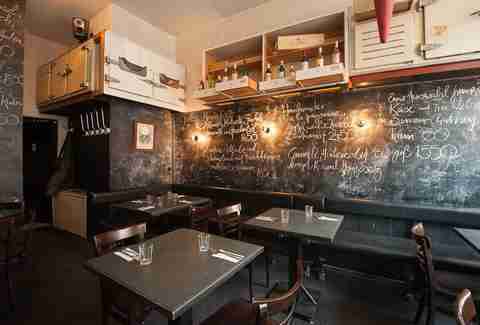 Best Fine Dining
Bandol Sur Mer is my favorite because the great thing about Bandol is you are getting this amazing food which is on the Michelin level, but they don't do all this bullshit around it. They are super cool.

Best Late-night Eats
[Mustafas] Gemüse Kebap is amazing, the best döner in Berlin by far, but I never go there late, that's the funny thing. I'm not doing late night food. I'm super boring. But I'm always hungry.
Döner Kebab or Currywurst??
It's complicated. For sure döner kebab because I think currywurst is the most overrated thing in the world. But I'm allergic to sesame, and it's really hard for me to find a döner kebab where I can make sure they aren't putting any sesame seeds inside because most of the time the bread has sesame seeds. There's this amazing kebab place in Kreuzberg, Adana Grill House. It's at the end of Oranienstrasse. I'm eating the kebabs there. It's really good.
Best German Grub
They do a good schnitzel at Borchardt, but that's really boring. That's where I would send my parents.
Best Eis
The one here is a pretty good ice cream place, Eismanufactur Berlin.

Best Cocktail Bar
Nowhere. I don't know any great bars in Berlin, but I'm not a big drinker. I think Würgeengel, they do good drinks, that's cool.
Best Dive Bar
I don't know, King Size, although it's not really a dive bar. I like it when I DJ there, but I've never been there private. I think I only like clubs when I DJ there and am going out with money. Great answer for an interview. I just came back from Munich, yesterday. I have a monthly night in Munich at a club called Bob Beaman. Then I DJ at my club in Frankfurt called Lido. I DJ'd in Tel Aviv two weeks ago. It's usually like house and techno.
Favorite Beirgarten
I like Café am Neuen See, it's super not trendy. All the places I tell you are not trendy. You should write about it as: these places are not for hipsters.
Locals Hangout
Like for trendy young people? I don't know,Club der Visionaere or Chalet. I was running a big club in Berlin, and after almost 16 years in nightlife, it's enough, I saw it all. It's great, I think nightlife is great when you are young, but if you have a girlfriend, there is no reason to go out.
Best Place to Party
It depends whose playing, what's the night. I think there are a lot of places, I think Panorama Bar can be amazing, for tourists who have never been in Berlin you should go to Panorama. There is nothing like this in the whole world. And any club in Berlin is better than any other club outside of Berlin, that's for sure.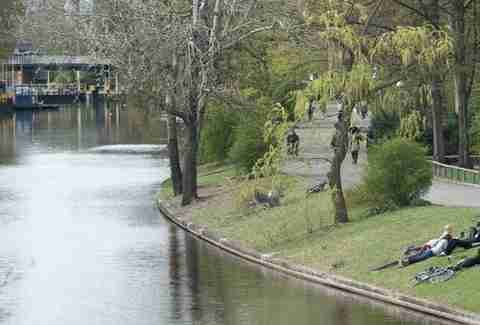 Best way to enjoy the outdoors
The Tiergarten is amazing, I love the Tiergarten.
Coolest Street
Kantstrasse is pretty cool, in West Berlin. Paris Bar's a great place to go. There's a great Chinese restaurant called Good Friends. Because it's so old school Berlin Kantstrasse, nobody goes there. Everything is going on in East Berlin and Kreuzberg and everybody forgets West Berlin.
Don't leave town without...
Go to Neu National gallery, because the building is one of my favorite buildings in the world. It's built by Mies Van der Rohe. And Mogg & Melzer of course. There's also one thing you don't have to see while you are in Berlin, it's Potsdamer Platz.