The 11 Best After-Party Foods, Power Ranked
<a href="https://www.flickr.com/photos/larimdame/25199779" rel="nofollow" target="_blank">Gene Han</a>/Flickr
When it comes to after-parties, you can be the guy who says, "Come over to my place because I have an old couch and some back issues of Newsweek," or you could be the champion of people who aren't ready to turn down yet by providing tasty beverages and the kind of food that works as rocket fuel for late-night shenanigans. We rounded up the best late-night food calls in the nation -- some available everywhere, some sadly not (yet). Supply these at your after-party -- or your pre-party -- and everyone will be your best friend ever.
11. Cinnapack from Cinnabon
What you're providing: A box of 15 gooey, sticky buns after going HAM all night.
Why this is so, so good: There's nothing better than breakfast at night. And you sure as hell don't want to be making fresh ones yourself. Step away from the oven, pal.
The catch: You're gonna have to plan ahead to buy these, which is the worst, but everyone at the pre-party, the party-party, and the after-party, will thank you... once they swallow that huge bite of cinnamon goodness.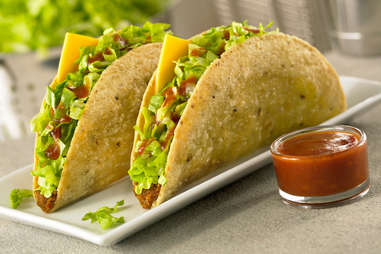 10. Jack In The Box Tacos
What you're providing: As many delicious, 2-for-$.99 tacos as your fist pumping hands can carry.
Why this is so, so good: Did you miss that price? You could feed everyone at the party, even Steve (who you kind of hate, but who are you to deny anyone a taco?). Plus, even if someone shows up with say, a Taco 12 Pack (see below), you'll still have something totally different to offer everyone. No one really knows what's in that amazingly good, but incredibly mysterious meat.
The catch: This is the best taco deal… that you have to put together yourself. Just go in with a twenty and order "twenty 2 Tacos".
9. Pizza Hut's Ultimate Hershey's Chocolate Chip Cookie
What you're providing: It's not just a cookie. It's not just a cookie cake. It's a delicious, pizza-sized cookie.
Why this is so, so good: There's just something so satisfying about eating a cookie like a pizza. Unless you eat pizza with a knife and fork. Don't do that.
The catch: Unlike a pizza, this thing doesn't come with any variety or add-ons -- it's just your basic chocolate chip. Time to break out the caramel sauce and Swedish fish.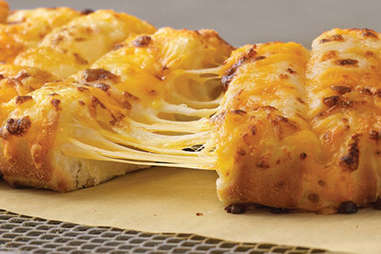 8. Domino's Stuffed Cheesy Bread
What you're providing: Bread glued together with cheese, the healthiest of all the food groups.
Why this is so, so good: It's essentially a grilled cheese loaf, which is clearly the best thing to carb up with if you want to make it through the late-night marathon straight through to the finish line that is sunrise. And these come in Bacon & Jalapeno and Spinach & Feta, in addition to your basic Cheese & Cheese.
The catch: You gotta pay 60 cents extra for dipping sauce! Blasphemy!
7. 50-piece Chicken McNuggets
What you're providing: The name says it all -- fifty nugs.
Why this is so, so good: It's only ten bucks to build your own McNugget Mountain. Even now, you can smell the grease that signals the resurrection of your night.
The catch: The only problem with this pick? They didn't give you enough sauce. And you forgot to ask for extra sauce. AGAIN. Just give me more sauce! You can't expect me to remember things!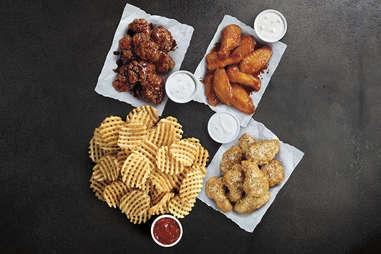 6. Pizza Hut's Party Wing Meal
What you're providing: 24 wings. Three sauces. Two orders of waffle fries. Do the math. Or just trust your instincts.
Why this is so, so good: You get to bring classic dive bar food home for all your friends, after the dive bar closes.
The catch: Just remember, you can handle more heat at the after-party on Saturday than after the after-party on Sunday morning. Respect the wing.
5. Five Guys Fries
What you're providing: So many great fries. How can they even afford to give you this many?
Why this is so, so good: The greasiest, best mix of flexible fry you could ask for -- and again, they always give you a butt ton. You really don't need anything more than one Bag Of Fries.
The catch: But maybe you do need two Bags? Oh man, decisions are the worst.
4. Variety Taco 12 Pack from Taco Bell
What you're providing: Six crunchy tacos plus six Doritos Locos tacos, in all the flavors.
Why this is so, so good: This box o' tacos comes conveniently ready to carry out, and with a ton of variety, because Cool Ranch Dorito Shells.
The catch: The box says one size feeds all but to be honest, you might want to get two. Or three. Partying is hungry work.
3. Ben & Jerry's Vermonster
What you're providing: Four whole bananas, three cookies, a brownie, and four servings of hot fudge & caramel on top of 20 flavors of ice cream from a single tub.
Why this is so, so good: Everybody's dipping the greatest thing ever from the same tub -- there's no better late-night bonding. Plus if you bought all of this ice cream separately people wouldn't think you were having a party, they'd think you just went through the worst breakup ever and were going to eat all this while watching Beaches. Or Steel Magnolias. Whatever, it's your breakup, watch what you want!
The catch: It might be a small glacier's worth of ice cream, but that doesn't mean it won't melt, eventually. And then you'll have soup. Yummy. You've also gotta get this one in advance.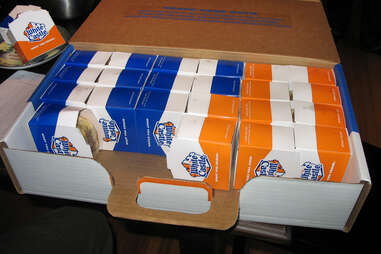 2. White Castle Crave Crate
What you're providing: 100 sliders. Uncross your eyes.
Why this is so, so good: You're about to overwhelm everyone with your generosity to the point that their might be tears of gratitude. Honestly, you don't even need a party as an excuse to order an actual damn crate of meat, but it's kind of more socially acceptable if you do.
The catch: Even for a party, 100 burgers might be too many burgers. Happily, you can also get a Crave Case with just 30 sliders instead. Or if 30 sliders isn't enough, you could get two Crave Cases and have 60 sliders... No, just get the Crate.
1. Insomnia Cookies
What you're providing: You're not bringing anything -- the rapidly expanding company is delivering it to you, at 2am. As for how many, you can customize the type and number, or get one of their packages, like the Major Rager box of 18, or the B.M.O.C., which comes with 24. They also have an option to order 300 cookies for 300 bucks, in case you have a really big apartment.
Why this is so, so good: Fresh cookies, with milk (that you probably won't drink because you have other beverages, but still it's the thought that counts), delivered fresh to your door, still gooey and warm from the oven? Shut up.
The catch: Your guests are going to love melted chocolate chips in their cookies. Your furniture, however, might not. Neither will your walls, table, or dog. Think of the smears as badges of honor, awarded to only the best parties. Wear them with pride.

As a loyal reader, your opinion is more important to us than oxygen, or hydrogen even. Please take this quick survey and tell us what you think!